Yellow Websites – Color Composition in Web Design
One cannot imagine life without colors and when it comes to web design it becomes really inseparable element which needs to be quite attentive as well as selective. We can make you well understood with a very clear and precise example of television. Although it's not very far past that we have crossed the period of black and white television and film, but even then when we have stepped into the age of color television, nobody would like to purchase black and white TV and want to go behind.
In the same manner web designing requires the selection of very eye-catching and vibrant color which must draw attention of lot of visitors towards it. Here we will talk about the use of yellow websites  in web design.
All of you must have gone through the yellow websites design having the widespread use of red, chocolate, blue and other colors, but rarely gone through the yellow websites. To look unique and distinctive nowadays web developers and designers have started using of yellow websites in their web design. Yellow color seems like sunlight and hence gives the visitors a feel of sunshine. And since overpowering rays of sunshine is the symbol of our earth's humble beginning and hence in the similar manner yellow color too has left a deep impact on our lives. In this blog post we are going to discuss about the same; the use of yellow websites in web design. So, let's stimulate yourself with yellow and the sunshine feel.
Yellow Websites
Why We Choose Yellow Color: Its Benefits and Effects in Web Design
Yellow is the color evoked by light having a wavelength of 570–580 nm. The  color of yellow websites has its own significance in our daily life and is often associated with joy, happiness, intellect and boundless energy. It is represented as the color of sunshine and gives everyone an affectionate and welcoming effect and also stirs exuberance, rouses mental activity, and produces muscle energy. Yellow is very bright color and hence can grab attention of visitors when used in website design. But it should also be remembered that yellow color when used in wrong combo may also produces the controversial result and may keep you in the danger zone. Hence, unlike other colors, the use of yellow color in web design needs to be very decisive and choosy.
The yellow websites can affect us psychologically as well as physically; it plays a major role in inspiring our mental and nervous system, and triggers our memory to take some proper action. Golden color which is another form of yellow symbolizes the promise of a positive future, and spreads cheer, optimism, enlightenment, and happiness all around. This is the color which stands distinctive in the bundle of color and sparkle one's creativity. Not only that, those people who are suffering from color blindness can generally see the yellow color more easily in comparison to other colors. This is the answer why web designers and developers prefer to use yellow websites  in their web design these days.
Different Types of Yellow Color in Web Design
Although yellow is a prime color, but when combined with some other colors in light quantity results in various forms of yellow color. For example: yellow color when mixed with a bit of red color results orange yellow. Yellow color has various forms; it may appear in bright yellow, golden yellow, lemon yellow, amber yellow and many more resulting from the color combo. Let us see various types of yellow color along with examples.
Amber
Amber is another name of orange yellow and is a fossilized tree resin that has been appreciated for its color and natural beauty for centuries. Since, shades of amber can ranges from orange to reddish-orange and even light yellow and hence it is often referred to a series of orange shades.
Danilo Freitas
Chartreuse Yellow
Chartreuse is another form of yellow color halfway between yellow and green and is named so because of its resemblance to the green color of a French liqueur called Green Chartreuse. It is regarded as the web color and often used in several website designs.
Lemonsqueezed
Golden Yellow
Golden yellow is the color halfway between amber and yellow. It is a color that is 87.5% yellow and 12.5% red.
Sketchen
Peach Yellow
Yellow color which When combined with a proper proportion of pink color results in Peach Yellow color.
Yellowstone National Park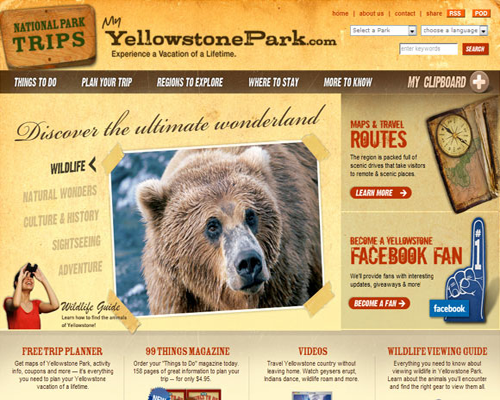 Using Yellow with Other Colors
Apart from all these there are several other websites which make use of yellow colors along with some other colors. Let's take a look over the websites as listed below:
Ryan Keiser (Yellow and Blue)
McDelivery Singapore (Yellow with Red)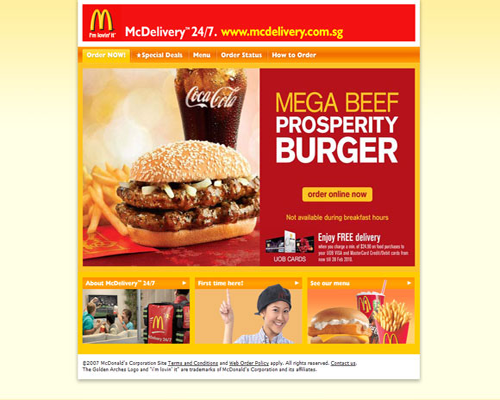 Delicious Library 2 (Yellow and Olive Green and Brown)
Gisele Jaquenod (Yellow with other Colors)
Showcase of Yellow in Web Design
Various websites make use of yellow color in various ways in order to grab the attention of the visitors. We are enlisting some of the top class websites which has applied yellow color in its design and also has conceived good results. Let's have a glance over those websites for whom yellow color has resulted in huge visitor's traffic and is widely appreciated by the visitors too.
Yellow Pages Australia
Wilkintie
Trout Creative Thinking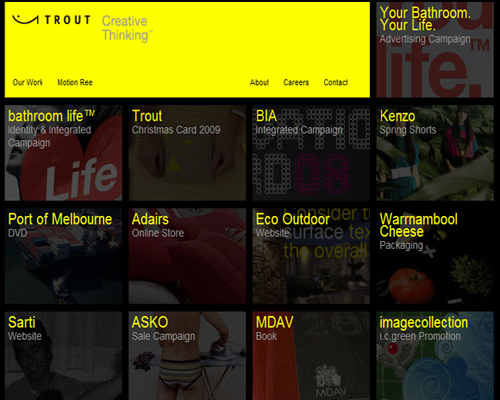 The yellow house bar & kitchen
Team Manager
Studio21
Roome Consulting
Advertising Agency Paralotna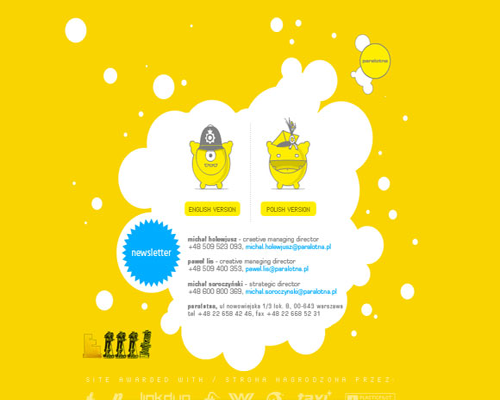 La Pizza Antalya
IAAH / v7
Helveticons
Engage Interactive
DesignCharts
Manchester Web Design Agency / Creative Spark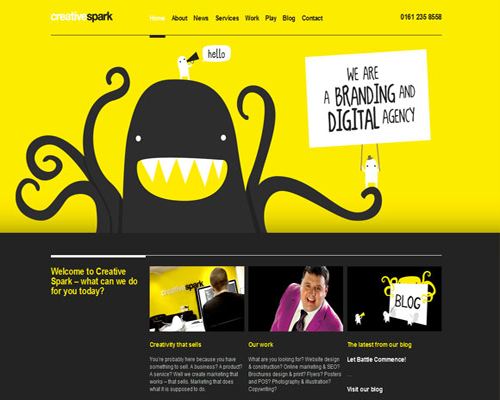 Chunk Digital Creative Agency
Chefparade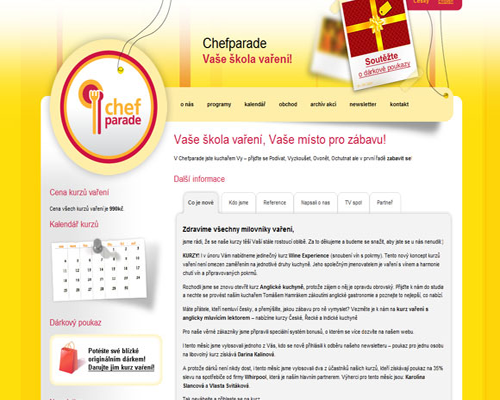 Booreiland / platform for creative productions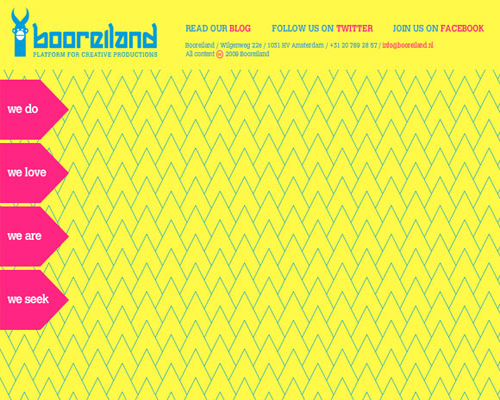 Agatha Group
Typography Served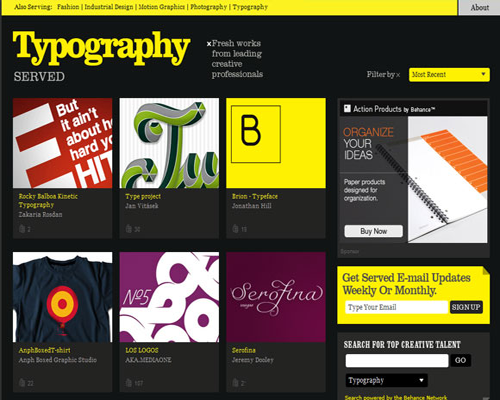 Minimalist Joomla Templates Design Gallery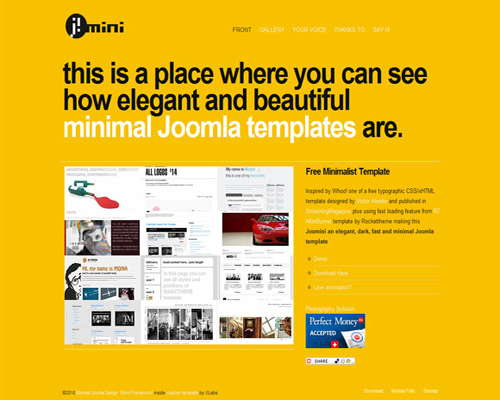 Foodtease
EBSL erikbelowsealevel
Cabomba
Single File
California Lemon Festival
The FontFeed
Dude Design
Twitterfeed
Marcos J. Drake
Conclusion:
Going through the post, it might have become clear to you that yellow color when used in proper amount, i.e. neither too much nor too less yields good results. We would like to know your opinion regarding this post that how you feel about it. Please leave your comments expressing your thoughts in the comment section of this blog post.
Yellow Websites
Please share your Comments & Experience with us.
Rinniee Ginsburg is a email template developer and writer at
EmailChopper
. Her technical competency has helped the professionals explore the new techniques in practicing the innovative email development. She has written various articles that accentuate the importance of PSD to Email conversion, smart procedure for responsive email template development & many more. All her writeups have become a source for many professionals and business players to grab the valuable information.