2013 Desktop wallpaper calendars are surely going to be the out breaking trends in the upcoming days. To provide a beautiful token of love and thanks to our dear visitors we are a providing a beautiful collection of year 2013 calendar wallpapers. These Free 2013 Desktop wallpaper calendar will surely embellish your screens and will help you to schedule your work with New year 2013 calendar.
The year 2013 Calendar is the first thing that you will surely replace against your old calendar. The yearly calendar is a very useful tool that help us to schedule our future plans. Whether it is an office desk or a personal PC table; New year 2013 calendar is surely occupying the space everywhere. Wouldn't it be amazing if you could get a new year 2013 calendar incorporated with beautiful desktop wallpaper background?
To offer you exactly the same; We have come up with the collection of Best Desktop wallpaper calendar 2013. These all HD year 2013 calendar wallpaper are designed by the professional and creative minds of Webgranth and you can download these Free 2013 calendar wallpapers without paying even a single penny.
Funny HD Yearly 2013 calendar
This Funny HD Year 2013  calendar is exclusively designed for the viewers who loves the funny pictures and cartoons. You can instantly download this free year 2013 calendar by clicking on the Download button provided below.
Wallpaper With Calendar
Animated HD Wallpaper calendar 2013
Every One loves the beauty of animated wallpapers and to provide a special treat for our reader we are presenting you this beautiful Animated HD Wallpaper calendar 2013.
Wallpaper With Calendar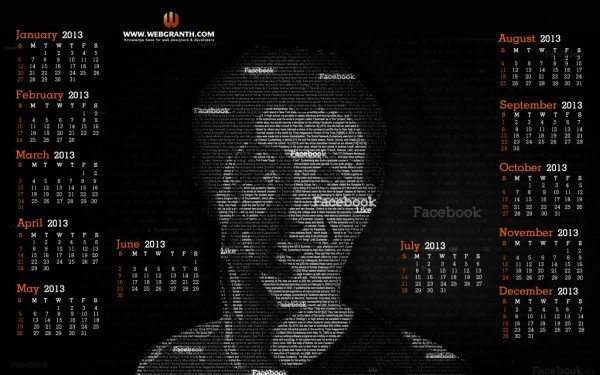 Facebook year 2013 calendar Background
The innovative thinking of Mark has changed the way to connect with the people. To salute his brilliant idea; we are providing you this free Facebook year 2013 calendar background.
Wallpaper With Calendar
Free Rainy Season Calendar wallpaper 2013
Rainy days are always the best season of the year. With this attractive Free Rainy Season wallpaper Calendar 2013 we want to spread the message to save the Rain water.
Wallpaper With Calendar
Cool Bike Wallpaper with New Year 2013 Calendar
Cool Bikes are the most trendy category among the wallpapers. To step forward with this trend; we had incorporated the Cool Bike wallpaper with New year 2013 calendar.
Wallpaper With Calendar
Hot Babe Desktop Wallpaper Calendar 2013
Before offering you to download this Hot Babe Desktop Wallpaper Calendar 2013; we found it our duty to make you aware that this super hot wallpaper may burn your gadget screens or you may encounter the pleasure of people gazing at your display.
Wallpaper With Calendar
Wildlife year 2013 calendar wallpaper
Wildlife is always full of new adventures and unexpected encounters; If you too love the hidden beauty of Wildlife then this is a wallpaper just for you. You can download this Wildlife year 2013 calendar wallpaper to provide an attractive theme to your gadget screens.
Wallpaper With Calendar
We hope that this collection of best desktop wallpaper calendar 2013 would have impressed you. These new year 2013 calendar are offered in different screen resolutions so that you can choose the best according to your screen size. We will love to hear your reviews about these freebies; Keep tracking Webgranth.
Admin from India is a founder of WebGranth, an entity of
Sparx IT Solutions
with over 8 years of experience on different verticals of web design & development. In his quest to spread the knowledge regarding web development, he has been contributing in WebGranth by submitting his valuable blogs.