WordPress, an astonishing Content Management System (CMS), in these times this CMS has been governing million of websites industries of different domains. As you have observed in WordPress, there are lots of panels that work for different purposes such as adding new posts, editing posts, implementing new themes and lots more. Among these the most important panel that is the admin panel. Admin panel can be called as the website controlling panel. Here you can analyze every status of websites, edit/upload content and lots more. To enhance the experience of the admin panel, Webgranth brings the 20 beautiful templates for administrative panel.
The admin panel or dashboard is called as the controlling panel for the site. This means this is the panel where administrator controls the website or the web page. Having great design for administrative panel will improve the User Interaction and also bring the easy maintenance. Here Webgranth presents top 20 WordPress theme that will assist not only creating the best admin panel but also improves the Interaction.
Following are the Best Admin Panel Template/Theme for WordPress
Shamcey Metro Style Admin Template
Shamcey is the Metro style Admin Panel Template for WordPress. This Template is fully responsive and equipped with 20 HTML pages that possess W3C validity. The theme comes with various varieties of colors, more than 600 icons, clean and flat design, enhanced by the Roboto fonts by Google and various Graph charts and basic functionality such as the menu can be collapsible.

Conquer Responsive Admin Dashboard Template
Conquer is an impressive Admin panel Dashboard Template for WordPress. It is easy to use, developers friendly coding. This template comes with wide varieties of function such as a date picker, date time picker, color picker and lot more. Some new feature has been integrated in this template such as jQuery UI sliders, various Tree Views, jQuery Form Input Mark and much more.

Amsterdam – Premium Responsive Admin Template
Amsterdam , WordPress responsive template built with Twitter bootstrap can be supported with various panels such as control, billing and hosting panel. The template has organized and commented code, a collection of four fully responsive layouts and support Light/dark versions.

Gebo Admin Responsive template
Gebo Admin is a WordPress Admin panel template featuring two column responsive templates based on the Bootstrap Framework from Twitter. This theme is equipped with wide varieties of advance plugins such as a filterable / searchable list, calendar, location finder, file manager, gallery grid, WYSIWG editor, sticky messages, charts and lots more.

It's Brain- Premium Admin Theme
It's Brain, a WordPress based admin panel integrated with different flot chart such as line, bar, pies, equipped with validation engine and WYSIWYG editor. Enhanced by 5 background Images, 300 icons with 2 sizes and lots more functionality can be explored.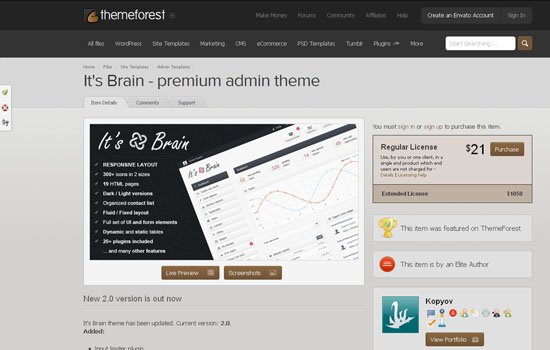 Maruti Admin
Maruti Admin a responsive and clean WordPress admin panel featuring collapsible menu, progress bar, button dropdown, pagination and lots more. This supports various widgets such as Tabbed Widget and Accordion Widget. This panel is enhanced by Tabs single button group, Interface elements, Gallery, calendar and many more aspects.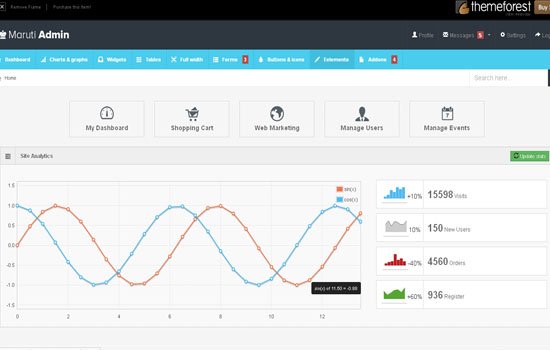 Aquincum Premium Responsive Admin Template
Aquincum is an advanced WordPress theme for the admin panel. This theme support data-tables, different CSS3 based buttons, Error page samples, custom sidebars and lots more.

Ease:- Responsive Admin Template
Ease, WordPress based responsive admin template built with twitter bootstrap. It is used as administrative application. It's compatible with modern devices. Ease comes with many custom made plugins and is user friendly designed and developed. It has a detailed manual that developers can start new admin projects comfortably. The color corresponds very well together.

Flame Admin
Flame Admin , a user friendly , clean, intuitive, good looking and responsive interface. This is compatible with various technologies and comes with refined and beautiful design. There are lots of code design and UI elements with this theme.

Virgo- Premium Admin Template
Virgo is a responsive admin panel template, with an easy to understand HTML, coded with jQuery and Bootstrap. In this template you will get all that you need for a back – end application, or other project. Virgo template comes with lot of jQuery plugins that are compatible with all the latest browsers.

The Realm- Clean & Modern Admin Panel Theme/Template
The Realm is a responsive Dashboard Template for WordPress. It is designed with trending style that is compatible with almost all the devices. This theme also offers analytics plugin,user management,task management and much more. The theme is built on latest version HTML5 and CSS3.

Katniss Premium Admin Panel Templates
Katniss is a Responsive and exclusive animated wordpress admin panel template, developed using css3 with many features. This support various plugins and custom elements that can be used for administrative Project.. The theme has 3 different skins that can change the attributes such as button, radio button and lots more. This template is also very useful for any type of application.

Pannonia- fully responsive admin templates
Pannonia is a complete responsive WordPress admin panel theme that is having a premium skin for admin panel for WordPress. The theme structure is very flexible that is having a two columns liquid structure with three levels of navigation and supporting lots of sidebar elements.

Metronic- Responsive Admin Dashboard Template
Metronic, a responsive admin panel WordPress theme, is enhanced by the clean metro style. The theme is so awesome and user friendly. Metronic comes with full RTL support. Here more than 100 templates pages can be observed and code is also developer friendly.

Start Metro UI Admin Template
Start is a Metro styled Admin Template for WordPress support Window 8 interface. Complete focus on User Interface puts this theme under the next generation web application themes. This theme has user friendly coding so it will save a lot of expensive time while integrating with any admin type project.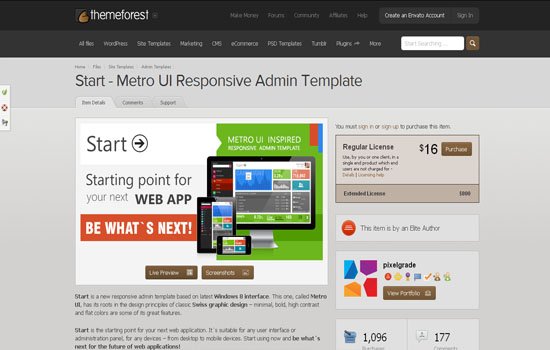 Social Premium Responsive Admin Template
Social is an outstanding Responsive Admin Template that has a similar style of Facebook .This comes with user friendly and easy to implement coding. The theme equipped with large number of plugins that support drop down menu, buttons, table, modal boxes and advance chart lots more.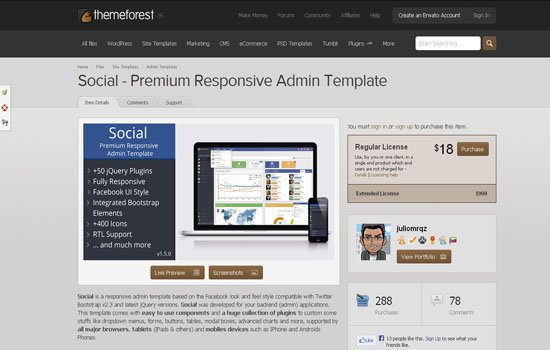 Leo Premium Admin Template
Leo is WordPress based powerful administrative template. The code is clean and easy to implement that will also assist in time saving for project delivery. Leo comes with latest plugins that can support futuristic technology. One of the major factors associated with this is a Retina display graphic that provides perfection in design.

Flat responsive Admin Template
Flat is the fast and easy to implement Admin Template. The template can be easily customized, deliver extremely fast performance and unlimited number of color options. The template also provides unlimited number color option.

AdminKit Premium Admin Template
AdminKit is an astonishing and completely WordPress Admin Template equipped with unlimited color themes, pixel perfect design, more than 100 elements/ components and lots more.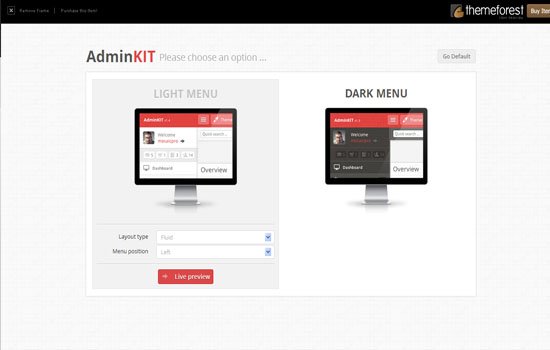 Aries Metro Style Admin Template
Aries is an advance Metro Style Admin Template compatible with Window 8 Standard. The template is clean, fast and easy to integrate for enhancing the WordPress Admin design. With Retina Ready and cross browser supporting feature will make it future proof themes.

Conclusion
Hope that this WordPress admin panel theme/templates list have impressed you. These templates are inspiring to be implemented in administrative control. The admin panel themes that are presented here will improve the user interaction and user experience. Next time, we will come with brighter Ideas, collections and concepts. Stay connected for further updates.
Williams Heilmann has been associated with
PSDtoWordPressExpert
for many years. He has extensive experience as a web developer and works with this company to offer the best WordPress solutions to suit the specific needs of the clients. Also, he has got a flair for writing which he consumes in writing the informational blogs for submission on different websites.