WordPress Launches Its Twenty Eleven Version : The All New WordPress 3.2
Yes, WordPress 3.2 is finally launched and here to download for all of us. Some are calling it "Greshwin" and some are connoting it as "Twenty Eleven" theme of WordPress whatever the name we refer to this version, this is the much discussed feature full version of WordPress which came into existence on 4th july.
This version is not only new but actually a refined adaptation of WordPress with all new added features and radical enhancements which were not available to us in the earlier versions. This latest version is employed with a new dashboard design, advanced default theme and several other superior features to make the usage of the application in much easier. We are here to develop your acquaintance with the features and qualities with the WordPress 3.2 version.
The 3.2 version of WordPress is going to be a revolutionary release as for the first one need not to be dependent on PHP 4 with this version people will make use of much improved modern edition PHP 5 the motive of this is to reduce the amount of superfluous codes. WordPress has also abandoned MySQL4 and Intenet explorer 6 and using the latest version of both to provide maximum support. With a full screen advanced editor it has settled a new platform for writers. One can get a rationalize admin interface with superior admin bar.
In this post we will unveil the features of 3.2 WordPress version that surely going to put a relieving smile on your face and even broad sigh of relax by using this trouble free edition. To inform you about the features of WordPress 3.2 we need to discuss the changes that you should know for using it better.
Below we have mentioned the advanced changes made in the new edition WordPress 3.2:
Good Bye MySQL4, PHP4, and IE6
Keeping WorsPress is very important for excellent output. WordPress 3.2 is supported with to PHP 5.2.4+ and MySQL5 as most of the people do not rely over older version of these two languages. The earlier versions of WordPress were lost their existence by providing support to backward version of PHP4 and MySQL4. Most of the web enterprises are losing faith in IE6 this is the reason due to which WrordPress dropped the use of Internet Explorer 6.
Exciting New Dash Board

The dashboard has been also provided with a new design with a cleaner look and navigation system at the left side of the dashboard. The various contain boxes has also been changed wisely with tightened typography and redrafted tool menus. The dashboard has been incorporated helpful features like Freedoms and Credit Pages in the footer that makes us understand WordPress in a better way.
All new Editor with Full Screen Feature
In 3.2 Version WordPress has launched a new editor which is going to help the user in editing the post. Page, and customized the page effectively. The icons have been redesigned with refreshed look and editor is provided with mono space fonts. Te most exciting feature is its full screen mode that helps you to focus on the editing and writing. With this mode one can actually concentrate on writing.
Faster and Improved Version
The new version of WordPress is much significant due to its speed optimization. The 3.2 versions have been completely reframed with the qualities by denouncing the aimless features to improve quality and performance. These qualities resulted into faster uploading of pages, upgrades, and addition of plug-ins. The fast performance helps one to pace up with the changes made by the search engines and gain rankings.
All New Admin Interface with Rationalized Features

WordPress 3.2 version is provided with better admin interface which is refreshed, much lighter and user friendly in comparison to its earlier versions. In this version the attempt has been made in direction of removing unwanted confusing clutter. In this the width of the sidebar at left has been compacted along and height of the admin header has also been reduced. The contextual screen has been upgraded with more intuitive features see the screen shot below: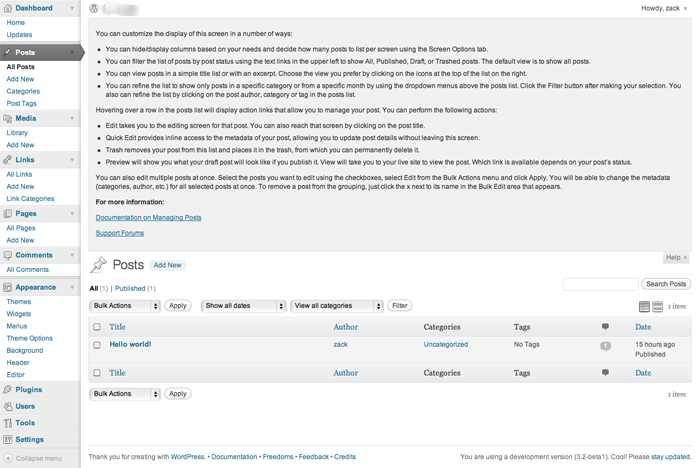 By making perfect use of screen options while working on a post you will come to choose among different options to work upon; see the snapshot below: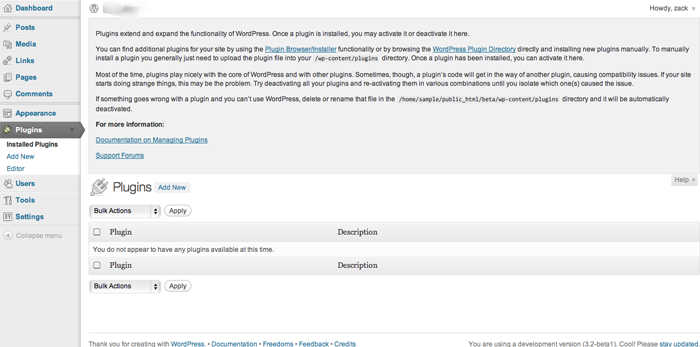 New Default theme Twenty Eleven
Whenever you fail to understand anything between any sections of WordPress you can simply take assistance by help button which is provided in the contextual manner; see the snapshot bellow:
The most attractive feature in 3.2 version of Word Press is its new default theme which very attractive and motivating. The theme gaining popularity as the Twenty Eleven theme of Word Press is representing endless options customization features. The theme is available in two color format i.e. dark and light. This theme offers an extensive opportunity to change the all over design of your customized ways. In short the theme is much more than a picture with functional rotational header and footer with radio buttons to manage the admin appearance.
Some of the Added New Tools
The changes provided in the 3.2 version of Word Press are really thrilling and connoting a different standard of this application. The new version is here with a series of filters, functions and plug-ins. To list few of the efficient tools changed are:
WordPress 3.2 allocate reclaim comments through its post type, post status, author and name of author. This version obtains comments for the posts posted in the recent times.
Word Press 3.2 classifications to be enquired through $_GET factors on non classified links.
This version allows the author to get some customized element like email.
This version does not display error for the records of empty posts.
Admin from India is a founder of WebGranth, an entity of
Sparx IT Solutions
with over 8 years of experience on different verticals of web design & development. In his quest to spread the knowledge regarding web development, he has been contributing in WebGranth by submitting his valuable blogs.