Building a website has never been easier.
It used to be that you had to code websites entirely by hand. But now that is no longer the case, you could quite easily get it done by a web designer or if you have the time, you could build it by yourself with minimal technical experience. Whichever route you choose, today there are a plethora of online tools available that make it effortless to build a stunning website for your business.
One of the most popular website builders is Wix.
Features include:
Drag and drop customisation
Secure web hosting
Professional templates
Mobile optimisation
Customer support
Building a website is incredibly straightforward with Wix. Simply pick a template, add some content that describes your business, upload images, and your new site is ready to go live. And if you sell products (or are thinking about it), Wix can even be used to an online store.
Another area where Wix shines in is the built-in SEO capabilities.
Why SEO Matters
SEO (search engine optimisation) is the process of optimising webpages to rank higher in the search results for relevant keywords. Google processes billions of search queries every day so ranking for your key terms can drive a considerable amount of traffic to your landing pages.
More traffic translates to more sales.
But data from Chitika shows that most online users rarely click past the first page:
So even with a professionally designed sites, prospects won't be able to find your business online unless it ranks at least on the first page. SEO increases your site rankings through proven strategies such as content optimisation and link building.
The following looks at some of the SEO features of Wix to help you design smarter web pages for your business.
Meta Tags
Meta tags are on-page elements (e.g. titles, descriptions, URLs, etc.) that help Google better understand what your page is about. For example, if your online store sells outdoor camping gear then you would want to include those target keywords in your content to help them rank better.
Wix makes it easy to add a custom title and description to each of your pages.
Be sure to write a unique title for each page, but remember to include your target keywords. Under Page Settings, you can even change the URL of your pages to be more search engine friendly.
Header Tags
Header tags are another on-page factor that help Google determine what your page is about. They are also beneficial for visitors as header tags break up blocks of text and improve readability. Since most online users typically scan web pages, headers help visitors find what they are looking for.
Wix lets you easily change the headings of your content with different tags available including H1, H2, H3, H4, H5, and H6.
The best way to keep visitors on your page is to write an engaging headline. Keep this in mind as you write the header tags for your site.
Content Optimisation
Simply optimising on-page factors is not enough to rank.
Google rewards pages that also provide relevant and outstanding content. So in addition to optimising on-page factors, your content should also include your target keywords and a mix of other relevant phrases. Doing so improves the visibility of your content.
Keyword Planner is a tool from Google (found within AdWords) that generates additional keyword ideas and traffic estimates based on the terms you enter. Use this tool to identify potential keywords you can build new pages around.
Then remember to edit your content to include those phrases.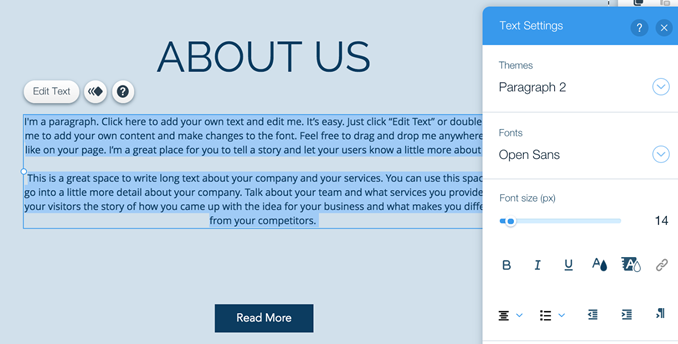 But don't simply stuff your content with keywords as doing so will likely result in your site getting hit with a ranking penalty. Write in a natural and informative manner while also including your keywords.
Anchor Text
Links are incredibly important in terms of SEO.
The more links you have from relevant sites, the better chance you have of ranking for your target keywords. Links help visitors navigate through your site and the Google bots can also follow links to crawl and index your pages. This is why linking internally to your pages is beneficial.
Be sure to include relevant keywords in the anchor text when linking to your pages. Anchor text refers to the clickable text in a link and help Google better understand what a page is about.
Wix makes it effortless to link to your pages.
In addition to linking to other pages on your site, you should also aim to build links from other sites. One thing to remember is that links from sites in your industry will carry far more weight than a link from a random directory.
Mobile Friendliness
Mobile simply cannot be overlooked.
More people are browsing the web from mobile devices such as smartphones and tablets than ever before. This means that your site needs to be mobile friendly as visitors will quickly bounce out If it isn't. If your site is built with Wix, most of the work is already done for you.
No matter how simple or complex your site is, Wix makes it easy to make your site optimised for all mobile devices.
The mobile editor allows you to easily edit aspects of your mobile site. Any customisations that you make are saved and you can always change them later in the editor. Alternatively, you can also let Wix automatically create a version of your site that is mobile friendly.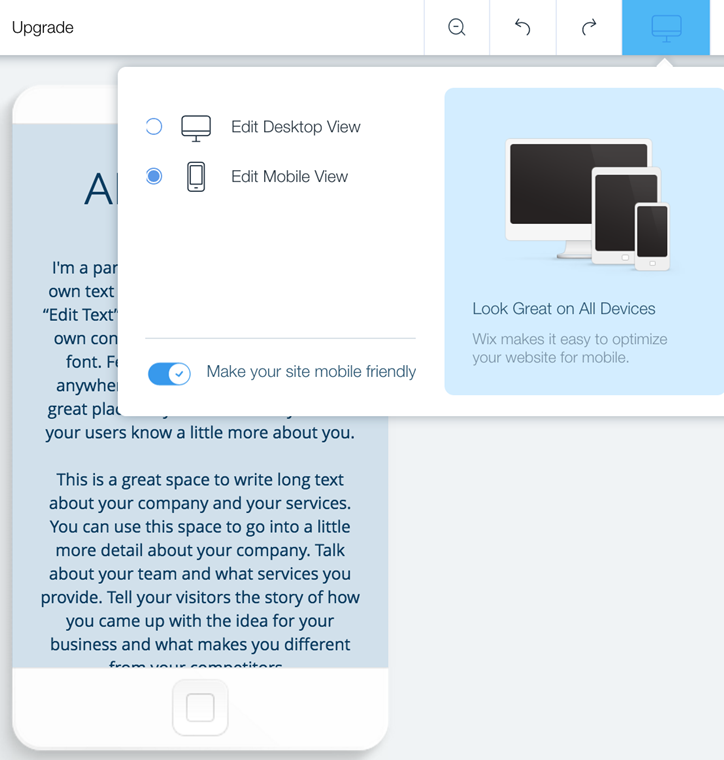 Regardless of which approach you choose, your site absolutely needs to be mobile friendly.
SEO Wizard
SEO can be overwhelming.
And the industry is constantly changing with new standards and best practices. The SEO Wizard is another convenient feature (free app download) from Wix that provides a step by step guide to improve your site's SEO. Even if you have little experience with SEO, the wizard takes you through each step of increasing the search visibility of your site and get it ranking on search engines such as a Google, Yahoo, and Bing.
Wix is a powerful website builder with tons of features (as described above) that help even those with little technical experience design smarter and better websites.
These posts are a handout from our Guest Author who works with us occasionally and provide their opinions for our regular visitors on Web-Development & Designing, SEO, CSS, Coding etc. As their details can be marked with their concerning post even we would like to add that out Guest Authors are expert and master of their own sector. If you also desire to be our Guest Author Contact Us at
submit@webgranth.com