Wireframe – 'need to know' web developing tool
This post is a small gift for every user who is thinking to create a new website. In this post we are providing you the basic 'need to know' information about wireframe and a collection of best Wireframe tools for your website development.
'Precautions are better than cure' it is a very common quote which was taught to all of us in our school days. It is always said to sketch the plan of your every hierarchical task so that you can get a more purify result. So is it fine if you create a website without any pre designing?
Wireframe is a process of creating a blue print of your website page. It focuses on 'how it works' rather than 'how it looks'. Wire frames are designed by the Interaction designers to have a skeletal view of the website. These designs help in pre customizing the layout of the website so that you don't have to make big changes at the last revision stage of website development. For instance you designed a blog website and it is almost complete with every amazing feature it can have; at the last stage your client told you to add different contact and function box on the page, wouldn't it be a time consuming and frustrating task? Wireframe saves you from this kind of hassle. It focus on 5 different parameters
To take care of the rules and conditions while displaying some specific kind of information
The effect of various circumstances on the display
The kind of data displayed
The corresponding priorities of functions and information
The total range of functions available
To make it easy for you to design a wireframe we are offering you a list of top 5 wireframes which can be easily used even by non tech. user. Most of the below stated wireframes offers you a fully functional demo version of their services so that you can make a better choice.
iPlotz
IPlotz is wireframe software that offers you to create navigable blue print of your website page just like a real website development. Iplotz facilitates you to rename, add and delete several pages on your website. For a much more convenient working, you can even drag, drop and upload different type of data on your page and can link them with your web pages to have a much liquefy work flow.

ProtoShare
Protoshare is a best wireframing tool for any user who is not a core website designer. It is very simple to use and works on CSS, HTML and Java script rather than complicated flash tools. Proto Share can be implemented to create and customize websites, mobile prototypes and all web applications. When you are done with creating the skeletal frame work for your website you can even see a visual representation of your work that saves the time and money by avoiding re-customization of the project.

Lovely Charts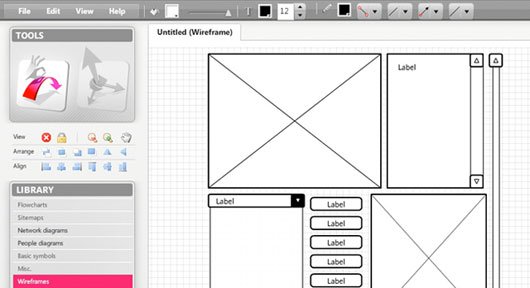 This wireframe tool is a complete bundle of impressive features that makes your web development experience a way more flexible like never before. Lovely Charts facilitates you with the innovative feature of automatic layout and icon finder. You can even create the diagrams on your webpage by your text files only. It is integrated with brilliant filter transition effects and offers ultra clean frame connections. You can easily import, create and share the data libraries with other web developers to have a more accurate team result.

Gliffy
Drag-Drop and that is all; Gliffy is a very easy to use wireframe that enables you to web wireframe tool shape library for a much simple working. It is one of the best wireframe for a team of developers as Gliffy empowers you to easily share the data and information with the other team members on any platform or location. It enables the other members to create, edit and share the wireframe without pre-installing any software and related files.

Flair Builder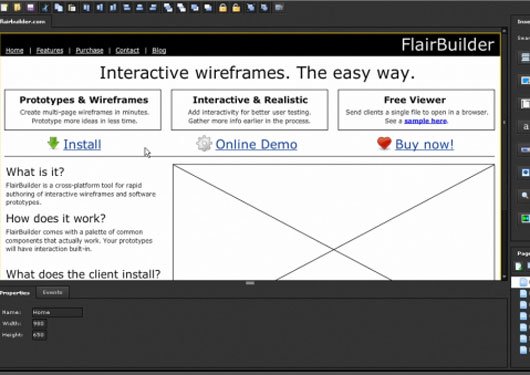 Flair Builder is the wireframe tool that enables you to create a multi page website or an iphone application. It is equipped with a lot of component Palettes; it facilitates you to even design a component or tool according to your requirement. It is loaded with the impressive feature of master page that helps to avoid duplication of data on different pages. For a much better understandable platform and interface; you can easily add the member login-pop up in your framework.

These above stated wireframes are preciously chosen from the stack of options to lighten your web developing task. We hope that this post will assist you to easily create the wireframe for your websites. We would really love to have your reviews about this post and will appreciate any other wireframe suggestion.
Rinniee Ginsburg is a email template developer and writer at
EmailChopper
. Her technical competency has helped the professionals explore the new techniques in practicing the innovative email development. She has written various articles that accentuate the importance of PSD to Email conversion, smart procedure for responsive email template development & many more. All her writeups have become a source for many professionals and business players to grab the valuable information.