Usability Do's And Don'ts for a Good Website Design
With more advanced industry's technologies and methodologies, the market of web portal and web applications has progressively becoming more complex and mature. But regardless of advancement, great user experience is one of the most important factors that still counts a lot when it comes to a successful web portal. These days, most of the designers and developers keep on debating about User experience (abbreviated as UX) when it comes to a user-friendly web portal.
Every developer and designer aimed to delight users with great User Experience. In web design industry, User Experience (UX) stands out strongly for individual's feelings, thoughts and perceptions regarding practical aspects such as usability, ease-of-use and system efficiency when interacting with a specific design. UX is highly subjective in nature symbolizes a person's perceptions and responses that cannot be designed and so, every designer should design for a great user-experience.
What make a web portal more usable – whether it's HTML structure of web-pages or a great web design or jQuery-based elements for enhancing user experience and jQuery events usability? Some people consider good website design one of the major aspects of great user experience but the fact is that there are many other things on which UX of a website depends. When it comes to great user experience, the upper beauty of a web portal is nothing but superficial whereas what matters the most is inner usability of web pages.
Website usability is the most essential aspect of web design, web and interface design directly associated with user experience on your websites. In fact, usability improvements stands for better communication by simply delivering right message at right time among the targeted set of visitors. What are do's and don'ts of usability that can make a web portal more interactive and usable?
In this post, we are going to discuss different ways how to improve usability of a web portal quickly and easily. Here, you are going to find Usability Do's and Don'ts of a website design that stands out as helping hands to improve the user experience on your websites. We recommend you to consider these usability guiding principles while design a website in the future.
Website Usability – Do's And Don'ts
Here is the important Do's and Don'ts of usability required to understand by every designer and developer to begin with a beautiful design for great user-experience. Let's take a look:
Inform Your Users Properly
It's always better to make your website's visitors aware about things going to take place rather than keeping them in dark. For example: you have used script for displaying website content, posting forms etc and content keeps on loading without any a visual representation symbolizing something is happening. Oftentimes, this practice can confuse or irritate users and make them think whether something wrong or page is broken. To avoid this developers and designers should simply use loading graphic to convey website users that something is happening which will be completed shortly.
Always test your codes
Never forget to test the codes of your website on multiple web browsers to make it an interactive design. It is advisable to break your JavaScript to check various unnoticed bugs to your website properly working which ultimately result in more solid user experience.
Give Limited Control
Too many choices in context of interactive elements can make your website users confuse what to do. Therefore, a designer should always be restricted to number of control and choices that offered to users while creating a web portal. Crispin Porter + Bogusky website is the best example where users overloaded with extra information via lot of scrolling navigation and many "Read more" links to load website content.
Speed Isn't Everything…. Always!
Developers always used to optimize codes of website to make web pages load more faster so that visitor can get information or complete his task quickly. Sometimes, it's good to slow down animations used in web pages to improve the web usability of particular website. The reason is simple – Speed is not everything always when it comes to usability of site. Developer should give time to users to read messages or see pictures displayed by using animation.
Remember, the main aim of website is to convey right business message properly and every user want to get complete information through reading and don't want to be rushed. So, let your visitors read. No user will wait to rotate slider for reading an item. You should always be careful about the speed of the animation. Be specific with your timings and numeric values such as "800" or "1200" to specify time in milliseconds.
Prominent Tabs
Tags play significant role in context of usability for web design. Make sure tags used to display or hide content should be prominent and relevant as well. Tags stands out as a great space-saver allow users to find important content easily and quickly. Above that, tags also give designers opportunity to exhibit their creativity in a design.
This is an amazing and unique example where designer styled tabs with bookmarks featuring important categories such as About, Search, Share, Manage and Discover.
Take an advantage of jQuery to improve form validation that trigger by the "Submit" button. jQuery Form validation is the most effective way to highlight errors and guide your users in filling up forms correctly without putting much efforts. Whenever a user fills the form with wrong information, error messages will pop-up which help them to correct their mistakes. Please note that JavaScript web form validation will be replaced with server-side validation completely.
This is an article on jQuery form validation where you can see how to validate form by using jQuery. Here, you will get a form validation script that is very easy to use.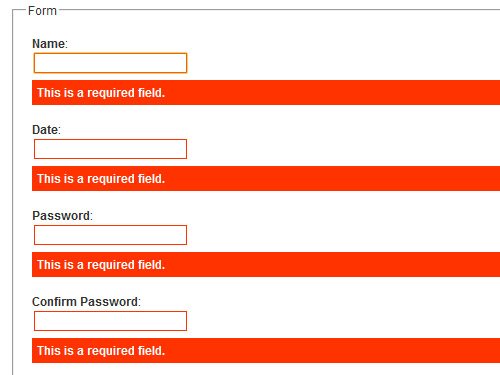 Further Resource:
10 Useful Usability Findings and Guidelines
http://www.smashingmagazine.com/2009/09/24/10-useful-usability-findings-and-guidelines/
Why User Experience Cannot Be Designed
http://www.smashingmagazine.com/2011/03/15/why-user-experience-cannot-be-designed/
Leander Crow works at
Webby Central
as a veteran web developer. He has a passion for technology, coding and design and has coded for award-winning names in the industry. He is also a freelance writer who has helped many web development firms build an audience by sharing informative write-ups.