URL shortners are the online applications that shorten the length of a URL. These are very useful tools as you may need to submit the URL to a micro blogging website like twitter where you can't exceed the defined character limits. URL shortners provide a short URL in place of your permanent URL so that you can use it to navigate the users on your webpage. These URLs don't affect the page views or web page optimization. These tools are free and used by millions of bloggers and website owners every day. Where to find the best free URL shortners? This post will prove the answer.
There is no limitation of title length although the search engines index only the first 65 characters of a web page URL. Many a times we require to have a long title to discuss the body of the post but a long URL can raise a lot of issues. We can't share it on Micro Blogging websites which have a definite character limits; it is hard for the reader to copy and use the URL via emails and many more other hassles.
To help every one of you out there I am providing the list of best free URL shortners. These are absolutely free and easy to use. You just have to paste the webpage URL which you want to shorten up and you will get the 'mini version' of your URL in next 5 seconds; Fast! isn't it?
Ow.ly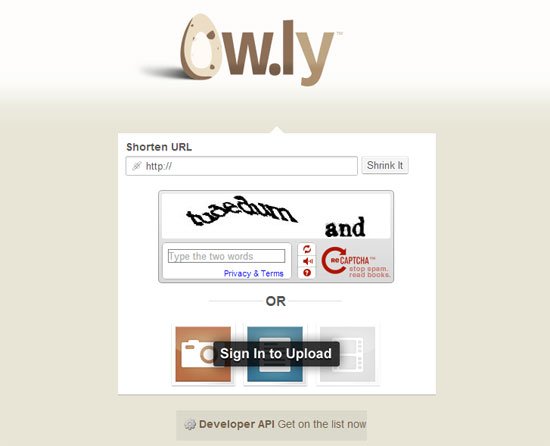 Haven't heard about ow.ly? But you must be familiar with HootSuite. Ow.ly is a tool offered by the HootSuite that facilitates you to shorten the URL. You can even upload the picture and data from your social networking hub to this tool but you are required to register your account (Free) to access the feature.


Bit
.
ly
Bitly is the second option in the list and it offcourse deserves this position. Beside with providing the URL shortening tool; Bitly facilitates you to organize the links and count the no. of clicks on a shared URL. Moreover it also provides the tool to share the content on multiple social networking websites by a single command.


Mcaf

.

ee
McAfee is one of the most trustworthy names in the category of Internet and PC security service providers. Why I am including McAfee in the list? Actually McAfee. ee is an online solution to shorten the URL. It is a product from McAfee and hence you can assure of the safety and security Shortened URL.


TinyURL.com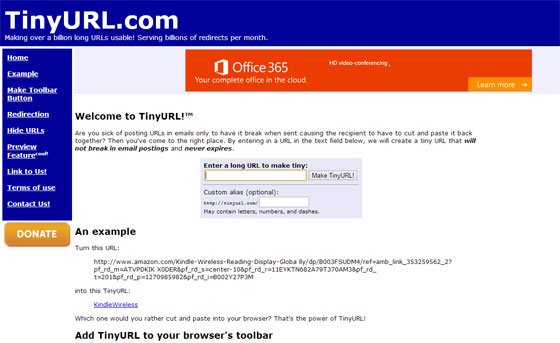 TinyURL is surely a common tool among the webmasters. You can easily shorten the URL of any page with the help of this online application. Icing the cake you can even add this tool to your browser's toolbar so that you don't need to open the website again and again.


Dft
.
ba
Dft.ba that actually means 'Don't Forget To Be Awesome'. This is an impressive online tool that allows you to have a custom shortened name for the URL. This is absolutely free and quick way to transform a long URL into a short URL.


Goo
.
gl
Google is surely the most trusted brands when we talk about online applications and tools. Goo.gl is an online application which shortens the URL. It is free and quick; you don't even need to register! Just paste the URL in the input box and click on the SHORTEN URL button; that's it.


TinyURLs.org
TinyURLs.org is a name that is making quite impressive space in the list. Beside with offering the basic service of URL Shortening; this website has a lot of additional features for you.


Is.gd
With a massive record of shortening 939,719,198 URLs; Is.gd is a strong competitor in the list of Best URL Shortners. Although this online tool doesn't offer any additional service or feature but if you are looking for a hassle free service then this is what you need.


Su.pr
Su.Pr is a tool offered by the Stumble Upon. This tool facilitates you to shorten the URL and share that across different social networking hubs. You have to register the account prior to using this tool.


Conclusion
I hope that this post will help you to easily share your web pages and blogs on the micro blogging websites. Are you aware of any other amazing URL shortner? Share that with me and I will include that in the above list.
Brayan Lazaris, a web development expert, has been working with
HireWebDeveloper
for many years. Till now, he has written numerous blogs and articles elucidating the best methods and approaches to process web development brilliantly. His keen interest in researching the smart technique for better web solution has opened the gateway for many businesses to establish a strong foothold in the digital space.