Ultimate HTML5 Canvas Graphing Solutions for Web Developers: Changing the Future of the Web Design
The HTML5 canvas graphing elements are one of the most deciding factors behind the success of web developers as it allows them to build dynamic, scriptable rendering of 2D shapes and provides a wide range of data presentation like bar chart. It proves far better in comparison to traditional methods and provides an important breakthrough in the field of web development.
Actually what the major difference analyzed while using HTML5 canvas element in comparison to traditional methods is that, its native JavaScript drawing API allows web developers to dynamically draw bitmap images on the page, and they can use canvas to generate charts and graphs based on data that's already available in the HTML; and in this way they can represent their data in graphical manner on the web. As graphical representation of the data draws more attention of the visitors towards it, because people get exact facts and figures from the graphical data, web developers prefer to use graphical elements in their website. And in this context, HTML5 canvas elements suits best.
These days, HTML5 canvas graphing solutions has created a buzz in the entire web standards community and is expected that within a few years it will change the future of the web design and development industry. The HTML5 canvas graphing elements are the most innovative techniques for web developers which let them to create accessible charts and graphs based on data. The HTML5 canvas element uses JavaScript to scrape data from an HTML table and generate bar, line, area, and pie chart visualizations. If yet, you haven't used this technique in your website development, then, now it's your time to use it to visualizing information or data in a graphical manner on your website.
The markup for the canvas element looks like this:
<canvas id="myCanvas" width="200″ height="200″></canvas>
Just like
element, canvas also has a width and height set in the markup to give it an actual size.
In the today's post we have enlisted amazing library, demos and experiments that uses HTML5 canvas element and produces a charting and graphing solutions. Besides these we have also provided URL to those so that you may explore the concerned techniques in detail. We have brought with us an excellent opportunity for you, so get ready to start experimenting and developing an application that is based on HTML5 canvas element. Also do not forget to share your views with us, how do you feel this post. You may convey us by dropping a comment in the comment section. So, let's enjoy the post!
CanvasXpress
CanvasXpress is a JavaScript library which supports bar graphs, line graphs, bar-line combination graphs, boxplots, dotplots, area graphs, stacked graphs, percentage-stacked graphs, correlation plots, Venn diagrams, heatmaps, newick trees, 2D-scatter plots, 2D-scatter bubble plots, 3D-scatter plots, pie charts, networks (or pathways), and a genome browser. It is a cross browser compatible library and works with all major browsers and is based on the <canvas> tag implemented in HTML5. It also supports a few data transformations like log and exponential transformation, z-score, percentile transformation, ratios and transposing.
Visualize
The Visualize is an excellent plug-in that parses key content elements in a well-structured HTML table, and leverages that native HTML5 canvas drawing ability which transform those table data into a chart or graph visualization. It automatically checks for the highest and lowest values in the chart and uses them to calculate x-axis values for line and bar charts. It uses JavaScript to get contents or data from a well-structured HTML table, and with the use of native HTML5 canvas drawing ability, it transforms them into a chart or graph visualization.
Function Plotter
A function plotter application is really a marvelous HTML5 canvas solution for web developers which plot 2D Maths functions on to a graph using canvas element. It is created by Ed Mackey with aim to assist web developers in plotting or creating charts.
RGraph
RGraph is a JavaScript charts and graph library which supports more than twenty different types of JavaScript charts, including Bar charts, Bipolar charts, Donut charts, Funnel charts, Gantt charts, Horizontal Bar charts, Horizontal Progress bars, LED grids, Line charts, Meter charts, Odometer charts, Pie charts, Radar charts, Radial Scatter charts, Rose charts, Scatter charts, Thermometer charts, Vertical Progress bars and Waterfall charts. It uses the HTML5 canvas tag to produce a wide variety of JavaScript charts and graph types.
IGrapher
IGrapher is a free web-based financial market visualization tool which uses HTML canvas to draw the graphs of financial data. It is used for charting, analysis and prediction of different stock, currency and commodity markets.
Graph.tk
Graph.tk is an online and open-source graphing utility which runs in any modern browser and supports the canvas element. It excellently plots functions, and displays them in an elegant style.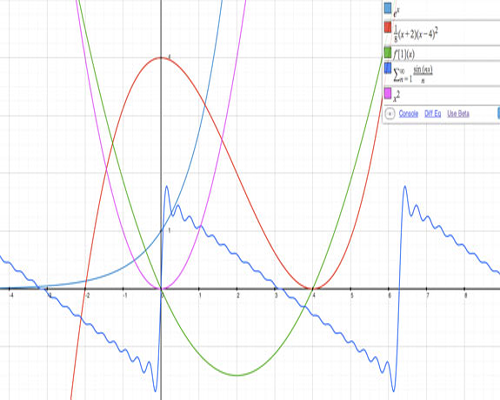 Ticker Plot
Ticker plot is another open source project that uses the canvas element for plotting the charts of ticker symbols and mouse events on canvas for panning and drawing trend lines. It is an amazing tool which must be known to every web developers who uses the graphing or chart works in the web development.
HTML5 Graph Slider
HTML5 Graph Slider is a dynamic graph viewer that can accept data via JavaScript and update the graphs on the fly. It works as a good alternative to flash for simple animation and interactivity.
HumbleFinance
HumbleFinance is an HTML5 data visualization tool which is written as a demonstration of interactive graphing in HTML5. It is entirely written in JavaScript and can be used to display any two 2-D data sets of real numerical data which share an axis. It is an open source project which uses HTML5 canvas element to generate data.
Charting HTML5
It is an efficient tool which uses HTML5 canvas element for rendering charts. It facilitates the web developers to transform HTML table content into graphical or chart form.
Graphr
Graphr is a JavaScript calculator with all the basic features which every graphing calculator possesses. Graphr uses HTML5 canvas element for creating bar graphs, bar charts etc.
Snazzy Animated Pie Chart with HTML5 and jQuery
One can also create an interactive pie chart using the latest HTML5 technologies, with pretty nifty animated effects, using nothing but JavaScript, CSS, and a small sprinkling of maths. Go through the above links, you will find how it can be accomplished.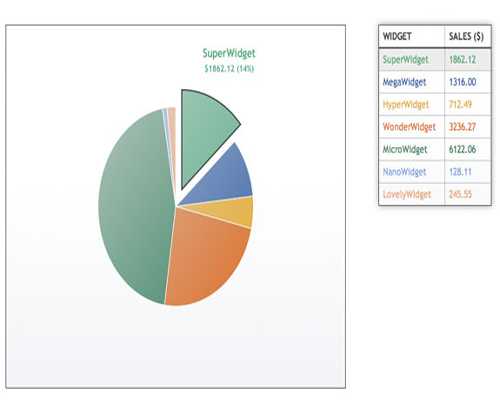 JsGraph
JsGraph is a portable & lightweight JavaScript library which facilitates the web developer for rendering charts and graphs using only JavaScript and HTML5.
Facebook Privacy
Facebook Privacy is a charting infographic which is developed in Prototype.js and uses a HTML5 canvas to transform the data in graph form. It facilitates the web developers to represent data or content in graphical or chart manner.
AwesomeJS
AwesomeChartJS is a simple JavaScript library that can be used to create charts based on the HTML 5 canvas element; one can also create pie, doughnut and Pareto charts. It lets the user to create simple charts quickly with just a few lines of code.
Rinniee Ginsburg is a email template developer and writer at
EmailChopper
. Her technical competency has helped the professionals explore the new techniques in practicing the innovative email development. She has written various articles that accentuate the importance of PSD to Email conversion, smart procedure for responsive email template development & many more. All her writeups have become a source for many professionals and business players to grab the valuable information.