Ultimate Collection of Best Testimonials in Web Design
Testimonials or testaments in web design are a powerful tool which plays a vital role in winning the trust of visitors and tempting them to buy, sign up, fill out a form, or take whatever action you make them to. Especially for websites dealing with sales and advertising, retail, or service providing site, testimonials becomes very important, just because it is the element which is carefully watched by visitors and hence of major importance.
Also, visitor often hesitate to trust someone online and hence they want to know the feedback and reviews of the past customers or visitors. They rely more on the customer's reviews, testimonials or feedbacks rather than what the website represents, what services are offered by the website and so on.
Testaments in web design alone do well in making impression among the visitors or customers and tempt them to enroll with the sites and avail the services provided by it. It is really hard to believe someone online and it is here where testimonials become handy. Different sites display testimonials in different ways. We have gathered here the top testaments in web design which will certainly guide you how these are useful for any project. Grab the ideas from these testimonials and ascertain how you will display testimonials in your forthcoming projects. In the below presented list of websites, you will find that some has used video, photos of customers, while other have used quotes and customer reviews in their testimonials. Let's have a look over these.
Testaments in Web Design
CSSCHOPPER
You will found this site CSS Chopper as an elegant and most efficient web testament where you can get accomplish your all kinds of web-development and web-designing projects in very easy way and even without meeting any hindrances at very competitive price. It cater its services in PSD to HTML/XHTML/CSS conversion and CMS implementation (WordPress, Magento, Joomla, Drupal etc.) too through out the planet. The homepage has incorporated the genuine statistics about clients & projects that reflects the reputation and quality standards of work. Moreover, at left sidebar on homepage a tab for CSS Precise can be designated by means of which you can check your site for pixel perfect online.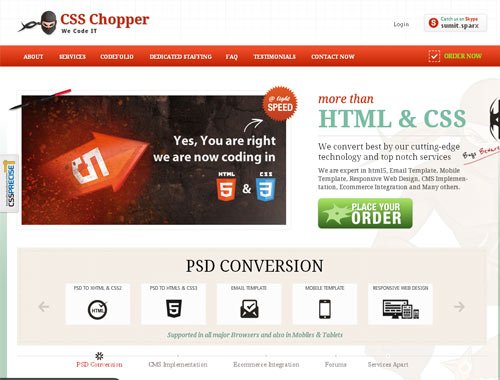 Assistly
Assistly serves as all in one system for delivering awesomely response. Its homepage includes a testimonial in large test with a photo of the customer.
The Resumator
The Resumator aims to take the hassle out of hiring. It lets you to track the status of applicants throughout the hiring process and never lose a candidate in the pile. Its homepage includes a slider that shows testimonials and quotes from reviews.
Squarespace
Squarespace facilitates you with customizable design, easy editing, and 24*7 supports. Its sign up page includes a brief quote from the Wall Street Journal, which we hope sure provides added credibility.
PSD2HTML
PSD2HTML is another web design testaments in web design which includes a testimonials page showcasing customer reviews and ratings from Google Products.
Shopify
Shopify lets you to create your fully customizable online store. These days, more than 15,000 stores run on Shopify. Its homepage includes an area near the bottom of the page for a testimonial currently showing testimonial from author Tim Ferris.
Doteasy
You will love to visit this website. The homepage of Doteasy site includes a customer testimonial on a paper note background which will impress you.
ElegantThemes
As the name reveals, ElegantThemes provides highly professional WordPress themes of quality and integrity along with a dose of modest elegance. The homepage of this site includes a small area near the top for a testimonial.
Clover
You will find everywhere users testimonials, customer reviews etc. on this site. Its homepage is completely a testimonial page and they display several video testimonials from their users.
Ekklesia 360
It is the next generation Content Management System which at its homepage includes a small area for a customer testimonial at the top of the right sidebar. Visiting this site you will gain an amazing experience.
Themefuse
Themefuse is a remarkable web design testaments in web design that includes a customer testimonial near the bottom of the homepage. It offers full featured top WordPress themes at affordable prices. You will feel just like buying a custom made website from a premium web design agency at a fraction of the price.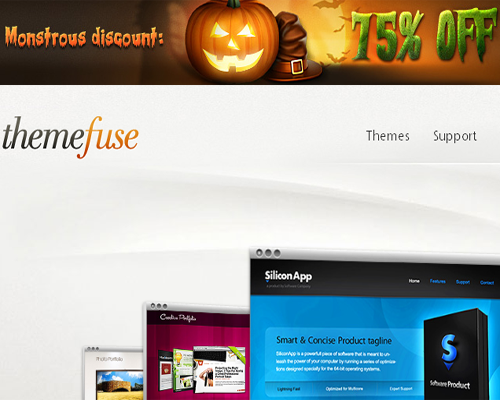 WPZoom
WPZoom provides top quality premium WordPress themes at amazing prices along with excellent lifetime support. At its homepage, you will find several testimonials from clients on a paper background image.
Skyclerk
Skyclerk promises to change the way you look at book-keeping and accounting forever; you need not to worry about backups, no expensive shrink wrap software to buy. Its homepage includes a testimonial displayed in a speech bubble. With its fully robust accounting system, it makes so many small to medium size business to run up.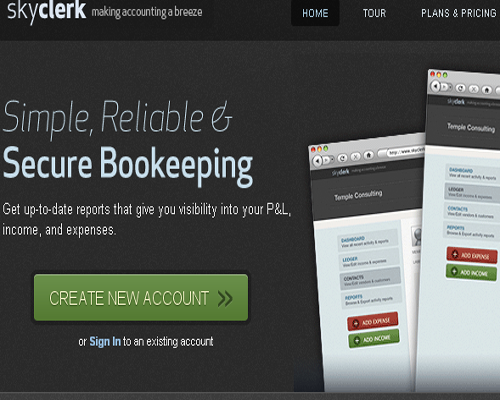 BuySellAds
BuySellAds.com is another great examples of testament in web design which empowers your online ad sales and assists you to sell ads better. Here, you can manage your ads 24/7, take your ads live within minutes, and get historical reporting and recommendations. Its homepage is split in half to separate content for its two core audiences, publishers and advertisers each side including a testimonial and a photo.
StudioPress
The StudioPress empowers you to quickly and easily build incredible websites with WordPress. With its state of the art code and smart design architecture, it lets your content easily seen by the search engines. Its homepage displays three testimonials, along with photos, from people who are highly influential in the WordPress and blogging community. It serves as a solid foundation for more than 58,000 online publishers and has won their trust.
The Social Agency
The Social Agency can be presented as one of the finest examples of testaments in web design. At its homepage, you will find several testimonials in prime position in the slider. It specializes in using social media marketing & public relations to promote events, products, TV shows.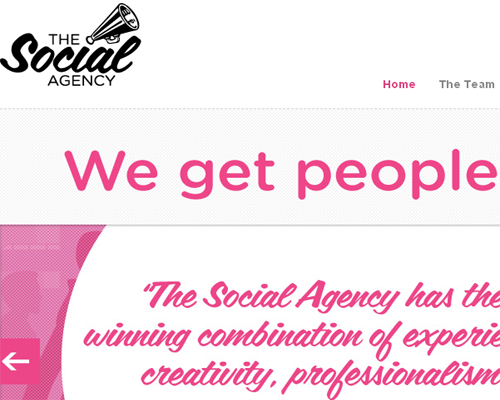 Mint
It is really an awesome web design testimonials which brings all your financial accounts together online or on your mobile device, automatically categorizes your transactions, lets you set budgets and helps you in achieving your savings goals. At its homepage, you will see user testimonials as well as quotes and reviews from high-profile publications.
Subernova
Subernova is a project management tool that makes you more productive. It lets you track time, send invoices and estimates, collaborate with others and keeps your business smooth by keeping tabs on late payments, deadlines and more.
FreeAgent
FreeAgent is a fully featured online accounting tool wrapped in a sleek, comprehensive and easy to use interface. It is straightforward to use and offers an unrivalled range of features for its target market. It is designed to assist its users to spend less time on their money and more time on making it, which is, surely a dream of every freelancer.
Xero
Xero is the world's easiest accounting software and provides you each and everything what you need to run your business. Using this accounting software you will be able to see your cash flow in real-time. It automatically imports and codes your bank transactions and enables you to create and send invoices automatically & get paid online. It allows you to pick from a wide range of powerful add-ons and manage all aspects of your business by integrating your accounts with advanced payroll, CRM, inventory management systems.
Business Catalyst
Business Catalyst is a hosted application for building and managing online businesses. When you will visit its homepage, you will find several testimonials, listed as "partner stories", with photos each one including a link to a more detailed case study. It offers a unified platform where one can build everything from amazing websites to powerful online stores, beautiful brochure-ware sites to lead generation mini-sites without any hassles of codes.
Top Testaments in Web Design
Please Share Your Comments & Experience With Us.
Nola J Arney is working as an application and web developer at
HTMLPanda
. Her core technical skill in web designing, Sencha touch, PhoneGap, and other platforms has contributed a lot of benefits to the business. She has an interest in writing and hence, shehas written numerous blogs & articles that specifically shed a light on website the designing & development technology. All her write-ups have earned a gratitude from the specialists worldwide.