UC Browser 8.0: Latest Innovation for Fast Browsing Of Mobile Devices
The advent of UC Browser, which is sometimes also known as the UCWEB, is really a great achievement of technical society as it has led the evolution of new generation of mobile browser. It is a web browser for mobile devices which has been updated with its latest release recently launched, i.e. UC Browser 8.0 for Android and a handful of other platforms. The beta version of this browsers guarantees to enhance your web browsing experience on your device through faster, smoother rendering of pages in various browsing modes. In this post we will make you aware of all the details of UC browser start from its introduction to its features. We will also provide the download link for the UC browser 8.0 so that if you wish to install it, you can easily do it. Let's have a look over it thoroughly.
Introduction to UC Browser
UC Browser is cross-platform web browsers especially build for mobile devices such as mobile phones with support for all the renowned operating systems that currently exist whether it is Android, Symbian, BlackBerry, iPhone, Windows Mobile or any other. Nowadays, UC Browser is the most popular mobile browser all around the world. It does not handle web page on the phone, but the web page is compressed and rendered by a server, similar to the operation of a thin client and in this way it is handled. The browser is available for a number of platforms and works on both low memory phones and high-end phones. It is based on the U3 kernel which empowers it to facilitate its users with greatly improved performance such as speed, intelligence, safety, low energy consumption, and expansibility and many others. The power and UC Browser supporting Web App in overall way denotes that very soon in a very little time, it will occupy its unique position beating all other browsers.
The UC browser boasts of several promising features including both basic as well as several advanced features. It allows its users to take advantage of any of its features such as such as full-screen browsing, URL-auto completion, real-time search suggestions from Google, customizable zoom level, image quality and browser orientation, in-page search, built-in download/file manager, better privacy controls. Users are free to opt to view pages with full-content support in PC mode or revert to the mobile/no-image view to save bandwidth. They are also facilitated with several other features including detailed traffic stats, day/night mode support, extensive bookmarking, editable quick-dial buttons on home screen and much more. Let us see its major features one by one described below: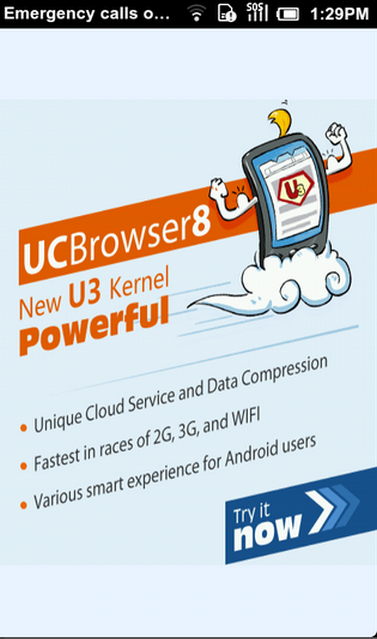 Multi Tab Features
The Multi-tab features of the UC browser allows you switch between pages easily at the same time giving you better browsing experience. Similar to Safari browser for iOS, you need to press the tab icon represented by a couple of overlapping small squares on the toolbar at the bottom to add or to switch between various tabs. It supports opening URLs in different tabs but does not provide the conventional tabbed browsing experience just like Chrome or any other.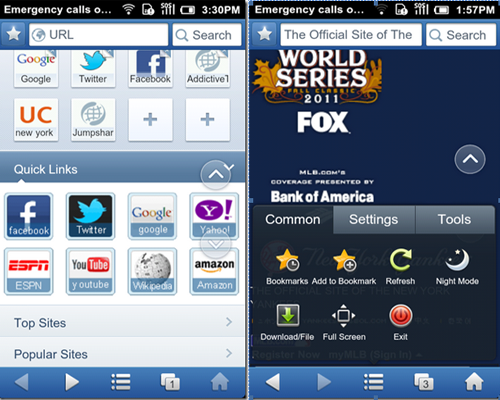 History, Bookmarks, File Manager and Downloads
The above mentioned are the most noticing features which provide you a unique experience of browsing while you are on the UC browser 8.0. History features keep the detailed record of those entire websites which are visited over there. From the bookmarks screen you can view your browsing history and manage all your bookmarks, add new ones, create bookmark directories, import bookmarks from the stock browser or export them to a backup file. File Manager lets you to open, delete and share your files by Bluetooth in UC Browser. Downloads folder keeps the content downloaded via UC Browser.
Customization Features
Customization features enable you to customize the features and settings of the UC browser as per your desire. One can tweak  browser settings to open links in new windows or the same one, enable/disable option to restore the last closed tab when the browser is launched, specify number of simultaneous download tasks and wipe user data/browsing history etc. Not only that, UC Browser uses its own cloud storage to store all your cached content and hence one can keep a close tab on all the bandwidth/traffic that UC Browser has saved.

Basic and Advanced Features
Constituted with several basic as well as advanced features, UC browser promises you to have an amazing browsing experience. It offers a diverse range of basic browsing features such as zoom, image quality, open link, browse mode, resume last tab, transition animation, preload options, cloud acceleration etc. Apart from these it also facilitates you with several advanced features including pop-ups, cache page, GIF animation, JavaScript, Underline Links, Flash plug-in and many more than that. The presence of these features has been perceived as an almost certainty with any web browser, whether on PC or on a Smartphone/tablet etc.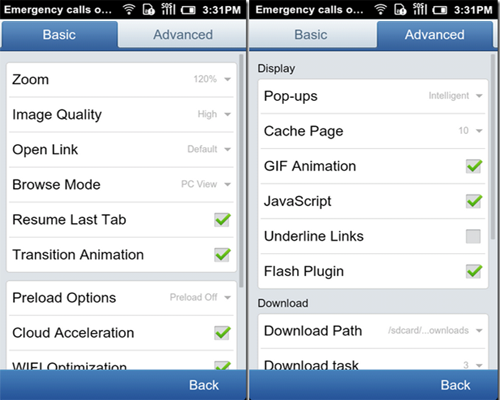 Other remarkable Features
Apart from the above mentioned features you will find a bundle of features supported by UC browser 8.0. Let's have a glance over these features as these are also very important for effective and smooth browsing of mobile devices. These are given as under:
Compression Technology
| | |
| --- | --- |
|   | It is based on advanced compression technology which can reduce data costs by up to 85%, making mobile surfing cheaper. |
Stable Network
| | |
| --- | --- |
|   | The presence of unique free-link technology makes wireless network much more stable. |
Powerful Search
| | |
| --- | --- |
|   | It is embedded with various popular search engines to meet your searching needs. |
Site Navigation
 
This feature shows hundreds of categorized popular

web sites

in the navigation bar just in a single click.
Download Manager
| | |
| --- | --- |
|   | Super download manager of the UC browser supports resuming downloads and multithreaded downloads. |
Optimization
| | |
| --- | --- |
|   | UC browser is optimized at its best on different platforms in order to provide the best browsing experience for the visitors. |
Pre-load
 
Pre-load technology makes further improvement

to

the browsing speed, with no more waiting.
Privacy
 

Privacy feature

lets you to manage your account making login easily and support cookies.
URL auto-completion
| | |
| --- | --- |
|   | The UC browser possesses a sophisticated URL auto-completion feature which lets you to enter addresses just by entering a few letters and then selecting the particular address. |
View Mode
| | |
| --- | --- |
|   | This browser offers Zoom Mode and Adaptive Mode which are provided to meet your preferences and delivering you more viewing choices for web sites. |
Save and Share
 
The browser also supports saving web pages and images and then sharing them

by

Bluetooth or SMS.
Night Mode
| | |
| --- | --- |
|   | It has a unique Night Surfing Mode which protects your eyes in the dark. |
UC Browser 8.0 Beta is now available in the Android Market. If you wish to download UC Browser 8.0 just click the below provided link you will get it within a few minutes on your screen.
Conclusion:
As we know that there are so many browsers available today including Dolphin HD, Miren, Boat Browser, Firefox, Opera, Angel Browser, Skyfire and Android's own stock browser offering diverse browsing and customization features to its users. Thus it is compulsory that the new entrant must have some extra and unique features which must draw the attention of the users towards it which in turn demands truly some extra efforts to be put. And it is the UC Browser which has achieved everything. It is comprised with all the aforementioned features along with some extra added features which bound the customers to with it.
The area of interest of Jennifer Adam is to cater technologically advanced and powerful tool which works remarkably with multiple browsers and devices. Being a talented professional of
inkyROBO
, she is capable of implementing the innovative ideas and also loves to write inspiration blogs.