WhatsApp Tricks: Top 25 WhatsApp Tricks & Tips for Android/iPhone
WhatsApp is now the ultimate online messaging app for millions of smartphones' users. With the user base of 417 million worldwide, this messaging app is the topmost used application. However, WhatsApp has enhanced the messaging process, the people want more from this. Thus, this blog presents some interesting WhatsApp tricks & tips that make your messaging experience more comfortable.
Let's Explore the Amazing WhatsApp Tips & Tricks
Message Scheduling on WhatsApp
In this busy life, most of the people forget wishing birthday or anniversary to their dear ones and some have the bad memory. Do not worry, there is an app for WhatsApp that send the message automatically at the particular time & date to the concerned person. For this, you just need to download and install Seebye Schedular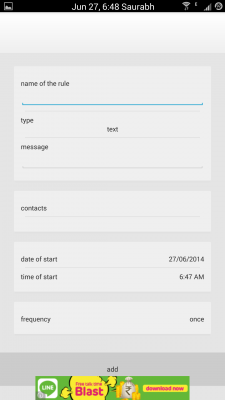 This is an Android based app, hence it will work on Android phones. The above image clearly shows that you just need to set the date, time, contact and the message.
Message/Conversation Recovery Process
Sometimes, we delete the conversation and later on realize that we should not have deleted that message. Thus, to recover the deleted conversation, there are 2 tips for WhatsApp users:
Recover Messages That Are 7 or Less Days Older: Just need to reinstall (uninstall and then install the WhatsApp). During the reinstallation process, the WhatsApp will ask you to restore. After clicking the restore, you will get all your deleted messages.
Recover Messages That Are More Than 7 Days Older: In this case, Download file manager and uninstall WhatsApp Messenger. After this, by using file manager, go to "/sdcard/WhatsApp/Databases folder". There you will see the files as follow:
Select the file by using date value that you want to restore. Rename it to msgstore.db.crypt. For example, if name of file is msgstore-2013-12-10.1.db.crypt, then change it to msgstore.db.crypt. Now, install WhatsApp and choose the restore file. The restore option will reload the deleted messages.
Hide Profile Image
Most of us are concerned about the privacy in sharing the profile picture. To do this, there is a feature in WhatsApp that helps you hide the profile picture for different people. Here, you need to navigate to Setting>Account>Privacy>Profile Photo there you will get 3 options, including Everyone, My Contacts and Nobody. Select the one option and the profile image gets hidden.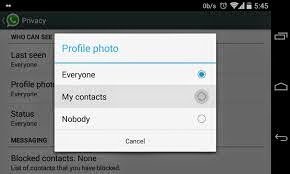 Hide Last Seen Timestamp In WhatsApp
The recently updated WhatsApp messenger comes with a feature that enables you to hide the last seen timestamp. You just need to go to Setting>Account>Privacy>Last Seen. There you will get the options, such as Everyone, My Contact and Nobody. You can only select one and timestamp gets hidden.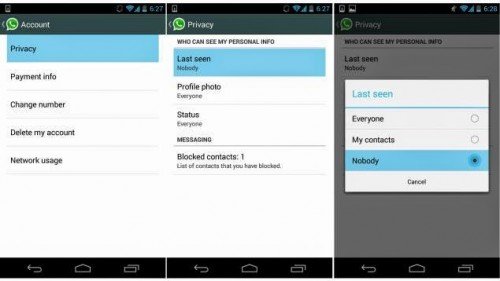 Lock WhatApp By Using Password
To stop others reading your WhatsApp conversation, you can use App Lock. Download this app and set the password.
Share Different Files ( ZIP, PDF, APK, EXE, RAR)
It is known that with the help of WhatsApp, the users can share only Media files (audio, video & images). There are various situations, when we have to send other files, so to make it possible you only have to download, Dropbox and CloudSend. After installing and downloading both of the applications, follow the below given instructions:
Open the CloudSend. Then, it will ask your permission to link with the Dropbox. Just allow it.
Transfer the file to Cloudsend. This will upload the file to the Dropbox and provide the link to that file.
Share that 'link' with the concerned person at WhatsApp and then that person can download the file.
Download Friend's Profile Picture
The WhatsApp does not allow anyone to download the profile picture. But, there is a WhatsApp trick that can help you do this easily. First navigate to SD Card > Whatsapp > Profile Pictures. In this folder, you will get all the profile pictures.
Transfer All Conversations From One Phone to Another
Have you changed the phone and want to transfer all your WhatsApp conversations to the new phone, then there is smart WhatsApp tip. Just follow the below given instructions:
If you have the WhatsApp on SD card, then connect it to computer (by using card reader)
Navigate to Whatsapp > Databases Folder and transfer all the files to your computer.
Install the WhatsApp on the new phone.
Copy the files (that were transferred on your computer) to Whatsapp > Databases folder of the new phone.
Now, restart the app, you will find all the old WhatsApp conversations on the new mobile phone.
Switch WhatsApp from One Phone Number to Another
Here, is a simple tip for WhatsApp users to change the number that is associated with WhatsApp.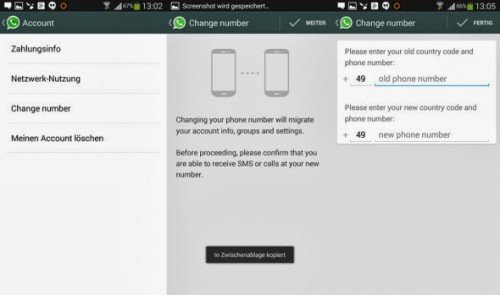 Go to Setting, then choose Account and at last click Change Number. Then, you will get the option to fill your old and new number. Just enter both the numbers and press done.
Change Friends' Profile Picture
Most of us like to organize the contact list according to our favorites images, which is only possible in the contact logs. You will be happy to know that there are simple tricks of WhatsApp that enable you to change the profile image of your friends on your phone as you want it to be. Let's have a glance over the tips:
Disable WiFi or packet data. So that, WhatsApp will not update the picture.
Save the desired image file on SD Card > WhatsApp > Profile Pictures. And, overwrite the old file.
Display it to your friend.
Note: You cannot change the profile picture of other person globally.
Use WhatsApp Without Any Mobile Number
If you want to use WhatsApp without sharing number, then here are WhatsApp tips to be followed:
Uninstall WhatsApp.
Download & Install a new WhatsApp.
Block the messaging service by changing normal mode to flight mode. Open WhatsApp and add the number to it, so that it cannot send the message to the server and verify it.The verification is incomplete and the network is blocked, so Whatsapp will ask you to choose another method to verify. Then, choose ' Check through SMS ' option & enter email address. After this, click 'Submit' and then click "Cancel" without waiting single second. This will end the authorization process.
Now, install the Fake text message for Andriod and Fake- a- Message for iPhone.
After installing, Open the Fake message app. Follow the way that it asks you to do and enter the below given information
To: +447900347295
From: +(Country code)(mobile number)
Message: Your email address
Now you will get the number that you can use for your WhatsApp and chat with your friend.
Deploy Fake Conversation to Play Prank
Do you want to play prank with your friend by showing the fake conversation between you and the celebrities (like Shahrukh Khan, Shahid kapoor, Britney Spears, Bill Gates, etc.). You can do this by using the "Whatsaid" on google store. Download and install the app. Create the post and share it with the concerned person.
Be Notified About WhatsApp Message on Your Computer
Many people spend time with computer, it is difficult to access Whatsapp messages. Thus, there is an amazing WhatsApp trick that enables you to be aware of chat notification on your computer.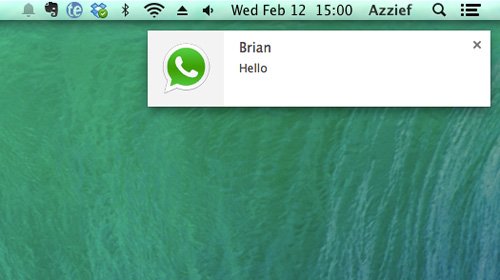 You just need to download the Desktop notification on the phone. Follow the instructions on the app. This app will forward all the android phone notifications on your system.
Receive Notification in Voice Format
There are circumstances, when we do not get the time to read notification. Therefore, to simplify the way for you to receive notification, here are the effective tips for WhatsApp that convert the notification into voice format:
Install "Voice Notification" and after that install "Text to speech"
Run the voice notification. It will ask you to enable accessibility. For this, go to Settings >> Accessibility and then, convert accessibility values for this application.
Again open the application. Now you will see options to read notifications with WhatsApp, Gmail Viber and other apps .
Implement Shortcuts for Important Contact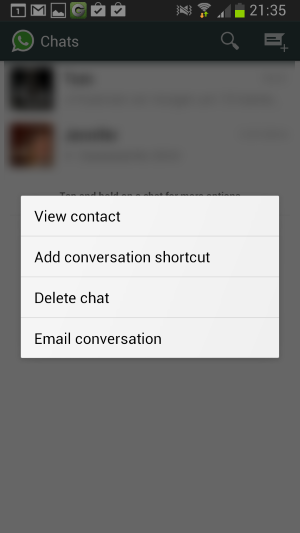 Speed up you communication by creating the shortcuts for your important contact. There are interesting WhatsApp tricks, let's explore:
For Android platform, just press on the group or contact of which, you want to create a shortcut. A menu will open up, just Tap the "Add Conversation Shortcut". This process will create a shortcut to the contact or group on your display screen.
For iPhone users, you have to use a third party application, 1TapWA This will give Android like functionality on iPhone. 1TapWA also comes with some extra features, such as action scheduler as well as image editor.
Tricks For Installing WhatsApp on Personal Computer
Most of the mobile phones do not support WhatsApp. Therefore, there are amazing tricks that can enable you to install WhatsApp on your PC. Lets explore the tricks:
Download bluestacks of (0.8.1.3011 version) from this link.
Start installation.
During installation, you may get a warning message. Just click "OK" installation
After installation, a following screen will appear.

Click on App Stores icon on the menu bar, so that you can access android application store.
Click 1Mobile, search WhatsApp Messenger & install it on your pc.
After installing the WhatsApp, the icon will appear on screen. Click that icon and verify the mobile number.
Now your WhatsApp is ready.
Video

Use Facebook Like WhatsApp Chat Heads
The Facebook chat heads empowers the users to use the multiple programs. In the same way, these is another app that is Seebye Chat Head for WhatsApp that is compatible with Android.
Create Backup for WhatsApp Conversation
WhatsApp creates the backups of the chats automatically.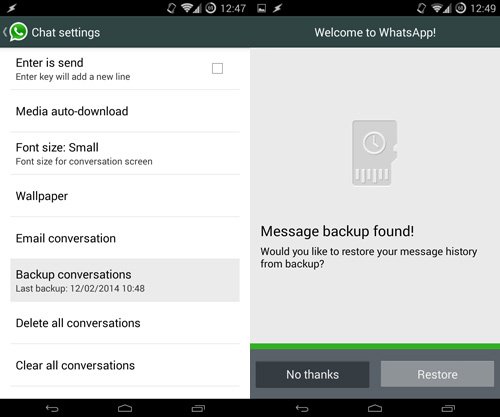 For safety concern, you can also create the backup.
For iOS, navigate to Settings > Chat Settings > Chat Backup and click "Back Up Now".
For Android, just go to Settings > Chat settings and then tap Backup conversations.
These steps will not backup the media. Hence, you have to use a "file manager" for copying the media folders in /sdcard/WhatsApp/Media.
Stop Images & Media Files to Be Appeared In Gallery
The WhatsApp images mostly appear in Gallery & Camera Roll that make it difficult for us to organize the photo album. Hence, here are some important tips on WhatsApp for iOS and Android platform:
On iOS, Go to Settings > Privacy > Photos. Turn the "WhatsApp switch" off.
On Android, first create a .nomedia file in WhatsApp's images or video directories. For this, install an file explorer "ES File Explorer". Go to media folders. Click the New button in the lower left. Pick the File and create a file named with ".nomedia". This will cease the scanning process of Gallery.
Checkout Nature of Friend's Interaction With You on WhatsApp
WhatStat provides information in form of statistic, that includes top friends, friends' and groups' active time of the day and the frequency of message distribution for both one-on-one and group chats.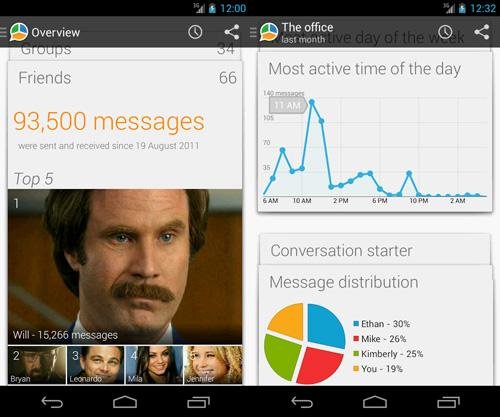 The WhatStat presents all these information in graphic form that makes it easy for you to understand. There is no need to pay specific attention regarding who initiates conversations or what is a good time to message someone.
Change WhatsApp's Theme
Are you bored of your WhatsApp background color and theme, then don't worry. There is a solution that can help you change the WhatsApp them that is installing WhatsApp Plus.
Spy on Your WhatsApp Friends Account
This is the most wanted trick among other WhatsApp tricks. To do this, you need to install Spymaster PRO. This will empower you to track and read the entire conversation of your friends. Moreover, you can even track the shared pictures and video with time timestamp.
Extend License Validity Up to 2022
As we all know that after one year of installation, WhatsApp will start charging $0.99 every year. To solve this, below are the simple tips of WhatsApp:
Uninstall the WhatsApp from your phone.
Install the WhatsApp on the iPhone (of your friend) with your number.
After verifying the number. Again, uninstall the WhatsApp from the iPhone
Now Install the WhatsApp on your phone. Check your account information, you will see that your subscription will extend up to 2022.
Add WhatsApp Profile Image to Contact Easily
It is known that WhatsApp does not allow the user to download the image. Hence, first you need to follow tip "number 7". After this, you will get image of your friends, which you can use for the contact information.
Delete WhatsApp Account Permanently
There are circumstances when you want to delete WhatsApp account permanently, Here is the simple tip for WhatsApp for deleting the account permanently.
Just Go to Settings, then Account and then Delete your account.
Conclusion
There are various other WhatsApp Tips and Tricks, if you know any other apart from the list, share them with the help of comment section given below. Next time, we will come up with something new and exciting things for you. Till then, stay tuned with us.
WhatsApp Tips & Tricks: Enhance Online Conversation Experience
As the most experienced developer of
CSSChopper - PSD to HTML Conversion Company
, David Meyer firmly believes in building the new ways that lead the people towards success. He focuses on an ideal approach and tries to deliver the perfect services close to the defined needs.