Top Free Image Hosting Websites And Photo Sharing Websites
This is a latest collection of free image hosting websites and photo sharing websites to upload your image and videos in order to share them globally. Some of these websites of image hosting and image sharing are also supported by video uploading and video sharing.
In this highly revolutionized era of internet everyone are indulge in occupying a web-platform. These web-platform are very critical to promote products and services by corporate, business, commercial etc. establishment as well as individuals are also sporting parallel to make a prominent online presence with their content expressing their hobbies, interest, attitude and thinking. However, in my previous published post, I have already stated about several online platform for individuals useful to make their online presence more prominent such as Blogging websites for writers and Bloggers, Social Media sites for building brand by corporate, commercial and business establishment etc. But today, I am going to present here some free image hosting websites which are very worthy for photographers, designers, and all those professionals who pursue with art and designing work.
As myriad of such people are there who wanders for a free web-based platform where they can show-up their creativity, art and design piece of work. It seems to be very simple and easy for those who own their own website or any kind of web platform. But in contrast to them, it is too confounded for them who still doesn't have any web-platform. However, in order to help them out, below I have compiled some handpicked website for image hosting where they can create their own gallery, showcase etc. absolutely free. Moreover, accessing these image hosting sites are very simple and affable which tends you to create superb and captivating image gallery or showcase of images without meeting any hindrances in this direction.
Actually, these Free Image Hosting Websites are the web-based platform which provide free space to upload your images in a decorating way of your wish and share with huge extent of people throughout the planet. Therefore, it is also called as Photo Sharing Websites. Only you are supposed to put a little bit of efforts of registering with sites and provide the appropriate information. Once, you accomplished your site is ready to publish your images without any hassles.
Therefore, just go ahead to rolled them out and opt to employ which suits your need and requisite perfectly. Also, there is no any limitation of creating account with any site:
Flickr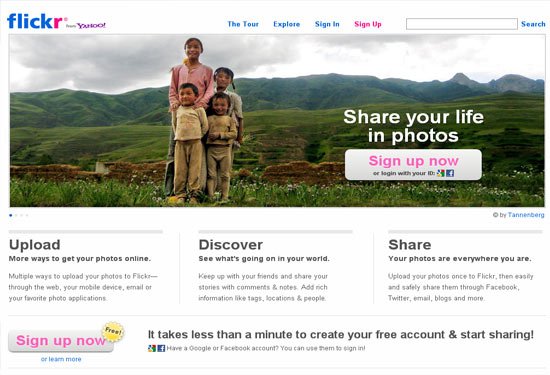 Flickr is one amongst most elegant and renowned image hosting site or photo sharing and management application in the world. However, it allows you to make your favorite photo and videos visible in the front of people throughout the world. Also you can show relevant content to your family and friends privately and securely as well as the blog those photo which have been captured by your camera phone.

Free Image Hosting

Free Image Hosting is widely known as a web hosting service which sports on various specific linux web servers. Next, these dedicated bandwidth of server are available at absolutely free for this service. In order to cultivate your image uploading and accessing other additional features, you are not required to register but creating an account with site would be mandatory.

ImageShack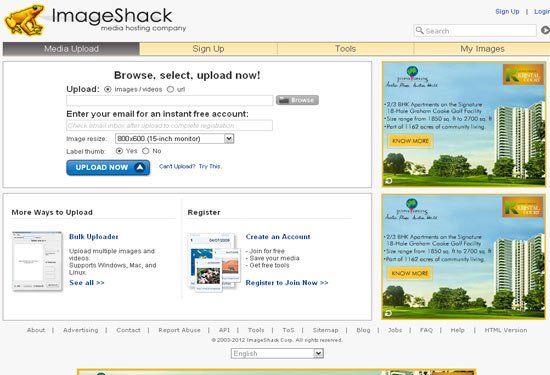 This image hosting website is literally very nice and simple to employ. With this photo sharing website you can easily upload your photos and videos as well as share them accordingly in very easy and hassle-free manner with your family and friends.

iimmgg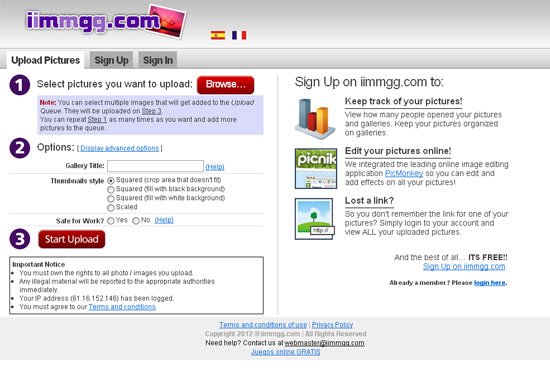 iimmgg is all about a free picture sharing and image hosting website. This is very innovative and novice site that not only enables people to upload and share their images but also provide an overview of statistics saying how many people viewed your pictures and galleries as well assist to manage the pictures in the galleries. Also, posting of images on various forums, blogs, message boards etc. are permissible.

imgur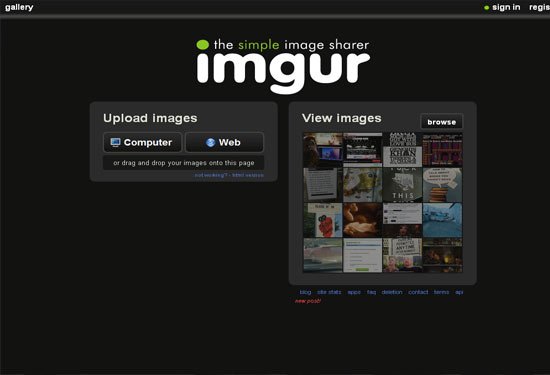 imgur is a simple but nice photo sharing website. If you are literally keen to host your image then it is the best web-based platform that offer it services absolutely free. Employing this free image hosting site in context of sharing your images is very easy, simple and hassle-free.

imgPlace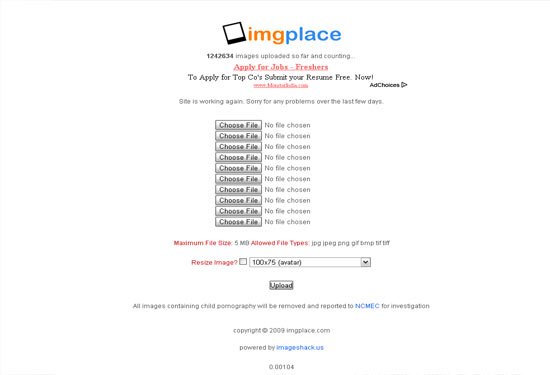 This imgPlace free photo sharing website offers free online galleries, free image uploading, free photo hosting and sharing without any hurdles and in very easy and affable way. So, what are you waiting for now, just go ahead to upload your image and initiate to share them worldwide.

Photobucket

With this Photobucket image sharing site you can upload your picture which is completely free and share them accordingly with your family and friends as well as show your creativity in front of innumerable count of people throughout the world.

TinyPic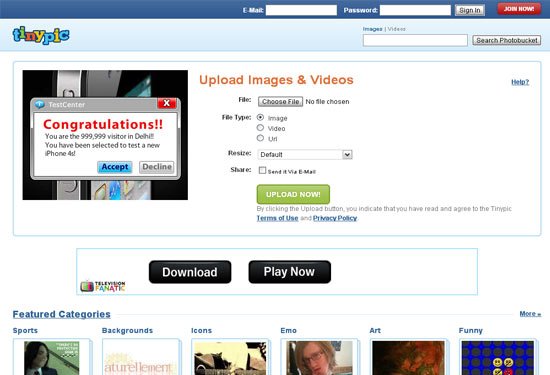 TinyPic is an amazing free image hosting site that offer photo and video sharing service without making any charge to the users. With TinyPic you can upload your desired images and link in very simple and convenient manner as well as lets you to share them with eBay, blogs, message boards and MySpace. The most interesting thing is that it doesn't require any account. So enjoy!

Perhaps, this post Top Free Image Hosting Websites And Photo Sharing Websites will be proved to be highly valuable for those who are avid to show off their photographs, designs, art and creativity work etc. throughout the world but doesn't have any web-based platform to upload their images and share them accordingly. Thus, these free image hosting websites are excellent platform to upload your images and videos for absolutely free and without meeting any obstacles in the path to share them easily.
Williams Heilmann has been associated with
PSDtoWordPressExpert
for many years. He has extensive experience as a web developer and works with this company to offer the best WordPress solutions to suit the specific needs of the clients. Also, he has got a flair for writing which he consumes in writing the informational blogs for submission on different websites.