Top 7 Benefits of Using CakePHP for Web Application Development
CakePHP is a powerful, reliable and fault-tolerant PHP framework based on the Model-View-Controller programming paradigm (MVC-model-view-behavior). It is a very flexible framework, which simplifies the web development process.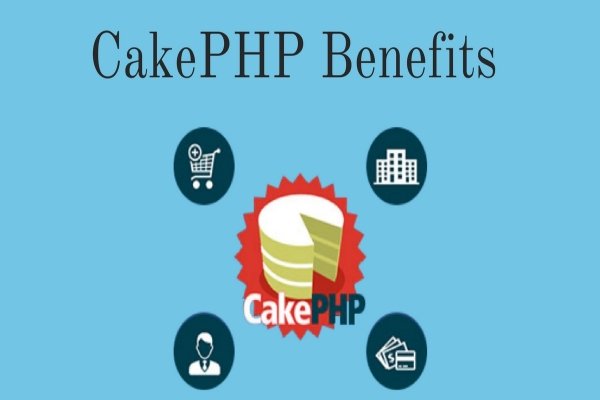 It enables web developers to speed up the website/app development projects and completed them in a timely fashion. CakePHP offers a basic framework for organizing file names, classes and database tables. So, the project development remains consistent and logical from start to finish.
Web server and PHP 5.2.8+ are the basic requirements for using CakePHP. Generally, this framework runs on Apache. But, it also works very well on other web servers, such as Microsoft IIS, Lighttpd. As databases are an integral part of most web applications, CakePHP supports numerous databases, such as MySQL, PostgreSQL, Microsoft SQL or SQLite (with PDO extensions).
1. You Can Use Codes Once Again
While creating websites or web pages, coders have to spend a lot of time on writing codes and then check its synchronization with different code structures. If there is a disparity between codes, they have to toil a lot to eliminate the problem. CakePHP offers pre-written codes. Developers can pick the desired code (which is tested and verified already) and complete the web development projects in less time.
2. Low Cost of Web Development Projects
As CakePHP is licensed under the X11 license (which is also known as MIT), you can easily code any project under the FOSS license and quickly create prototypes and ready-made sites. There is a large community of programmers and coders that work with CakePHP and they share their experience with anyone who wishes to create websites and apps using this programming language.
So, newcomers get a large number of useful free-access documentation, instructions and manuals, templates and examples on CakePHP programming. This helps them to learn this programming language quickly and create awesome websites/applications easily. There are many IT companies that offer CakePHP application development courses and services. You can learn a lot from them and meet your professional or business needs easily.
3. The Ability to Create Agile Applications
These days, internet users, business organizations and corporate firms are crazy about hybrid apps and on-demand apps.It is because different types of apps help companies to reach out the targeted audience easily and grow their sales rapidly. Tech-savvy individuals use them to search information, products, services, etc, on the global internet.
With the help of CakePHP framework, you can easily create web applications in the shortest time. It helps you to make applications scalable and easily maintained. So, you win appreciation from your clients and customers and business opportunities keep coming in your way.
4. Compatibility with All platforms
CakePHP is compatible with almost all operating systems, like Windows, Linux, Solaris, Mac OSX, etc. Apart from this, it supports all servers that are prominent in terms of the number of installations, such as Apache, IIS, iPlanet, etc. So, the websites and applications that are created with CakePHP perform well on all parameters and bring abundant business opportunities for their owners.
5. Easy to Expand Website's Functionalities and Features
Adding more features to a website or its expansion becomes an unavoidable need when your business grows and customer's expectations grow dramatically. You can use extensions and libraries (offered by the CakePHP) to expand your website. Add custom extensions to your site to increase its functionality.
Always keep in mind that creating reliable sites with CakePHP can be a daunting task. It is because the CakePHPcode is mostly written by developers with little experience in computer security. So, coders need to use their own website building skills to develop websites. It helps them protect websites from hackers, cyber criminals and other online security vulnerabilities.
6. Support for All Business Types
Cake PHP development facilitates the creation of all types of websites with limited budget and time. Furthermore, advanced CakePHP programming offers CRM solutions, online stores, websites with databases, etc. This programming language is widely used to develop user-friendly websites and attract a high-quality audience in an easy way. It ultimately leads to an increase in return on investment (ROI) and creation of ample leads.
7. CakePHP Implements CRUDE Functionality
CRUDE: Create, Read, Update and Delete. While creating websites and web applications, developers face a number of issues and problems. They can use the CRUDE functionalities to deal with problems related to the database handling.
You can easily create and manage all types of websites using this functionality. It also helps in easy management of data in the web development process. If you want an awesome and professional website/application to be created with this programming language, avail the CakePHP web development services offered by IT companies. You can also create perfect content management systems using this language and be a prominent coder in the web development world.
Final Words
CakePHP is the real pal of all modern coders, web developers, and website design and development companies. They can easily create all types of websites using this language. The key features of the programming language, such as caching, translating, validating and authenticating, enables you to deal with all challenges associated with the development of modern websites and applications.
Author Bio
Kerin Miller is a Cakephp developer at Stellen Infotech, a Cakephp web development company. She is passionate about writing and loves to write on CakePHP techniques. She has 5 years of experience in the industry and serves clients across the globe.
These posts are a handout from our Guest Author who works with us occasionally and provide their opinions for our regular visitors on Web-Development & Designing, SEO, CSS, Coding etc. As their details can be marked with their concerning post even we would like to add that out Guest Authors are expert and master of their own sector. If you also desire to be our Guest Author Contact Us at
submit@webgranth.com