Top 6 Web-Based Tools for Freelance Web Designers To Streamline Their Time Tracking Process
The two words – time tracking and freelancing are often used in the same breath. More often than not, the freelancer will be juggling multiple tasks, all at a particular clients. When the clients get diverse and the freenacling business grows, it becomes absolutely essential for the freelancer to manage the time spent on various tasks effectively. By the means of time tracking, the freelancers can easily track down the billable hours for each of the project separately, and can bill their clients adequately about the same.
Without beating round the bush (since time management is such a necessity) let us present to you the 6 best time tracking and online invoicing apps. Pay attention to the same and you may get the solution you have been looking for all this while.
1.Invoicera
Invoicera is the professional and efficient time tracking and online invoicing solution. Owing to its impressive design and highly user centric and self explanator user interface, it is amongst the most preferred solution for online billing and time tracking. It is very simple to use, supports multiple languages and currencies so that you can effectively cater to the global clientele and provides you with abundant amount of customization solutions, which can be used for various invoices.
It gives you useful insights on the progress of your project and helps in tracking the time you spent and expenses that you incur while working on the projects of multiple clients.
2.Harvest
Harvest is simple and effective. It does not challenege mental comprehensibility and demand you to perform oppressive installations etc. It creates a really user friendly environment for you to work on and provides you with an option of widget, that saves time in the real time.
3.Toggl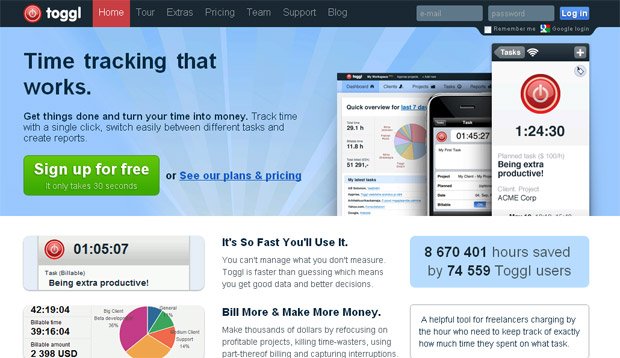 Toggle makes time tracking and time management highly starightforward and simplified. With Toggl, you can manage and add activities within a few minutes. What sets Toggle apart is its cross platform compatibility. You can access it from a website, from you own personal computer (it supports Mac, Linux and Windows) and also from your Apple iPhone.
4. Cashboard
Cashboard provides you with a wide range of options and features like time and expense tracking, generating invoices and estimates and also supports online payments. Thus Cashboard appears to be the complete package which you can use for your business. Also you can very easily integrate it with your Basecamp and it also helps in managing the time sheets and receivables etc.
5.Chrometa
Chrometa is a mind blowing time tracking software. It automates the entire process and just by downloading this little application, you will gain useful insights on the software usage. Besides, you can also evaluate the daily reports and know how many hours you have spend on surfing various properties over the internet i.e. Internet browsing, skype chat, coding and on photoshop etc.
6.RescueTime
RescueTime gets straight down to business from the very word go. RescueTime surely turns out to be savior of the time being spent on various activities. If you have spend the whole day working on the facebook istead of putting your efforts in the client project, RescueTime will show the same. Thus, it not only helps in tracking time but also in increasing the productivity of the entire team force.
Author Bio
John Laster is a chief editor of TechieApps.com, a technology blog which caters with latest news and happening in Online Tools, Gadgets, Technology, Social Media, Software reviews, Blogging etc.
These posts are a handout from our Guest Author who works with us occasionally and provide their opinions for our regular visitors on Web-Development & Designing, SEO, CSS, Coding etc. As their details can be marked with their concerning post even we would like to add that out Guest Authors are expert and master of their own sector. If you also desire to be our Guest Author Contact Us at
submit@webgranth.com