Web development has exploded in past few decades, there has been a tremendous growth in migrating businesses towards websites to aim better business perspectives.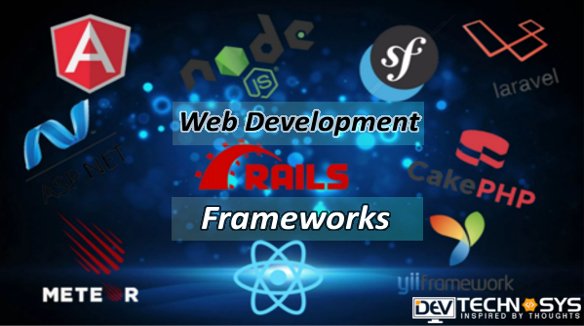 With regards to the continuous expansion of web, online space has been seen shaping accordingly. Versatile platforms have emerged and gone and stayed and ruled and seen all kind of developments of the technology world. But, something that remained constant is the prime focus of every business, i.e., expanding their reach and exploring new business opportunities. Speaking of which, with the web and internet explosion users' consumer behavior has undergone a fanatic transformation. There are infinite number of options to choose from, making it much more difficult for business to satisfy customers. According to Blue Corona, 47% of website visitors check out a company's products/services page before looking at any other sections of the site. Going by the direction of wind, business of diverse niches shifted their focus on modern and efficient frameworks for web development services that can keep them afloat in this web sea while representing their products and services way better.
However, turning towards web development is just the beginning of a journey, there are other facets of Web Development involving fast and precise decision making. Putting web development frameworks to our center of attention, here is a detailed study of top 5 ruling web development frameworks in 2018 that are changing the classic definition of web development from its core.
Here are some of the best  web development frameworks of 2018
AngularJS
Angular JS is highly trusted JavaScript based web development framework extensively used for developing front-end of Mobile and Web Applications. As a developer, Angular uses JavaScript MVC libraries which is an amazing help as a designer. Features such as added structure, templating, two-way binding are the reason why every other web development company is seen recommending AngularJS Development.
AngularJS has given JavaScript Application development a lot of scope on the web development horizon. Rendering high-end website development services that use short code pieces can help you create beautiful and responsive applications. It also enables you to use URL load parameter many times in an application. JavaScript libraries and correct usage of them can help you lend advantageous single page applications.
Laravel
Laravel is a leading PHP framework widely used as backend technology in web developments. It is a leading backend web development framework in development of state-of-the-art web applications. It is an open-source PHP framework that follows the model-view-controller architectural pattern.
There are many reasons behind Laravel being the developers' most trusted backend technology. Its features such as Modular Packaging system, dependency manager, utilities and maintenance aids have helped Laravel to roll the ball in its court. It gives solutions to accessing relational databases. Also, it lands extensive support to syntactic sugar that allows you to easily read and express in machine language.
ReactJS
Another open-source framework, ReactJS is a JavaScript library maintained by Facebook and a large developers community. It has transitional qualities that helps in converting it into web development framework. It is also used extensively in developing dynamic and highly responsive interface of web applications. It has built-in qualities that help in building large applications, it is highly efficient when it comes to regular data change and maintenance. Upcoming development in the framework is the reimplementation of ReactJS core algorithm as React Fiber.
Node.JS
However, it is not a framework, rather a real time environment which is used for non-blocking and event-driven I/O to keep the application development lightweight and efficient in giving away real-time application response. Thus, Node.JS is used to fill up the application development fallouts.
It is one of the developers' favorite and it will clearly maintain the position for long time. It is used for bringing out efficiency of applications and developing fast network applications that are scalable and agile. It is a complete environment that is built to handle multiple connections at the same time, while maintaining the app performance. This feature makes it very scalable and ideal for web application development, it renders a complete set of JavaScript environment toolset, that allows you to leverage higher benefits.
Ruby on Rails
Ruby on Rails is an open-source framework that runs on Linux and written in Ruby with MVC architecture called Rails. It is one of the most preferable choices of frameworks by web developers to speed up their development work. It is the name behind some of the most popular brands such as Hulu, Airbnb, Basecamp, etc.
Ruby is considered a happy-to-go development language. It has many features that make it a perfect toolset from developers' perspectives. It allows a developer to speed up their development work by conveying them from planning stage to development stage very easy and fast. It is easy to handle, and easy to learn language that is certainly one of the best web development frameworks.
Wrapping Up
Some other famous and important frameworks for hailing great web development services benefits are Symfony, ASP.Net, Yii, MeteorJS, CakePHP, etc. which are expected to be as important frameworks as the above-mentioned ones in the year 2018. Technology is an ever-growing entity and to become successful, we are ought to keep up our pace with this technical outburst.
On end note as we always say, everything finally depends upon your needs. Not anyone but your enterprise needs have the deciders vote while choosing a web development framework. Also, you can reach out to web developer company that will help you considerably in exploring other frameworks and platforms as per your needs. While choosing between a platform or a framework you should always consider things like a frameworks cost, development time, features, and speed. It would bring in to functionality and much more. Many researches have been done in attempt to decode consumer behavior and the end results are something that are easy to achieve but difficult to acknowledge such as a websites load time and visual attractiveness play instrumental role in lead conversion. It can thus be comprehended that web development is all about blending well the technology and your needs to give a powerful and efficient working model.
Author Bio:
Tarun Nagar is the Founder & CEO of Dev Technosys, a global ranking Web and Mobile App Development Company. With 10+ years of experience of enabling than Startups which are now global leaders with creative solutions, he is differentiated by out-of-the-box IT solutions throughout domain.
These posts are a handout from our Guest Author who works with us occasionally and provide their opinions for our regular visitors on Web-Development & Designing, SEO, CSS, Coding etc. As their details can be marked with their concerning post even we would like to add that out Guest Authors are expert and master of their own sector. If you also desire to be our Guest Author Contact Us at
submit@webgranth.com