Top 30 Inspiring Collection of Fashion Websites
Fashion is the most discussed and trendy topics of today's modern era; in a way we can say that it represents the social and cultural heritage of the present era. Most often you have listened, this particular thing is in fashion; it means what; that actually means that particular thing is in demand and is liked by people of that era. Fashion serves as the most polished mirror of our time; it is a modest way of expressing ourselves: our choice, our thoughts, our interests and so on.
Just as the designer makes clothes to express the latest trend of the era, in the same manner consumer wears them for expressing their interest, revealing they are standing parallel to the recent trends. Fashions not only depict the social or cultural base of our society, but also have room for a number of other artistic professions, such as photography, make-up and hair-dressing and above all web design.
Looking over the crucial role of fashion industry, today in this post we have decided to take a glance over various websites from the fashion industry. We expect that, many fashion e-commerce sites can be an excellent source of design inspiration for web designers and can play a vital role in the expansion of web designing. Also, attractive design and photography can make the products more appealing to visitors which in turn increase sales. Hence, we, hereby with you, to present top 30 fashion website designs that represent a variety of styles and might inspire you taking you in the other world of web designing having endless opportunities.
So get ready to check out this comprehensive list of fashion websites. Here, you will find an inspiring collection of smart websites done by clothing designers, photographers, make-up artists and other players. We have enlisted the below given websites not only due to the popularity of their brand but rather because they are really attractive, their approach is creative and their interface is uncluttered, and all these three should be essential characteristics of any nice websites. Also do not forget to present your views, through you comments, on this post that how you feel this post.
Myla
Here you will find highly desired designers lingerie, sleepwear and swimwear which are always admired by the people. You may also find exclusive collection of bridal wear, sleepwear, gifts and many other products.

Abercrombie & Fitch
This is one of the remarkable fashion websites which offers its customers exclusive yoga collection, jeans collection and many other fashion apparels both for men as well as women.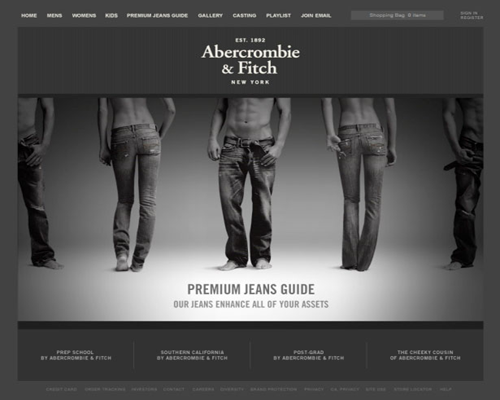 Coast
It is one of the most important fashion website which offers its customers multiple things at one place under one roof. It offers dresses of various styles such as animal print dresses, wedding dresses, and many others. Apart from that it also offers exclusive collection of shoes and sandals for wedding, party wear, or daily wears.

Armani Exchange
It is really an amazing website lets customers to explore various collections of apparels belonging to latest trends. Here you can explore men's jackets, women's sweaters, denims, and other mens-womens clothing accessories.

JJ's house
JJs House the most eminent and glittering bridal dressing collection with beautiful accessories such as hand bags, bumbersolls, shoes and lots more. These product are designed from top most designers with their innovative skills. Here you will discover the most trending and highly appreciated ultimate collections all over the world.


Nine West
You will be really amazed to see the designing of this website. This is renowned fashion websites where you will be able to find boutique, jewelry, watches, boots, bags, shoes, sunglasses, hosiery and much more of your choice.

Ralph Lauren Rugby
It offers you every kind of apparel collections e.g. rugged leather, textured wool and many other relevant accessories which let you to feel the true spirit of life.

Shoe Guru
Shoe Guru is a renowned brand for variety of designs of shoes whether for kids, youths, men or women.

ASOS
This is the remarkable website where you will be able to find everything that is latest and new in fashion.

BlueFly
BlueFly is another eminent fashion website which offers you varieties of collections such as shoes, handbags, fragrance accessories, men's wear, women's wear and so on and so forth.

Adidas Y-3
This is really a fabulous websites which features an innovative and sophisticated presentation of the products, implemented with the "live photos" effect. Here you can explore number of products powered by Adidas brand.

Burberry
This unique website presents apparel and accessories collections in a unique way. Here, you will be able to you can see the "live photo" effect, similar to the one implemented on Adidas' website; this website also includes an HTML-based e-commerce platform and hence is a good example of how HTML and Flash can be effectively combined.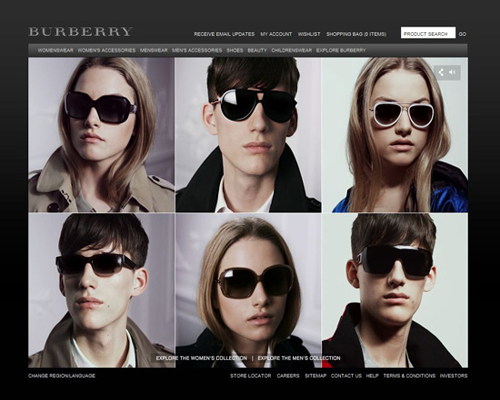 Amanda Wakeley
Amanda Wakeley is a simple yet elegant website that serves as both an online store and a branding home for Amanda Wakeley.

Anja Gockel
Anja Gockel possesses a clean and contemporary look and named after German fashion designer Anja Gockel. This is achieved mostly through high-quality photography, an uncluttered layout and clean typography. It is well designed with high-quality photography, an uncluttered layout and clean typography and offers special collection for both winter as well as summer. One can enjoy the exclusive offer of the season and can gain an amazing experience.

Jay Jays Dance/Off
Jay Jays Dance/Off is an online catalogue presented by youth fashion brand Jay Jays for the young generation. Apart from exploring outfits and dresses, visitors can also enjoy a dynamic dance show. This website facilitates the user with great fun and engaging product presentation.

Diesel
Although this website looks quite normal but has an amazing collection of various brands of fashion accessories.

24 Teeth by Lacoste
It is really a splendid website which offers you an excellent collection of footwear. Besides the footwear collection, you may also enjoy various other fashion articles or accessories.

Reserved
Reserved is a Polish clothing brand website which possesses an atmospheric Flash-based design which facilitates the visitors to check out the latest collection. You may find the content of the website in Polish language but you have also have the right to switch to English language.

Walter Van Beirendonck
Walter Van Beirendonck is a known name among fashion websites whose design relies heavily on boxed tables and red. It is designed by Emmy Mees.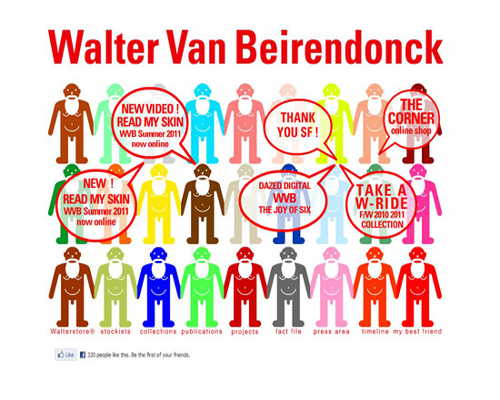 Werkstette
Werkestette is created by Pelle Martinand Felix Nielsen whose simple and intuitive navigation enhances the impact of the large photos; it offers the visitors a special collection of fashion accessories.

You
"You" has made an excellent example of simplicity which has made an intelligent use of colors making this website of Italian creative studio beautiful and elegant.

Anti Sweden
Anti Sweden is a marvelous website and is regarded as the tribute of Norwegian design collective Anti to black metal, jeans and Norwegian identity. The website has remarkable graphic design and typography which is really appreciable and inspiring.

Daffy's
Daffy is a nice website which is geared to varied consumers and operates a network of low-price clothing store. The website is designed in elegant manner and the use of bright colors, big eye-catching pictures, transitions and easy navigation, all these makes the visitors filled with a comfortable experience of browsing.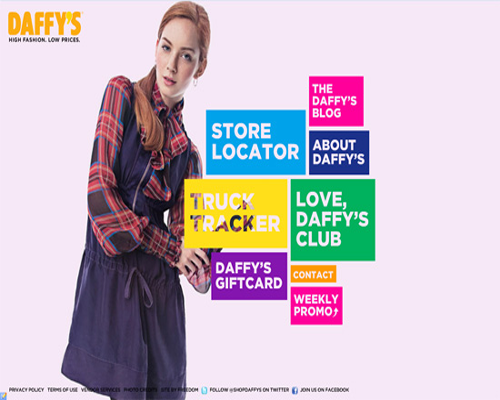 Prada
This is really a marvelous website which focuses on imagery; it presents the latest Prada collection with an original mix of photos and illustrations allowing its visitors to compare products.

Josh Goot
This website is named after Australian fashion designer Josh Goot which creates a nice visual effect as the mouse moves around the screen. This website lets you to examine the outfits in details.

Lasse Pedersen
This website presents fashion articles relating to hair and make-up accessories. The typography and texture of this website is really appreciable.

Lisa Shahno
Lisa Shahno is an outstanding website designed by Kostya Sasquatch presenting a huge showcase of latest fashion trends.

Moschino
Moschino is an excellent fashion website letting you to choose between the main website, the official online store or the page for the current campaign. Here, you can find variety of fashion accessories having various designs.

Miss Sixty
Miss Sixty is another superb website which lets you to be in touch with latest fashion trends. The design of this website is bold and provocative, which draws the attention of large number of vsitors.

Keds
The Keds website is a treat for the typophile and is successfully celebrated its more than 90 years of history. Here, visitors can find excellent collections of everything which are of latest trends and latest fashion.

Cheap Monday
Cheap Monday is a well-known site and has known its name for offering exclusive collection of street-style jeans to its customers.

As the most experienced developer of
CSSChopper - PSD to HTML Conversion Company
, David Meyer firmly believes in building the new ways that lead the people towards success. He focuses on an ideal approach and tries to deliver the perfect services close to the defined needs.