A business card has contact details of the company or individual. But more than that, the modern cards have become a tool to leave a lasting impression on the recipients. A professionally run business, therefore, pays attention to the design of its business card.
When it comes to designing an outstanding business card, selection of the right fonts matters a lot. This is because the cards have a lot of text. So, the designers want to make a perfect choice of the fonts that can convey a brand message to the clients through the design.
Here are some key high-quality free fonts that the designers can pick to create unique business card design.
1. Break – Sans Serif Font
Break is a modern style sans serif custom font to help you design creative personal and commercial design projects, including your business card.
2. Mosk – Sans Serif Font
Mosk is a minimalist sans serif font to create unique cards for your business. You should prefer this font to give a sharp and stylish touch to the card designs.
3. Nature Spirit
This font is a perfect choice when you want to create cards in a vintage and classic style with a touch of the bygone era.
4. Quantum – Bold Font
Quantum is a modern bold font that you can choose to give your design a stylish touch. Many designers use this font for business cards as well as headers and logos.
5. Oxlade – Script Font
Oxlade is a handwritten script font for giving a design, a touch of an informal and friendly environment. Use this font to create a business card design that appears as personal to the viewers.
6. Lactosa
Lactosa is another creative font that you can opt to create unique cards and other graphic designs.
7. Oraqle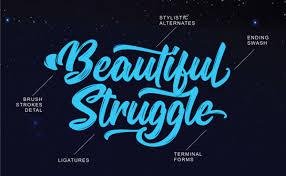 Oraqle is a brush lettering font that the designers prefer to create modern designs. Besides the cards, this font is a perfect choice to design social media graphics and posters.
8. Beautiful Bloom
Beautiful Bloom is a free brush font that is a great option when you look for giving a casual but aesthetic look to your design work. You can have it as a free commercial font for your various projects.
9. Facón Font
Facon is a sport display font that has numerals, symbols, and letters. You can pick this free font to give the card design a bold and different look.
10. Baksoda
Baksoda is a modern calligraphy font that the designers love to have for creating unique designs that stand out.
11. Quick
Quick is an ideal font when you intend to create minimalistic card designs. This is a thin sans-serif font to create the best business cards that can help you protect your identity of the brand.
12. Billy Ohio
Billy Ohio is a handwritten brush script font. You should use this font to create the cards that look friendly and personal.
13. Hoodson Script
Hoodson is an ideal script font that is a good option when you wish to create a graffiti-style design. The designers mostly use it to create designs related to the pop-culture.
14. Almairah
Almairah is a modern signature font that the designers can rely on for doing some unique business cards as well as creative badges, logos, product labels, and more.
15. Raph Lanok
Raph Lanok is a lettering brush font. It is a perfect choice, especially to create the designs for luxury brands.
16. Significant
This is another handwritten brush font that you can choose to create the card designs and several prints.
17. Fox Tail
If you want to create some quirky designs, then Fox Tail is the best choice. You can use this font to create unique business card designs.
18. Banshee
Banshee is a brush script font that you should use to create unique badges, website headers, posters, and T-shirt designs.
19. Bitter HT
Bitter HT is one of the ideal serif typography fonts when you need varied styles such as Italic, Regular, Bold and Bold Italic.
20. Arkibal
Arkibal Serif is a modern serif font that you can have in 6 styles to give your design-work a unique look.
21. Calendas Plus
Calendas Plus is a serif font that you should opt for giving the cards a touch of elegance and for great legibility. The font is a nice option to give the design a calligraphic finishing.
22. Kula – Fun Font
Kula has a soft curvature, and it is best suited to create bold business cards. It is also equally good for advertisements with big titles and headers, slideshows, and posters.
23. SilverLeaf
SilverLeaf is a handwritten Serif font that the designers can use to give a hand-made look to their works. It looks clean even if used at smaller sizes.
24. Pratiwi
Pratiwi font comes with a semi handwritten style. It should be used to give business cards a casual and friendly look.
25. Droid
Droid is crafted specially for its use on small screens for easy reading. But it's also useful to give the text a unique look on your business cards. You can get the font in Bold, Regular, Bold Italic and Italic variants.
26. Foundry
Foundry is a well-known handwritten font that you can have in TTF, WOFF & OTF Formats with a range of styles in many languages.
27. Jura
Jura Serif includes Regular, Italic, Bold and, Bold Italic variants. You can use the font to create a wide range of graphic designs including the cards.
28. Magnifika
Magnifika is a vintage lettering font with lower cases. It has some Victorian flair as well. You should pick this font for 'display' purpose in headlines etc. So, if your brand has the elements of old classical style, pick this font to design business cards.
29. Merriweather
Merriweather should be preferred when you want to design the card that stands out as it is a semi-condensed typeface. It is available in Regular, Italic, Light, Bold, and Black variants.
30. Rumble Brave
Rumble Brave is a good choice when you wish to give your design works a touch of the Victorian classic style with the swirls and curls. This is an ideal font for the businesses that deal in fashion products.
The bottom line
So, these are the free fonts that the designers can think of while designing a variety of business cards. Such a variety of fonts gives designers an ample choice to convey the right brand message to the clients.
Author profile
Campbell Joef is a graphic designer and blogger associated with Designhill.com (http://www.designhill.com/), a custom designs marketplace, I generally write on topics concerning design, e-commerce, start-ups, and small business.
These posts are a handout from our Guest Author who works with us occasionally and provide their opinions for our regular visitors on Web-Development & Designing, SEO, CSS, Coding etc. As their details can be marked with their concerning post even we would like to add that out Guest Authors are expert and master of their own sector. If you also desire to be our Guest Author Contact Us at
submit@webgranth.com