Top 20 Tools to an Easily Accessible Website
Accessibility to any website always remains the prime concern of any web developer or designer as it is most important part of any website. A website should be designed in such a manner that it must be accessible to everybody, whether young or old, normal person or person with poorer eyesight, color blindness, or any other visual hindrance. Sometimes you might have seen some websites having fancy new design with the tiny fonts and low-contrast colors.
These kinds of websites may be superficial to you, but difficult to the people with visual hindrance. The people having visual impediment won't be able to navigate and access these websites which may result low visitors traffic to that particular website. So, being a web developer or web designer, you must take this thing in mind that whatever website you are going to build, that must be accessible to everybody resulting into maximum number of visitors.
In this post we are going to cover up various tips and ideas as well as tools which will help the web designers or web developers to build an easily accessible website. We will see the web accessibility in details, what does the web accessibility actually mean, why it is important, how to make the website accessible, how to evaluate the accessibility of any website and so on and so forth. You will also find top 20 tools to an accessible website which when implemented in your web development project will give you a unique experience.
What is Web Accessibility?
Before planning to build an accessible website, it is very important to understand web accessibility actually stands for what? Actually, Web accessibility means that people even with disabilities can use the web. In a more specialized form we can say that, the people with disabilities, or old age people, or people facing problems due to aging, can even perceive, understand, navigate, and interact with the Web.
These days, we see, millions of people facing disabilities that affect their use of the Web. Thus it is very much necessary to break this barrier. It is required to bring in use that kind of software or tools and build such websites which encompasses all these barriers making everybody to contribute to the Web more effectively. The main concept behind web accessibility is to build such websites which can be easily accessed by all types of people irrespective of different factors like persons with certain disabilities, different languages, or lack of access to certain technology.
Why Web Accessibility is Important?
In this world of globalization, the Web is an increasingly important resource in almost every aspects of life, whether you talk of education, employment, government, commerce, health care, or any others. Much larger segment of society is based upon the web for accessing the required information. It also offers the possibility of unprecedented access to information and interaction for many people with disabilities. An easily accessible web assists people to actively participate in all sectors of the society. Web accessibility is important because:
It improves usability for non-disabled and disabled visitors.
It improves Search Engine listings and Resource Discovery.
Regardless of physical, sensory and cognitive disabilities, constraints and/or technological barriers, users easily access the information.
It increases the audience reach and improves the Site Search Engine listings.
It increases support for Internationalization and leads to the site's success.
Making the Website Accessible
Website accessibility is one of the major responsibilities of Web developers. It is their responsibility that how they would make the website accessible, which tools software they should implement in order to make their website more accessible to the end user. Making a Web site accessible neither a very easy task nor very tough to do; only it needs the web developers to be attentive. Making an accessible websites may be simple or complex, depending on many factors such as the type of content, the size and complexity of the site, as well as the development tools and environment.
Various Web software and web development tools play a very important role in Website accessibility, only they need to be implemented smartly, intelligently and in a planned manner. We are presenting below 20 tools which when implemented in a smart manner yield good result. Check out these tools and extract which one you find the best.
IDI Web Accessibility Checker
IDI Web Accessibility Checker is a must use tools for web developers for enhanced website accessibility. This tool checks the web pages for conformance with accessibility standards and makes sure that content can be accessed by everyone.
Vischeck
Vischeck is really an amazing tool which shows you what and how your web pages look like to those people who are facing with color blindness. This tools can be used online with either an image file or running it through the web page, or can also be downloaded to be used from your computer.
WAVE – Web Accessibility Evaluation Tool
WAVE is a kind of Web accessibility evaluation tool which is available free of charge. It is the fantastic tool for web developers which assist them in the web accessibility evaluation process. It displays the original web page with embedded icons and indicators rather than giving a complex technical report; which shows the accessibility of the webpage. It web developers to evaluate web pages directly within the browser and since no information is sent to the WAVE servers, it permits them to evaluate password protected, secure, or otherwise sensitive web content in effective manner.
Colour Contrast Check
Color Contrast Check is an excellent tool which lets you pick and specify a foreground and a background color and determine, if they will be viewed by someone having color discrepancy or when viewed on a black and white screen, whether they will provide enough of a contrast or not. This tool is based on the concept that the colors pass the test if both the color difference and the brightness difference exceed their threshold. It will indicate that it passes the test if only one of the two values exceed their threshold if neither value exceeds its threshold, it fails to pass.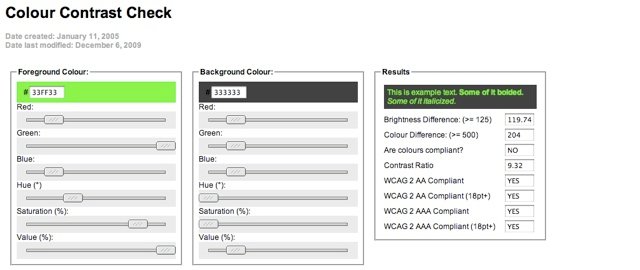 MobiReady – dotMobi Compliance and mobileOK Checker
MobiReady is a testing tool that checks the website's mobile compliance or readiness using industry practices and standards and gives you a free report that provides both a score (from 1 to 5) and in-depth analysis of your web pages to determine how well your site can perform on a mobile device.
Stanford Web Accessibility Checker
Stanford Web Accessibility Checker is a programmatic tool that can check live code via URL. One can also pass working file for evaluation. It is very helpful tool which analyzes your web pages and test for possible access barriers and produces a report of all accessibility problems.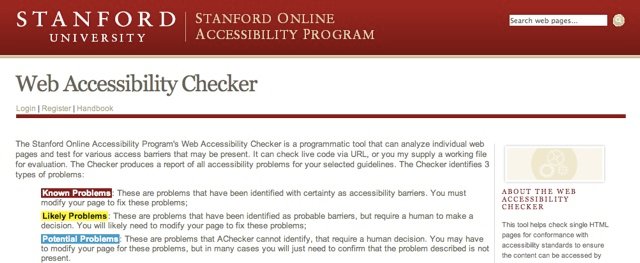 Check My Colours
Check My Colours is an effective tool for checking foreground and background color, combinations of all DOM elements and determining if they provide enough of a contrast when viewed by someone with color deficits or not.

Lynx Viewer
Lynx Viewer is a marvelous tool which lets you see what your web pages will look like when viewed with Lynx, a text-mode web browser, how search engines would see your site and so on. It also assists you in determining if your web pages are accessible to people with impaired vision or not.
Quick Page Accessibility Tester
Quick Page Accessibility Tester is a unique tool which serves as bookmarklet that provides you detailed report of quick analysis of any of your web pages. Not only that, it also highlights definite issues with your page, warns about upcoming and possible issues and also highlights areas on the page that could benefit from some ARIA enhancements.

GrayBit – Grayscale Conversion Contrast Accessibility Tool
GrayBit is an online accessibility testing tool visually converts your full-color web pages into grayscale renditions for the purpose of visually testing the page's perceived contrast. It is a must to be used tool by web developers to ensure the accessibility of their website he is going to build.
Accessibility Color Wheel
Accessibility Color Wheel lets the web developers to know the pair of color picked by him is good for accessibility or not. For the purpose of testing this tool, one can choose a foreground and background color by pointing the mouse over the wheel or the grey bar and click. If the 'OK' message appears on the screen, it means that the color pair is good for accessibility. Otherwise, one should keep changing one or both colors until 'OK' message appears.

HERA – Accessibility Tester
HERA is another important web accessibility tool which checks the accessibility of any web pages according to the specification of the Web Content Accessibility Guidelines. It also identifies any automatically detectable errors or checkpoints that are met, and also show which checkpoints need manual verification.
Accessibility Valet
Accessibility Valet displays the markup of your web pages in a normalized form. It highlights valid, deprecated and bogus markup, as well as misplaced elements. Any accessibility warnings are shown in a generated report.

Cynthia Says
Cynthia Says is a web content accessibility validation tool that must be used in any web development project. It basically identifies errors in your design that are related to Section 508 standards and the WCAG guidelines.
TAW
TAW is another amazing tool which carries on analysis of your web pages, based on the W3C Web Content Accessibility Guidelines 1.0. Not only that, it is also a web-based tool which helps you a lot to check your site's accessibility.
WebAnywhere
WebAnywhere is in some manner similar to JAWS or Window-Eyes. It is a non-visual interface that lets you interact with your web pages and check the accessibility of your website.

Colour Contrast Analyser
Colour Contrast Analyser is an excellent Firefox extension that lists color combinations which are used in your web pages and also lays out the colors in a table that summarizes the foreground color, background color, luminosity contrast ratio, and the color and brightness difference and much more.

WAT – Web Accessibility Toolbar
WAT is excellent Internet Explorer toolbar and web accessibility software that helps you manually examine your web pages from various points of accessibility and for a variety of accessibility aspects.
Firefox Accessibility Extension
Firefox Accessibility Extension as the name suggests, is a Firefox extension that can be used to check use of structural and styling markup in your web pages that support functional web accessibility. All these in turn make it easier for people with disabilities to view and navigate your web pages.

Accessibility Favelets
Accessibility Favelets is a collection of bookmarklets that assists with accessibility feature when working on your web pages. These bookmarklets are basically little scripts that can be saved or bookmarked in the web browser and then can be used to test for accessibility when anyone is accessing any of those web pages.

Conclusion:
From the above post, one thing must have become clear to you that why website accessibility is important and how it is attained. Going through the above tools you also must be confident that how you go about to make sure your website is accessible or not. We are sure that the above given tips, ideas as well as tools must let you get your work of web development easier especially with respect to accessibility points of view. How do you feel the post, please do not forget to present your views in the comments section.
Steven Bowen is an ardent team member of
No-refresh - Web to Print Design Tool Provider Company
bestowed with professionalism in to develop fully-functional solutions. Having adroitness in this arena, he has served an array of blogs that are basically based on the technology advancement & improve the end users' information level.