Top 20 Free Available Web-Based Logo Creator Tools Just For You
The advent of web based logo creator tools has brought a great change in the web designing world, when someone especially talks of logo design. In real sense, online logo creator tool has enabled the web designers to create an awesome logo within few minutes. Logo is one of the most striking elements which hits the mind and represents a company status, its market value, and its popularity.
A professional and appealing logo serves as the trademark of the company or any business which depicts their credibility, reputation, nature, ethics and values in a professional manner. Hence it is too much necessary to create a spectacular logo that can stand-out in the crowd. For web designers, it is recommended that they must put artistic fresh thought relating to creative designing of logo. They must possess smart skills whether it is being their graphic skills, or their knowledge of various logo creator tools.
Logo is the most important component of a company which penetrates people's minds and play vital role in creating the first impression to consumers. Web designers always remain in regular search of some great and free online tools which can add fuel to their work of logo designing and let them to accomplish their task with excellent creativity and uniqueness in their work. We are committed to assist those web designers and hence in this post we are presenting some of the fantastic web based logo designing tools which are available free on web. We have already posted several blogs introducing logo designs; logo designs tutorials, practices and techniques for logo designing, logo design collection, and so on in earlier posts, but in this one we have arrived with completely new thing, i.e. logo creator tools.
Here in this post, you will find top 20 web based logo design tools which will enable you to create your own logo for your company profile. You can avail the advantage of these tools absolutely free of cost; you don't have to pay even a single penny. These tools contain thousands of images and icons in their database which are ideal for logo creation and let you to create numerous logos as per your desire without putting any extra efforts. Check out these tools and mark a difference in your work experience. We hope, you will definitely find them useful. Also do not forget to put your comments in the comments area, so that we can be aware of the facts that how do you felt the post.
Free Flash Logos
Free Flash Logos is free online service which lets you to create unlimited Flash animated web site logos for yourself or for your customers in a customized manner.

Creatr
Creatr is a simple Web 2.0 style logo creator which offers you number of features for the creation of beautiful and stunning logos either for your business derived or for any other websites.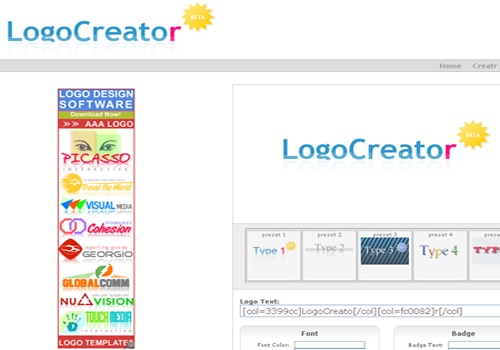 Logo Yes
LogoYes is free online logo creation software which allows you to create your custom logo absolutely free. It also allows you to free download a high quality version of this software. Due to its good quality of icons and simplicity of use Logo Yes is a preferred design websites among web designers and is regarded as the top provider of do-it-yourself logos and other high quality design products for small businesses all over the world. The below given points will explain you why this has become the first choice of millions of designers.
1- It offers easy to use system with thousands of icon choices by industry,
2- One can create as well as order business cards or business logos.
3- It offers free service and hence one can save thousands of dollars on design fees and building their own brand logo.

Blogger Tricks
Blogger Tricks is another important website which offer a free online powerful logo generator or logo maker tool that lets you to create stunning 3D logos with special effects like gradients, shadow, reflection, textures and many others.

Logo Ease
Logo Ease is a free web based logo creator tool which offers you 100% free service and allows you to make your own business logo. The website offers you an intuitive and easy design and style interface which enables you to create your own first class logo designs in just a few minutes. In addition to these you will also get several electronic files for both web and print use including the vector source files. These file formats include eps, png, jpg and tiff which you can save and download. Yoy may save or download as many as ten free logo designs at a time.

Cool Text
CoolText is a free service provider for creating stunning logo for website pages or anywhere else you need a remarkable logo without doing a lot of design work. You have to select what kind of images or logos you need or if you wish to have your own personal custom logos created quickly, then you have to fill a form available online on the site.

LogoFactoryWeb
LogoFactoryWeb offers you 100% free logo maker tool which allows you to create your own free business logo designs in just minutes. It offers you an intuitive and easy style interface which enables you to make your own custom logo designs for your websites within minutes.

Online Logo Maker
Online Logo Maker is a free logo creator tool which offers you a lightweight, functional and clean interface that lets you design your own logo in a snap. On this site, you will find hundreds of symbols of various categories to choose from and facilitates you with right tools to rotate, resize and transform your logo. It is the place where you can start creating your brand logo right now with various logo ready fonts available there. Millions of users worldwide have taken the advantage of this tool.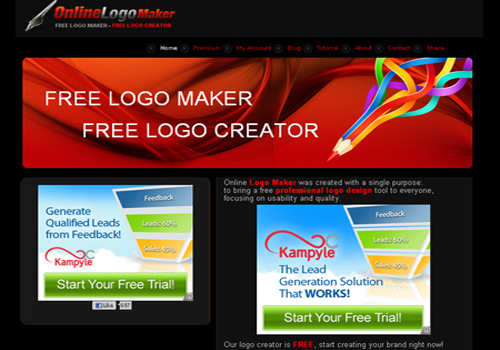 Mklogo
Mklogo is remarkable logo maker software which converts text to an image, allowing font selection, effects, color, rotation, and much more. It facilitates you with various features which make you to create a graceful logo having nice effects such as text color, outline, textures gradients, text effect, etc.

Online Logo Generator
Online Logo Generator is really a marvelous logo creator tool for web designers which they should opt to create their own personalized logo or graphics. This tool has a free text based online logo generator which assists designers in creating logo's header images and their own graphics in different styles free of cost.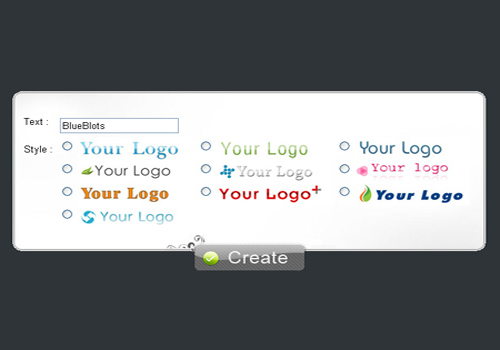 Txt2Jpg
Txt2Jpg is an appropriate place for all the web designers who are seeking to create their own customized logo either for promoting their business or their websites. It is the place where web designers receive strong support for making a nice and neat basic logo for their site or blog free of charge.

Logo Generator
Logo Generator is an eminent site where you can create an elegant logo from the logo templates which are available online. Apart from the standard logo layouts, you may also change fonts and colors to make an unlimited number of different versions of each logo. If you don't think any logo ideal for you website, then you may take help of professionals ort experts. Here, on this website, you will find that several themes showing the name of the artist and a link to that artists website and hence you can also contact the artist if you want any enhancements to your logo design, or even an entirely new creation.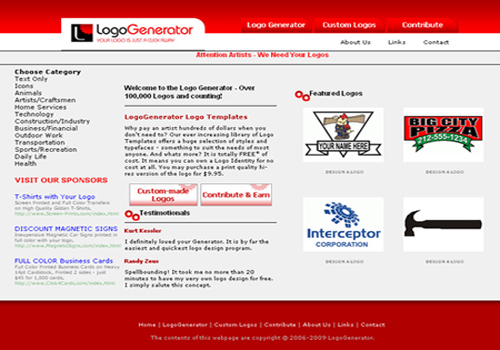 SimWebSol Logo Generator
SimWebSol Logo Generator is an excellent website that features a free logo generator which enables you to create a cool and eye catching logo within few minutes.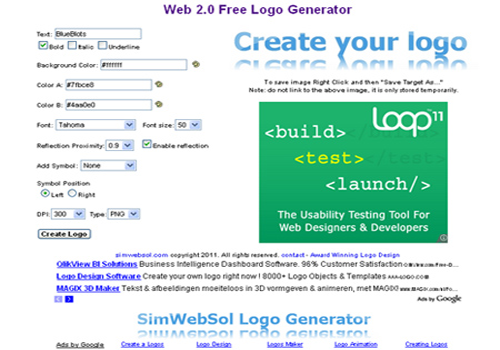 CoolArchive
CoolArchive is an online web based logo creator tool which serves as a huge vault of clipart images, fonts, icons, animations, buttons, bullets, arrows, bars which can be used in making a banner and logo absolutely free of charge.

The PCMan Website Logo Creator
The PCMan Website Logo Creator is a free Logo creator which makes easy for you to create custom 3D logos, banners etc. It is really a right place for you to freely create custom 3D logos banners and headings; you have to enter your text, choose styles, fonts, colors and sizes, quickly view and download your free logo. You may create several custom logos and banners as per your desire. The free download software version of the PCMan Website Logo Creator is also available which you can download for your desktop computer.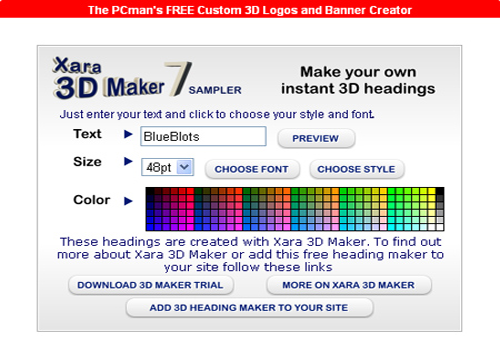 Logo Snap
If you are looking for a quick, free logo design, with an affordable matching business card, letterhead, envelopes and flyer, all at one place, then LogoSnap.com will be a right choice for you. It offers you 100% free logo design and business card design service. You may design your personal original logo totally free of cost; you may also create matching stationery with custom application in as little as 5 minutes. The below given point will make you understood why you should opt this tool for creative logo designing.
Fast: You may design your customized logo within a few minutes with logo creator application. You may also design your matching business cards, letterhead and matching envelopes easier and faster.
Simple: You can finish the work of logo design just in three simple steps. It is an easy-to-use website where you will find thousands of logo icons and lots of fonts with the help of which you can design your logo with a click of a mouse.
Free: You can brand your business without paying any charge; so why to pay lots of money for a graphic designer?
Safe: LogoSnap stores your logo designs so that you can retrieve your logos in all the necessary formats, including EPS, PNG and JPG in future. It is safer to use and serves as a secure storage for your logo designs.

Flaming Text
Flaming Text is a free logo design tool where you can make your own logo, buttons and much more. It is an easy to use online tool for creating logos and generating web images which you can use on your website, in your email signature, or wherever you like to use.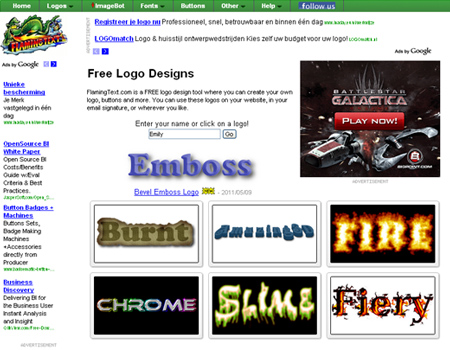 TheFreeLogoMaker
TheFreeLogoMaker.com is a website that offers the designers free logo templates, free logo generator, along with free Photoshop styles. It is a right place where you can create your own company logos easily and rapidly.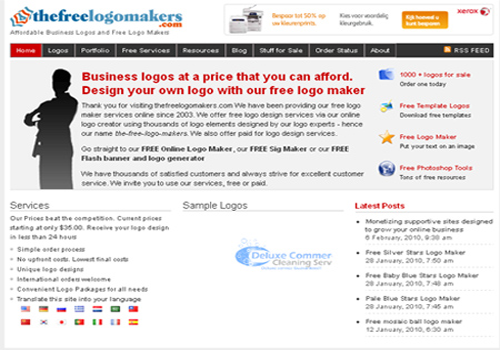 Logo Craft
Logocraft is an online logo creation tool which helps you in creating great looking logos for your websites and for all your business identity. It facilitates you with number of features each benefiting you from different angle of logo design work.

Market Splash
MarketSplash is another remarkable website where you can avail the service of logo design completely free. Only you need to get registered through the site. It enables you to choose a logo design from the available list or you may create your own.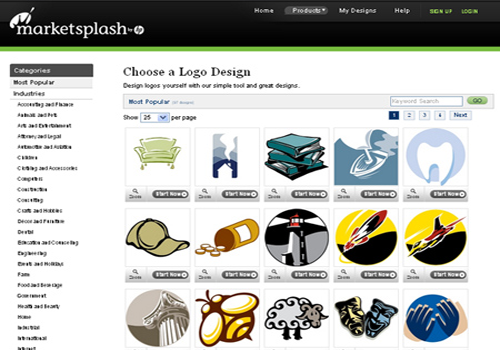 Brayan Lazaris, a web development expert, has been working with
HireWebDeveloper
for many years. Till now, he has written numerous blogs and articles elucidating the best methods and approaches to process web development brilliantly. His keen interest in researching the smart technique for better web solution has opened the gateway for many businesses to establish a strong foothold in the digital space.