Top 20 Analyzing Tool To Measure Your Website's Performance
With the rising concerns of moving ahead from the competitors in terms of website ranking or visitors trafficking, it has become very much necessary for website owners to go through the deep analysis of their websites. Every website owner or marketer wishes to draw attention of more and more visitors and move ahead in the today's competitive market. For this there is a need to know what is going on their websites. Now a day, it has become quite easy with the help of website analyzing tools.
Website analyzing tools are the medium for the measurement, collection, analysis, and reporting of internet data for the purpose of understanding and optimizing web usage. It provides lots of information relevant to any website such as about the number of visitors to a website and the number of page views etc.
As we know technology is advancing at very fast pace, it has made quite easy for all the website owners to know what is happening with their sites, whether their sites are standing up to the mark in the terms of visitors convenience; if yes, what extra should be added to make it more effective, and if no what are the pitfalls that they should overcome to get better results and many more. These are the quite obvious facts which every website owners wishes to know in order to enhance the functionality of the site and making it more reliable. This can be sorted down by implementing the website analysis tools. These days bulk of website analysis tools are available to choose. Here we are presenting top twenty web analysis tools which will help you to track the performance of your websites. So, what's waiting for? Don't let your customer to move to your competitors. Just implement the below given tools and implement it to get better output.
Google Analytics
Google Analytics is a remarkable website analysis tool which provides detailed website traffic reports for anybody and any website. Google Analytics provides detailed statistics about visitors' traffic to individual pages, average time spent on each page; bounce rate, page entry and exit stats, and much more.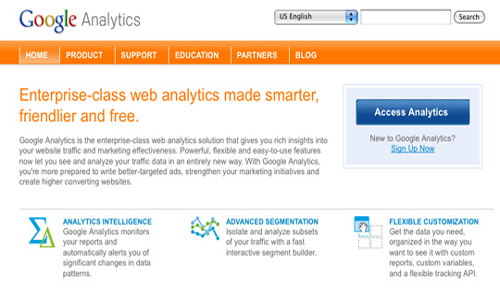 StatCounter
StatCounter is really a fabulous website analysis tool which provides real-time statistics on how many visits and visitors one is getting on his website. It keeps the track history of all the visitors records such as when they came, what links they used to get there, what keywords they used in search engines to find your site, what browser they used, what OS they used, what screen resolution they used, your most popular web pages and much more.
W3C Markup Validation Service
W3c Markup Validation tool analyzes all the HTML tags in any web pages to see whether they conform to W3C Recommendations. One can check web pages by either inputting a URL of your site in address bar, or inputting HTML code into a text box or uploading files from your computer.
W3C CSS Validation
Likewise W3C Markup Validation, this tool analyzes all the CSS used in or along with the web pages that whether they conform to the W3C Recommendations or not. This tool marks those CSS codes as valid CSS if they are found good. One can validate the CSS code of the concerned website by inputting a URL of the site or directly inputting code or by uploading files from the computer.
Netcraft
This tool presents graphical view of the time since last reboot for each of the computers serving the site. It tells you what OS and what server software a particular web host is running.
Web Page Analyzer
This is another website analysis tool which acknowledges you regarding how fast your web page loads according to various connection speeds. It calculates page size, composition, and downloads time and provides a detail overview of your website.
DNS Stuff
DNS stuff is a benevolent tool which performs forensic analysis of name and email servers, path analysis, authenticate and locate domains and inform you through mails. It is really a powerful tool which dramatically increases the efficiency, accuracy and quality of your searches, lookups and analysis.
Browser Statistics
Browser Statistics is a remarkable tool which facilitates you with a detailed monthly update on what web browsers, operating systems, screen resolutions, color depth and JavaScript capabilities people on the internet are using these days. This in turn can help you in analyzing your website as per the latest trends.
Service Uptime
Service Uptime is a unique tool which makes you aware of the fact that whether your site is up and running or not. It verifies good customer online experience, prevents costly website downtime and reduces website maintenance cost. It performs a check after every 30 minutes on one domain.
JAW Stats
JAW Stats is a free, open-source website statistics and analytics package which runs in conjunction with AWStats. It is a very effective tool which produces clear and informative charts, graphs and tables about any website visitors.
Going Up
Going up is quite important tool which offers many kinds of statistical data through which you can get meaningful information relevant to your website.
Clicky
Clicky has made its unique position in the list of useful website analysis tools. It is facilitated with several features and one can use it from iPhone too.
W3Counter
W3Counter is a free, website analysis tool which let you to know the answers of key question for your website. You can trace the questions like who's your audience, how they find your site, and what interests them and many more.
W3 Perl
W3Perl is a significant tool which is used to keep track of server's log files. It is also used as a page tagging tool and can be run from the command line or from the web interface.
Woopra
Woopra is the most comprehensive tool for keeping track records for small websites. It is considered as the alternative of Google Analytics.
Piwik
Piwik is another remarkable website analysis tool which tells you the visitor's traffic, page rank and many other facts about any particular website. The most noticing feature of this is that it comes in the form of plug-ins.
Trace Watch
Trace Watch is a very effective tool which enables you to keep track record of the visitors visiting your website. It lets you to know the detailed statistics and help you in making your website more effective.
Snoop
Unlike any other tools it is a desktop application which when installed to windows and Mac version, notify you about any important event occurring on your website.
WooRank
WooRank is a remarkable tool which allows site publishers and marketers to evaluate their Websites. It tells everything about any website such as what is good in any particular website and what is needed to be worked upon.
QuarkBase
This is a remarkable tool which describes lots of information about any particular site. It tells various details about any site such as that site is famous in which different countries, site's member, page rank, Alexa rank, Wikipedia backlinks, Twitter tweets, Delicious bookmarks, Digg submissions, site's language, hosting server and many others.
Leander Crow works at
Webby Central
as a veteran web developer. He has a passion for technology, coding and design and has coded for award-winning names in the industry. He is also a freelance writer who has helped many web development firms build an audience by sharing informative write-ups.