In this article we are presenting you a bundle of 15 latest Facebook skins and templates to give a dazzle look to your facebook page. Besides with providing an attractive interface to your page, these best Facebook skins and templates offers better functionality management of your art or business. So go ahead, use these amazing tools and put a spot light on your page. Best of Luck
Facebook skins and templates: Social networking sites are the biggest platform to showcase your art and business. Millions of people are using the social networking portals like facebook, twitter, orkut etc to connect to the whole world for enhancing their social network. You may have a unique art or capability but the biggest question is how to represent it? Facebook provides an easy way to create your own page which can be shared to everyone. Along with providing look and feel of a personal space for you work, Facebook Page offers you a lot of additional traits. At present there are around 600,000 active pages on facebook.
Now the question arises; How to look different and attractive among this huge number? To liquefy this hassle of yours, here we are presenting you a list of top 15 latest Facebook skins and templates which can give your facebook page a new eye catchy look with effective management algorithm.
Premium Photo & Video Facebook Timeline Template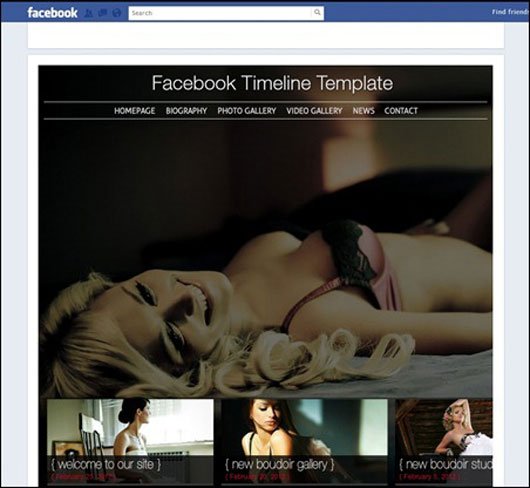 Represent your photos and videos in a refreshing manner with Premium Photo & Video Facebook Timeline Template. This latest Facebook Timeline Template can be easily customized with all pages driven by XML and facilitates you with amazing trait of picture and video gallery. It is integrated with auto size support and Social sharing buttons for convenient use.

Crystal facebook Fan page Template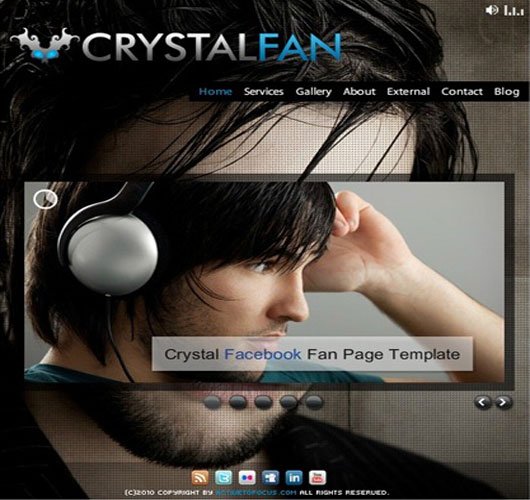 Add music to the fan page and change the grid style of you page according to your style with this XML driven Crystal facebook fan page Template. To give a new and refreshing look every day, this template is loaded with 15 different kinds of websites background. You can also customize the effects of your slide banner with the latest 13 kinds of effects. This tool facilitates you to add logo, site information and menu through xml file.

MUSIC: Musicians theme
It is a perfectly designed theme for music industries. This theme offers you to add playlist to your Facebook page along with a fixed Single Player. With this amazing Music theme you can easily customize and choose between an image slider and content slider for your theme. This innovative tool comes with 70 mini tutorial videos by which you can easily install and accessories your theme.

Travel Agency Template
This is a specially designed template for travel agency facebook pages. This customized facebook template gives a different and attractive look to your travel business. It comes with easy step by step instruction guide with which you can easily install and customize your template.

Facebook Template V1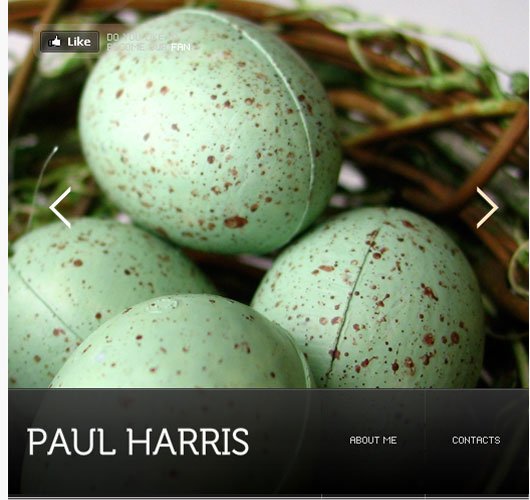 This is a perfect template to introduce your Portfolio or company in an attractive manner on Facebook page. It is loaded with the astounding feature of RSS FEEDS by which you can update the news from your website and change the contents by XML. The installation and maintenance of Facebook Template V1 is convenient and hassle free.

Note Book Facebook Fan Page Template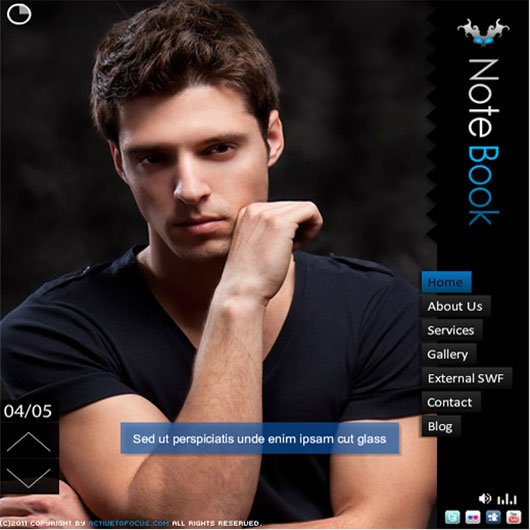 Transform your Facebook fan page into an attractive Notebook style with Note Book Facebook Fan Page Template. It is an xml driven template that supports 13 kinds of home slide and 15 kinds of background switch effects. You can even change the background image when changing the module of the page.

Flash Minisite for Facebook Fan Page
Flash Minisite template is driven by pure AS3 document class and is featured with XML driven content. Icing the cake, this template supports YouTube and Vimeo video. This template offers sequential loading that means the thumbnails will be loaded one by one. So now show unlimited images and videos on your Facebook page with this incredible tool.

Grid Gallery for Facebook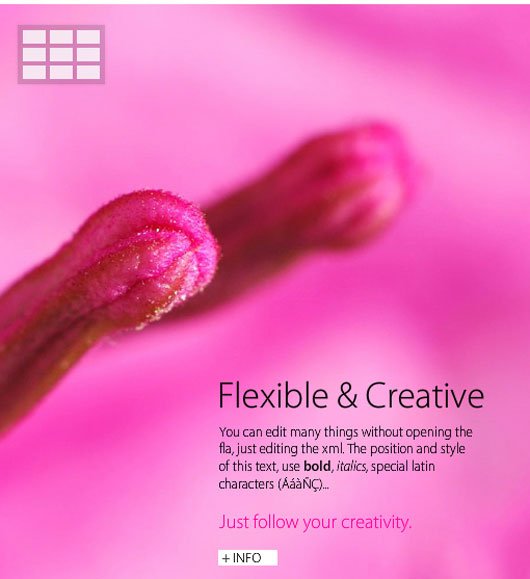 Grid gallery is a XML driven Facebook skin which has more than 15 configuration parameters. You can easily customize this template from the xml file. It facilitates you to use SWF and Streaming Video to create a video gallery on your Facebook page. It comes with two types of grid options (3X2 and 3X3) whose type and time of transitions can be easily changed.

Idea Facebook Template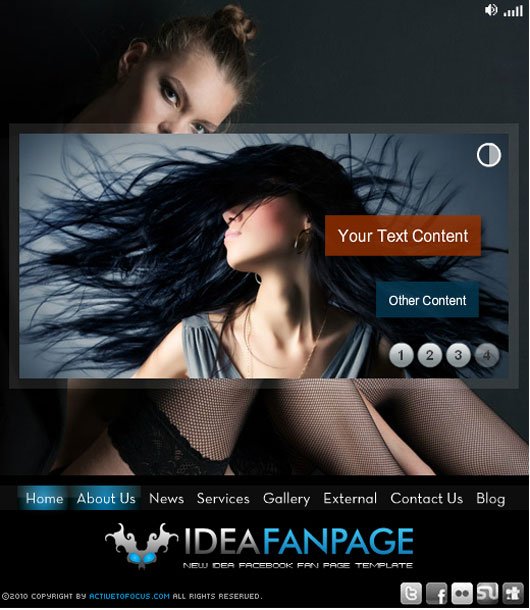 It is an xml driven Fan page that supports the astounding features like music player, full screen and resize. It facilitates the user to add social account and integrate video/image gallery to the page. Idea Facebook Template offers you 15 kinds of website background switch effects and 13 kinds of slide banner switch effects.

Shoutcast Radio Fan Page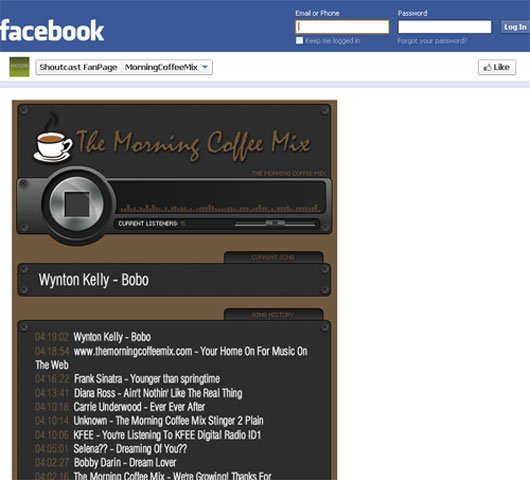 This latest Facebook template can be customized by XML file and is incorporated with latest Real Audio Spectrum design. The inbuilt player of Shoutcast Radio is capable of grabbing the current song, Listeners Number and song history from radio server via PHP scripts. It also facilitates you with the latest Auto-refreshing feature that automatically refreshes the player if USED MEMORY becomes bigger than 70MB.

Nightstar Premium Facebook Fan page Template
Nightstar is a marvelous Facebook template which is loaded with all the features of a full-blown Website. It facilitates you to easily modify the images, texts and colors by using XML files. You can smoothly load your own AS3 swf's to the webpage with this template. It offers you 8 unique content modules with a large array of presets.

Sensation V.2 for Facebook
Sensation V.2 is a fully XML driven AS3 flash facebook template. It is incorporated by 2 Level menus with external URL support. This template offers unique in and out transition effects for each page. Icing the cake, it also facilitates you with music player and You Tube video support.

Verve-Facebook Fan Page Template
Verve is Flash template presentation module that contains news and image slide show with text description. This template offers you gallery module with Ken Burns effect and text module with or without images. It is very easy to install and customize.

Flipbook Facebook Website Template
Flipbook is an AS3 XML driven Facebook fan page template that supports mixed media galleries. It is one of the most easy to install available template. It polishes the beauty of your page by 3D flip page turn effect. It also supports both YouTube a local video uploads.

Dark Facebook Theme template
Dark Facebook is a fully XML operated AS3 Flash template that offers you to individually adjust all pages with their respective XML. This template make easy to duplicate each module in XML. You can adjust the position of logo in creative and minimal layout via XML.

We hope that the above listed latest facebook skins and templates will help you to attract million of crowd to your facebook page and will garnish your art and business. Please don't forget to bookmark us for more updates and useful knowledge.
Brayan Lazaris, a web development expert, has been working with
HireWebDeveloper
for many years. Till now, he has written numerous blogs and articles elucidating the best methods and approaches to process web development brilliantly. His keen interest in researching the smart technique for better web solution has opened the gateway for many businesses to establish a strong foothold in the digital space.