Top 10 WordPress Theme Generator: Now Lets Create Your Own Theme
WordPress Theme Generator has been arrived as one of the best alternative for those designers who are not satisfied with ready-made blog and website themes and wishes to create their own themes having stunning look and feel and bare-bone structure. While designing any website, choosing the theme of that particular website comes as a challenging task in front of web designers.
Sometimes what happens is that tons of cool themes remain available for your WordPress powered site both free and premium, but you don't feel any one of them best suited for your website, or if any, you feel to do a little bit of alteration either by changing colors, header graphics etc to make it distinctive. In such a situation, it becomes too much difficult and even time consuming to finalize the theme for your website. Thus, in order to assist you to a great extent we are presenting here top ten tools which will let you to kick-start your theme creativity.
WordPress Theme Generator has been emerged as the best solution of this which has made the designers to come out from the suspicion or confusion of choosing themes just because now with the help of WordPress theme generator, designers can create stunning themes for their WordPress powered website instantly in a few minutes. Creating a WordPress theme for your website manually, without using the WordPress theme generator is also not the sip of tea. It needs you to dedicate your lots of time, being quite attentive and careful. We understand the problems of web designers as well as developers and hence showcasing here top ten WordPress theme generators for your assistance.
These days there are many website which offers you WordPress theme generator. We are enlisting top ten of them which will serve as a good place for you to head start your theme designing. These WordPress theme generator has been already tried by the industry experts and found to be good output oriented. These themes generators will let you create your own unique WordPress theme easily and instantly within few minutes. We hope, you will like this post and feel worth for you.
Theme Press
Themes Press is really a must use WordPress theme generator which allows you to automatically convert your HTML and CSS based design into a WordPress blog theme. It allows you to take full control of the look of your blog without having to know or bother for PHP. It is really a marvelous application with the help of which you can get your theme design powered by WordPress in minutes.

WP Theme Generator
This one is the most name and fame WordPress theme generator which has received maximum publicity among designers as it offers various conveniences such as instant previews, lots of layout, color and gradient settings, custom header graphics and download of individual files as well as a neatly packaged zip etc. It also offers them a tool bar down the left hand side where they can change the setting for the look and feel of their WordPress Theme, and then can see the results on the right side. It lets you to create your own custom unique WordPress themes without having much knowledge of HTML, JS, PHP or CSS. With this, you can easily change the colors, settings, and layout etc.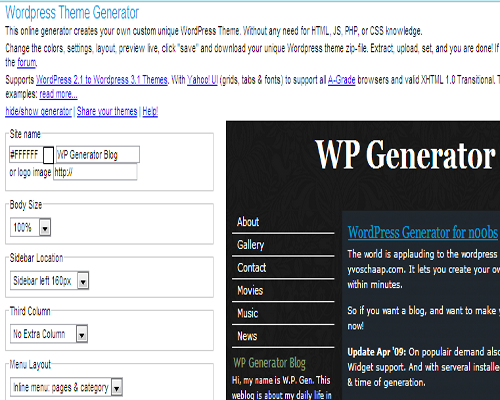 Blog Theme Creator
It is really a superb WordPress theme generator in with which you can modify and save a theme again and again. In this theme generator you can import your own logo and can manipulate the professionally designed themes for yourself.

WP Theme Builder
It is a highly used WordPress theme generator which allows you to create a very professional looking WordPress Theme and also offers comprehensive tutorials for creating a WordPress Theme along with Support, documentation and an online FAQ. It is really easy to work out and understand.

Theme Generator – beta
This WordPress Theme Generator offers you several options broken down into the different areas of a WordPress Theme. It provides color templates to assist you get started with designing stunning themes.

Kalkran
Kalkran is an excellent WordPresstheme generator which takes in regular templates and turns them into a 'basic' template. It facilitates you with a widget-ready sidebar, archive support, comments, and so on and so forth.

PixoPoint
This WordPress Theme Generator is very popular among the team of web designers and web developers. It facilitates the designers with various options including a very easy to understand menu on the upper left hand portion of the screen broken down by the various areas of a WordPress Theme.

Templatr
Templatr, as the name signifies, is a Template Generator, with the help of which you can create an individual design for your Blog online without requiring a lot more knowledge of HTML and any special Software. Only you need is a Browser, a little some of creativity and a minor idea of how the finished design should look. It facilitates you with over 20 layouts, and formatting options for various page elements including pages, header, footer, titles, margin, padding, border, and more for your WordPress blog. In addition to all these, it also provides you an upload tool with the help of which you can upload your site graphics or can download the template on your system once get completed.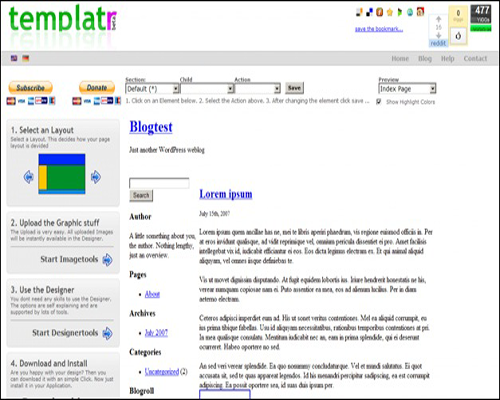 WordPressthemegen
WordPressthemegen is a Desktop based powerful WordPress Theme Generator that unleash your creative ideas and bring your WordPress sites to life. With the help of this, you can generate elegant, modern WordPress theme, harness the power of WordPress to transform your publishing platform to a success and make your design decision on fly without having any deep knowledge of HTML, JS, PHP, or CSS.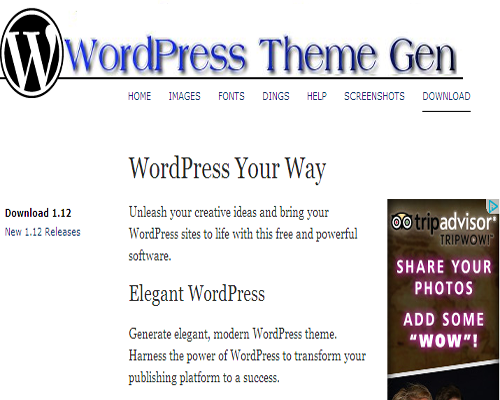 Aristeer WordPress Theme Generator
Artisteer is really a remarkable tool for all those designers who wish to take control over the look and feel of the theme being created. This wordpress theme generator enables you to instantly create professional WordPress themes without having an artistic talent or struggling with Photoshop, Dreamweaver, HTML and CSS. Actually, it automatically creates distinctive theme designs which you can customize and finalize as per your taste or requirements.

Admin from India is a founder of WebGranth, an entity of
Sparx IT Solutions
with over 8 years of experience on different verticals of web design & development. In his quest to spread the knowledge regarding web development, he has been contributing in WebGranth by submitting his valuable blogs.