WordPress has emerged as an Outstanding Content Management System and platform for various sites. Now as you have seen that whether a corporate site or a blog site or it is an E-commerce site the use of WordPress become trending. And why not ! It is to be used. WordPress integrated with a lot of plugins that entails powerful features and rapid delivery. What if WordPress is used in the Job Board System. It will be an excellent idea because fast deployment, advance UI and easy to maintain features will give birth to super Job Board System.
Recruitment system has now advanced a lot. Now there are various online job sites available and many industries are also shifting toward creating an electronic Job board system to advance the way of employing clients speedily and effectively. To deliver the Job board system efficiently, here Webgranth entails the list comprising ten Best WordPress Plugins and themes that assists in creating smart and with better User Interface functionality Online Job Board System.
List of Top ten WordPress Themes and Plugins for Online Job Board System
9 to 5 premium WordPress Job themes is the advance WordPress Job Board System having Ajax live filtering technique that makes coding sorting and arranging Job post easy, supports Google Map locator that give the idea about the location of the company and the clients, various skins resume uploading widget and lots more.
Job Board WordPress Job themes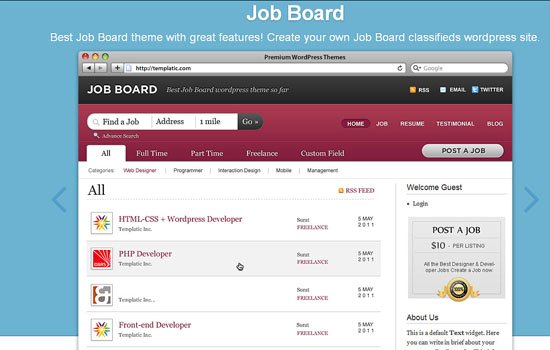 JOB BOARD theme is the WordPress Job theme presented by Templatic. This theme is easy to be implemented with trending features such as responsive design, customizable widgets, advance functionality to submit multiple jobs at once, integrated with multiple Job post type, and provide various sections for job seekers and job providers.

Job Manager by SmartRecruiters is easy to use Job board based plugins for WordPress. This plugin is packed with various functionalities such as various job listings, easy Job Management, User Friendly Job posting, Application tracking function, smart reporting capability, intelligent security model and lots more.
Job Roller is the most used WordPress Job theme. This theme is full of features such as easy to use and effortless integration with WordPress, providing Job listings, different tools for Job seeker and recruiters and resume accepting application.
Zartis Job Plugin, an outstanding WordPress Job Plugin comes with security in managing candidate database, comfortable addition of job in the list, the available 13 Job Board languages, and customize Job Page.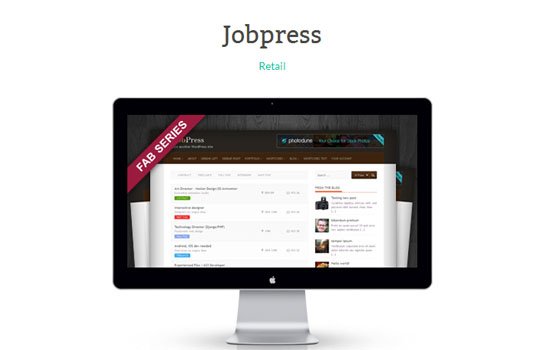 JobPress , a WordPress Job Theme is very simple and full of User Interactive functionality. This theme is free and is presented by Web2feel. Here posting job and is just a few clicks away. This theme is packed with easy to customize menu, page templates, taxonomies, sidebar, and it also includes customizable widgets.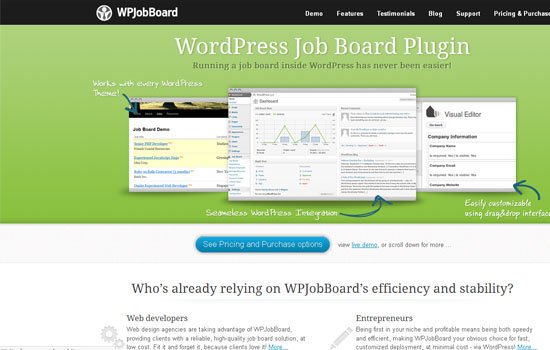 WPJobBoard is the innovative and trending WordPress Job board plugin that comprises various outstanding features such as effortless installation, full Paypal integration, visual editor, encapsulated multiple marketing feature and rapid customized development.
JobJockey, a WordPress Job based theme that is cost effective, responsive, user friendly, support SEO, integrated with Paypal to earn money hassle free.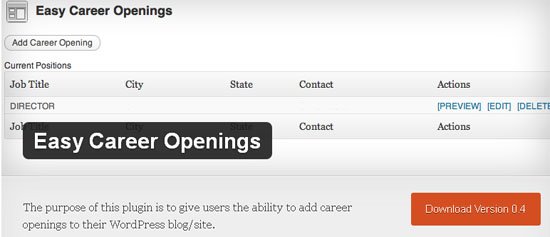 Easy Career opening is one of the simplest WordPress Job plugins that integrate the career portal to a WordPress blog at ease.
njobsboard is the theme for WordPress Job board . Just download theme, access the PHP hosting to the database and start using the theme. This theme does not require PHP coding,clear administrative panel and lot more.
Conclusion
Hopefully this list will definitely widen your horizon for creating WordPress based online Job portal system. Please share your best plugin and theme apart from the list and also mention which is the best techniques among the list in the comment section given below. Stay tuned with our post. Next time we will come up with new ideas, concept and lots more.
Leander Crow works at
Webby Central
as a veteran web developer. He has a passion for technology, coding and design and has coded for award-winning names in the industry. He is also a freelance writer who has helped many web development firms build an audience by sharing informative write-ups.