Top 10+ Web Annotation and Markup Tools
The advent of web annotation and markup tools has changed the way of working of the people, now people can think and act more smartly than earlier. Most often, while browsing the web, you have come across some of the contents which you found useful for you and wanted to save that for later use; sometimes also in many situations, you want to leave a comment or note but you can't do that because that particular page on which you are, does not provide a comment system; these are some of the situations where the web annotation and markup tool becomes handy to use.
Sometimes, it also happens like that you are working on a document or website of your own and wanting to get feedback from users or collaborate with a friend or group, but you can't; web annotation and markup tools helps you to overcome all these situations and provides you a new level of convenience to communicate with each other. Let's understand what is web annotation?
What is web annotation?
A web annotation is an online annotation associated with a web resource, typically a web page with the help of which a user can add, modify or remove information from a web resource without modifying the resource itself. Nowadays web annotation and markup tools are being used for several purposes. Let's have a glance below.
Web annotation can be used for the following purposes:
⇒ As a collaborative tool, e.g. to discuss the contents of a certain resource.
⇒ To rate a Web resource, such as by its usefulness, user-friendliness, suitability for viewing by minors.
⇒ To improve or adapt its contents by adding/removing material, something like a wiki.
⇒ To quantify transient relationships between information fragments.
⇒ As a medium of artistic or social criticism, by allowing Web users to reinterpret, enrich or protest against institution or ideas that appear on the Web.
Web annotation and markup tools has become great means to add comments to web content and allows you to discuss, exchange ideas or even brainstorm with your colleagues and peers efficiently in shortest time possible. There should be no doubt to mention about annotation tools that it is a useful means for groups to share their thoughts in a direct and easy-to-reference way. We are hereby presenting a complete roundup of web annotation and markup tools which we hope will prove useful for you. Check out these
web annotation and markup tools
as discussed below:
A.Nnotate
A.nnotate is an online annotation and collaboration and indexing system for documents and images, which supports PDF and MS Office formats. You can now have all comment on a single read-only copy online, instead of emailing different versions of a document back and forth. With this tool, unlike online word processors, the document is displayed in high quality with fonts and layout just like the printed version. It is really easy to use and runs in all common web browsers, with no software or plug-ins to install. It offers you a free account that lets you annotate 30 items per month; any amounts larger than that will be chargeable.

Bounce
Bounce is simple yet great tool for writing thoughts and feedback or collaborating with a small group. It allows you to click on any web page and drag your mouse to create notes. It should be noted that the notes that you add will be labeled with your name which you can share on Facebook and Twitter. To do so, simply enter the URL of the page you want to annotate on the Bounce website and then it will grab a screenshot; after then, your screenshots can be sent to Notable if you have an existing account on that.

Crocodoc
Crocodoc is the ultimate annotation tool for document collaboration which enables you to highlight, strikeout text, add comments and perform other types of revisions on PDF files, Microsoft Word documents, images and many more. With the help of this tool, one can easily view PDFs, Office Docs, & Images, add comments & markups and can share and embed documents anywhere.
Crocodoc allows inviting others to collaborate in real-time or embed documents on your website or blog. No Flash or plug-in is required while using this tool in order to display documents in the browser. One can store all the files on Crocodoc's secure servers, make them password protected and encrypt them for adding further security. The best part of this tool is that it allocate you account without registering to it and allows you to keep track of the documents that you have uploaded for future reference.

Diigo
Diigo and the Diigolet is a quite popular tool of which most of the people must be aware of. This is really a feature-rich tool which is supported by all major browsers and which lets you highlight, comment and add sticky notes to any web page. All the highlighted items and notes are automatically saved to Diigo library which can be viewed further. With this tool, one can also choose to view notes from other users as well add comments to their notes. One can add public as well as private notes which are saved to Diigo library just like other items. It is much more powerful than bookmarklets offered by other social bookmarking sites and no download or installation is needed, it can be set-up by simple drag-and-drop.

Draw Here
As the title of this tool suggests, it enables you to draw on top of any web page while browsing via a bookmarklet. It also allows you the option to save your drawings so that it can be viewed by others who visit that page. Currently, it is supported by Firefox and IE and presents a versatile platform to showcase your talent, draw comments on web pages or just doodle out of pure boredom.

Google Sidewiki
Most of you might have heard of or familiar with Google Sidewiki. Actually this is a browser tool which is available on the Google Toolbar for Firefox and IE, and as an extension in Chrome and which lets you add comments and read other user comments about any web page. One of the remarkable features of this tool is that with the help of this tool you can share your entries directly on Blogger, Facebook, Twitter and your Google Profile. Apart from that, you can also see how many comments are on a page by a small badge that appears on the tool's icon.

IComment
This is really a remarkable tool with which, in a single click, one can start and participate in conversations on any web page. With the help of this amazing tool, one can access valuable web comments, post their comments to any webpage, share their opinions and experiences, chat & socialize as well as make friends, send them private comments and much more than that. One of the advantageous parts of this tool is that with the help of this tool you can win prizes. One can win Amazon gift card of worth $25 for posting every 10 comments. It is quite easy to post public as well as private comments on the web page and see what others are saying.
The most significant features of iComment are as follows:
⇒ It is now implemented as browser toolbar.
⇒ It is compatible with Windows Vista and Internet Explorer 8.
⇒ It is compatible with Firefox 3.5.x.

Internote
Internote is a simple but great Firefox add-on which is quite helpful for adding notes to any web page. It allows web developers or designers to create useful and private notes on web pages and also allows customizing the web pages note with background and text. With Internote, one can do anything; one can customize the note and can give them a modern, glassy, classical or flat look; or one can move, resize, recolor, minimize, import, export, print, delete their notes. It is and efficient tool which works even with Gmail and one can use it to manage their notes all at once.

Layers
Layer is a wonderful annotation tool which lets you to add sticky notes, tweets, maps, videos and images on top of web pages. You can then share your layers across your social networks. With this tool, you will have a more fluid, visual and enjoyable experience of getting your friends' updates on social networks. It allows you to get news from your friends such as the links they share, their tweets and much more in a beautiful flowing stream. It is also a great tool for posting tweets longer than 140 characters, since there is no limit; you can post comments both public as well as private and you can invite others to participate in your conversations.

MyStickies
MyStickies is a remarkable tool which allows you to place little yellow squares of digital paper anywhere and everywhere you feel like in the whole wide web. Apart from that, it also offers you a powerful interface to browse, search, sort, and edit an unlimited number of notes using this tool. It lets you to have a wonderful time with your sticky notes from any computer that has internet access. Not only that, you can also add tags to your notes and organize them for easy reference.

Notable
Notable is another important annotation tool which is geared toward teams who are working on websites together and need to provide feedback on designs, content and HTML/CSS code. This amazing tool lets you to store your project in one space by enabling you to take any webpage screenshot, sketch or wireframe and exchange notes on specific details with your team. This tool is designed with an objective to help you arrive at the best solution in the shortest amount of time and allows you to quickly reply, vote or suggest a better idea. In addition to these, this tool offers you an extra ability to send email alerts to others on your team in order to request feedback.

Quick Fox Notes
QuickFox Notes is another Firefox multi-tab note taking add-on and a remarkable annotation tool that uses the integrated bookmarks system or a single sqlite database to store notes. It works great with synchronization tools like XMarks, Dropbox and SugarSync and play a major role in synchronizing your notes via those tools so that you can access them across various computers and mobile devices.
Some of its significant features are as follows:
⇒ It generates popup after X seconds upon Firefox start (Tools>Options).
⇒It offers adjustable font size (Tools>Options) and supports most of Notepad++ shortcuts.
⇒It allows for text search (Ctrl + F), spell check (Tools>Options or Toggle check spelling button).
⇒ One can insert special symbols just by right-clicking the context menu or F8 and can import/export notes from/to Simplenote.

Reframe It
With Reframe It you can comment (publicly or privately) on any web page via the sidebar and reply to others. You can also highlight text on any page, add your own comment or note and then post it. Comments can be shared across social networks like Facebook, Twitter, Blogger, FriendFeed as well as via Email. There are a lot of features included like the ability to add friends, keep up with RSS feeds, and join groups. It's almost as if it creates a social network within every website. Updates are displayed in real-time so that you won't miss a thing. Reframe It stays closed on the page until you click on the tab (on the side of the window) to open it. A badge with the number of comments on the page is also displayed on the tab.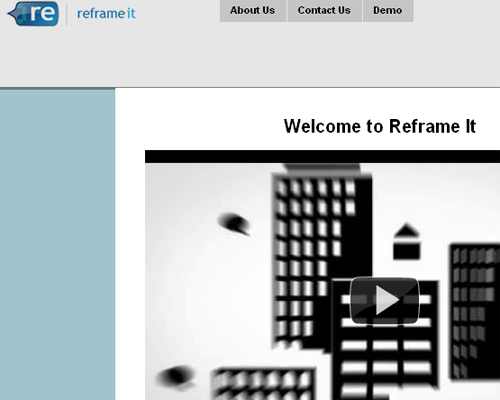 ShiftSpace
This is an open source Firefox Add-on for group annotation and collaboration which allows you to mix, annotate, shift, share, any website, anywhere. This tool is based on a very unique concept. It offers a set of tools such as "Notes", "Highlights", "ImageSwap" and "SourceShift" etc with the help of which one can create and share shifts and build new meta web spaces. The user of this tool can invoke a new meta layer above any web page to browse and create additional interpretations, contextualization and interventions which are usually referred to as "Shifts". Also, the users can choose between several authoring tools which are usually referred as "spaces"

Conclusion:
On the basis of information discussed above relating the advantages and significance of annotation and markup tools, you might have understood the role played by the annotation tools. We would be delighted to knowyour opinion regarding the above mentioned
Web Annotation and markup tools
that which one you have liked mose and which one you are planning to use in you forthcoming project. Feel free to leave a comment in the comment area sharing your thoughts and ideas.
Steven Bowen is an ardent team member of
No-refresh - Web to Print Design Tool Provider Company
bestowed with professionalism in to develop fully-functional solutions. Having adroitness in this arena, he has served an array of blogs that are basically based on the technology advancement & improve the end users' information level.