Top 10 Useful Pinterest Tools You Must Have
In the currency of social media platforms and social media tools, I have compiled here Top 10 Useful Pinterest Tool You Must Have in account of which you can study your Pinterest's influence with score, pinning quotes, including additional button and activity log on Pinterest page.
Among wide length of social media platforms as well as social media tools available over internet, many people are employing Pinterest. Since the Pinterest opens it eyes, it inspire lot of social media marketers as well as render them to their fans in account of distinct features and impressive Pinterest tools. However, it enables you to share any kind of pictures you designate over web and socialize with huge extent of people world wide. You will found that sharing with Pinterest seems to be far easy and affable and thus can interact with new people who share your interest.
However, before we proceed next section of this Top 10 Useful Pinterest Tool You Must Have. Lets have a look on this overview of Pinterest that might be you also want to know. Pinterest falls under the line up social media platform and incorporates Pinterest tool like wise social media tools. Thus, it is referred as a content sharing social media website where you can share photos, videos and other distinct objects on your pinboard through 'pinning' it. Undoubtedly, you will not only enjoy lot of fun with this social media platform but also you can implement it as an effective marketing service.
So, if you are really avid to employ Pinterest as advantageously and more effectively then keep on reading. Here, in order to provide more enhanced experience I am listing below Top 10 Useful Pinterest Tool You Must Have. However, go ahead and check them out as well as employ accordingly which perfectly suit your need and requisite at the best.
Pinerly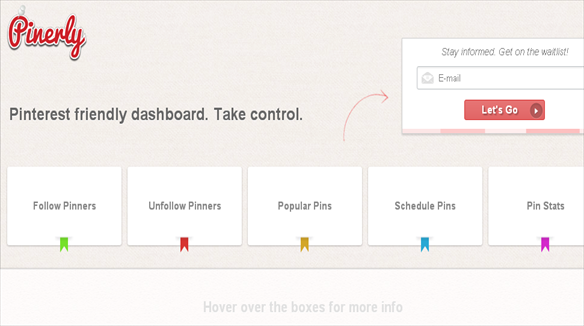 In present this Pinerly Pinterest tool sits in beta, but is likely to be a comprehensive analytics tool of Pinterest. However, in account of this impressive tool you will be able to congregate the feedback regarding your campaigns for brands and business in subject of measuring likes and repins, click throughs.

Pinpuff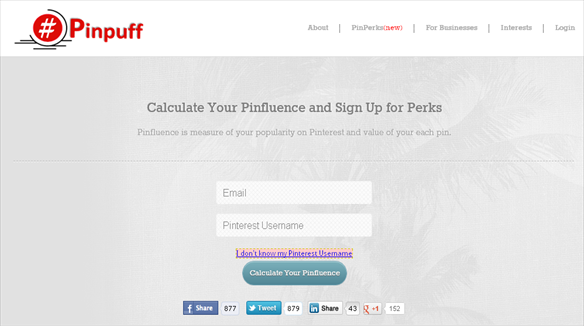 Pinpuff is literally an elegant tool that allows you to analyze your Pinfluence, it means on Pinterest how much popular you are. More over you can get value of your each pin. For this, you are supposed to visit the site and input your Pinterest username and email-ID and click "Calculate Your Pinfluence". Next, this feature will say your total score grounded on your activity, reach and popularity of your pins. Also, it states about estimated figure of your referral traffic and pins.

PinReach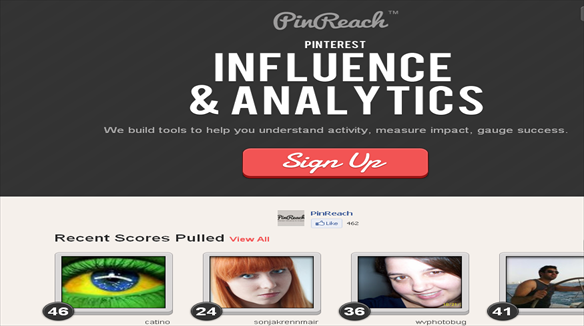 This PinReach Pinterest tool falls under most significant and vital tool that facilitate to measure your impact over Pinterest. It comes with the 'Analytics' feature that keep you updated with your aggregate pins, repins, followers, likes and miscellaneous including overall score of your pins. Also, it used to deliver complete information regarding your pins and board through employing charts and tables illustration for better comprehension.

PinSearch
Pinsearch is verily an amusing Pinterest tool which works as Google Chrome extension and enables you to search for more relevant images as well as details of a particular image when designated on Pinterest. This is a must have extension for your browser which provide an additional 'search' button by hovering over the desired pictures on Pinterest. You can also view related Google's search result just by clicking that button for that respective photo.

Pinstamatic
Among distinct Pinterest tool Pinstamatic is literally an elegant tool that enables you to incorporate your various links including Twitter Profile, distinct links of your website as well as 'Sticky Notes' to your pin board. This exquisite tool is supposed to be compatible with almost all kinds of contents very soon.

Pinterest Pro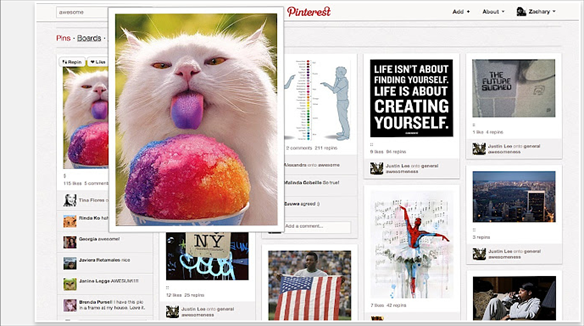 This Pinterest Pro tool is another great and affable to implement tool which works with Google Chrome extension and will be quite obvious for you. It flaunts on some significant features about which I would like to put some light. You can post any content in so handy manner, just by right click on the content you wist to pin and select 'Pin to Pinterest' and provide the details.
You can view any picture in zoom even without clicking over it. Simply, move mouse point to any image and hover over it to enlarge. Most interesting thing about this is that as it works with Chrome, a dropdown Pin will be inserted in your browser as an extension, by means of which you can see the popular content in real time without visiting the website.

Recent Activity Expander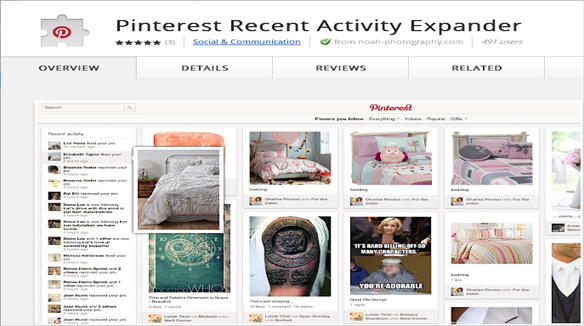 Recent Activity Expander is referred as one amongst most fabulous Google Chrome extension. As the name suggested this robust tool used to make you acquainted about who is following you or re-pinned your content recently. In very handy way it will incorporate a bar at left side of Pinterest page, that will show all information regarding recent activity performed by your followers. You don't have to go anywhere for this application, simply get it from Chrome store and enjoy.

Snapito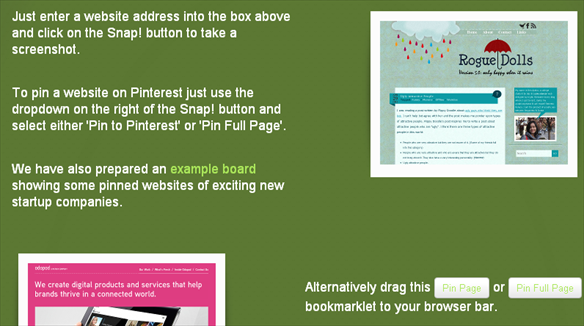 What to do when you are supposed to pin a snap of your entire website rather than of a single picture. Confused, no matter. You can employ Snapito, that is an awesome handy tool through which you can get screen shot of your entire website. Also, in account of this tool you can get timestamped screen shot for your website.

Url2pin.it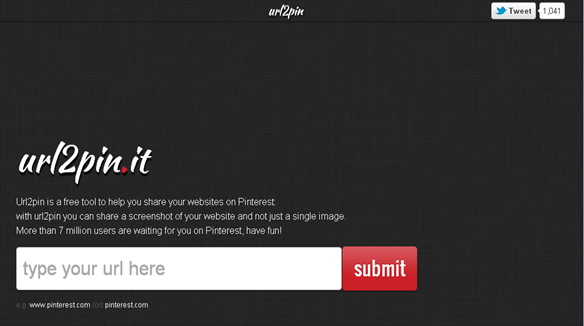 This tool of Pinterest is identical to snapit where you can take a screengrab of your entire website and pin it to your board rather than of employing a single picture. It is referred as one among most easy and handy tool that you must try it.

Share As Image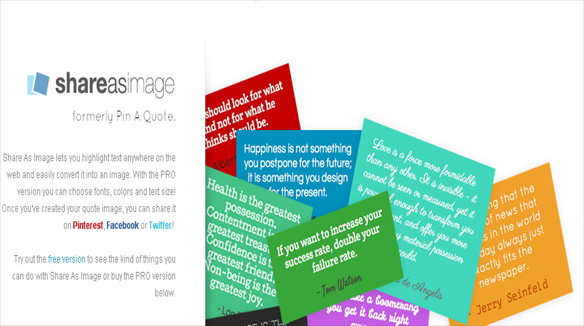 Share As Image is a very nice tool which formerly known as Pin A Quote. You can render any text from your entire website in an image without meeting and hindrances. Only you are required to put a little bit of efforts to highlight the text and click. Moreover, its PRO version offer various colors, fonts and text size for enhanced experience.

Steven Bowen is an ardent team member of
No-refresh - Web to Print Design Tool Provider Company
bestowed with professionalism in to develop fully-functional solutions. Having adroitness in this arena, he has served an array of blogs that are basically based on the technology advancement & improve the end users' information level.