Top 10 Tools Which Will Protect Your Computer from Infected USB Flash Drives
In our daily life, we generally make use of USB flash drives to transfer files from desktop to laptops or from one system to another or even share contents with our peers and so on.USB flash drives makes our life easier by conveniently transferring files from one device to another. But while transferring files through USB flash drives our system often get infected from the malicious virus which in turn generates various problems.
It is quite obvious that if the USB flash drives will remain infected with virus, it will be affecting the security of every computer with which it is once plugged in. In this case what happens, the time when you attach your infected USB drive to the computer the virus is transferred to the computer in no time infecting all the important documents in computer? Sometimes the viruses are so strong that hard drive of computer gets damaged in such a manner that it can't be recovered back. Thus it becomes very much necessary protect the computer from virus which are usually originated from infected flash drives.
As we know well that, prevention is better than cure. Thus it is very much necessary that we should be careful of the virus concerns of computer and USB drives. In this post, we have brought with us top ten tools which will protect your computer against any infected USB flash drives. These tolls are very effective and will play a vital role in the case when infective flash drives are affecting the security of your computer. Check out these tools, we hope it will be appreciated by you.
USB Disk Security
USB Disk Security is one of the best security software which provides protection against any malicious program trying to attack via USB flash drive. It can be used to protect offline computer without the need for signature updates. It is light and easy to use solution which delivers high level of protection against theft and accidental disclosure of confidential data. It is compatible with other antivirus software and doesn't slow down your computer at all and works well in preventing unauthorized person from stealing your data.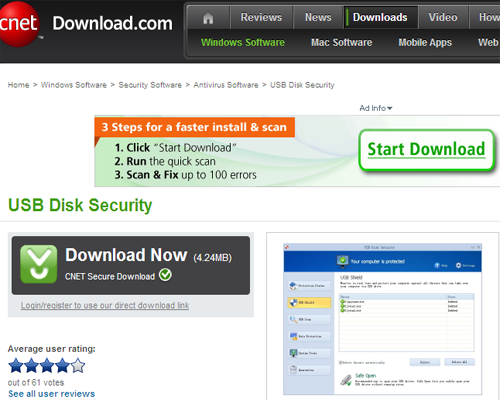 USB Threat Defender
USB Threat Defender is the ultimate USB Anti-Virus solution which provides maximum protection against any threat that tries to attack a system via any USB storage device. It is not just autorun.inf virus remover but is bonded with unique Proactive and Definition scan Technology together. Its new protection level detects viruses missed by the best antivirus software and in this way guarantees for maximum protection against any threat. Its proactive scan method makes sure of all malwares get detected before they harm or infect your system in any way. And not only that, besides all these, its high definition based scan method detects and removes all the threats already installed on your system.
McAfee VirusScan USB
McAfee VirusScan USB is a proven security that detects and removes viruses and hence protects your computer against infected USB drive. McAfee VirusScan USB detects and removes viruses that can delete files and data from your USB drive; it prevents viruses on your USB drive and hence prevents file and data corruption. In addition to all these, it also ensures that your USB drive does not transmit viruses and other threats to each and every PC with which you plug your USB drive.
McAfee VirusScan USB facilitates you with quick check of the PC that you plug your USB drive into to make sure the PC is protected with current anti-virus software and also notify you regarding potential threats by virus security alerts. Once you install it in your PC, it provides you immediate anti-virus protection and removal solutions to Virus. It provides you daily anti-virus updates ensuring your USB drive is always protected from evolving and emerging virus threats.
USB Immunizer
The USB Immunizer is a BitDefender's product in response to the growing concerns option of virus threats in PC or USB flash drives. This small utility is divided in two sections, i.e. the Immunize option, and the Immunize Computer slider option. The former option allows you to immunize your USB storage device or SD card against infections with autorun-based malware. On the other hand the latter option lets you to toggle the autorun feature on or off for any removable media except for CD/DVD-ROM devices.
The advantages of the first option will be that even if your storage device has been plugged into an infected computer, the piece of malware will be unable to create its autorun.inf file, and thus annihilating any chance of auto-launching itself and hence preventing the system from viral attacks. While the other option will benefit you in the way that, if you accidentally plug in an infected USB drive that has not been immunized, the computer will not auto-execute the piece of malware located on the USB storage device and hence again preventing your PC from any virus threat.
Panda USB Vaccine
Panda USB Vaccine is one of the most effective solutions against virus and can be used on individual USB flash drives to disable its autorun.inf file in order to prevent malware infections. When the malicious autorun.inf file is disabled, it results preventing the USB flash drives from being read, created, deleted or modified. The drive can otherwise be used normally and files can be copied to or from it, only they will be prevented from opening automatically.
Currently, Panda USB Vaccine only works on FAT & FAT32 USB drives. It is available free of charge and allows users to vaccinate their PCs in order to disable AutoRun completely so that no program from any USB, CD or DVD drive can auto-execute. This is really a helpful feature and a solid methodology to fight against virus or any theft.
Ninja Pendisk
Ninja is quite popular and freeware program which is especially designed for safeguarding computers against viruses transmitted by USB pendisks or other USB drives. This ninja waits quietly in the system tray till the time an USB pendisk is plugged into the computer. This program thoroughly examines that USB drive in order to uncover the commonly malicious or virulent files known as "autorun.inf" and "ctfmon.exe" or many others which an infected flash drive often contains and in this it protects the PC from being virus infected.
USB Guardian
USB Guardian is an excellent program which protects your PC against worms and viruses and allows you to safely enjoy file sharing with USB thumb drive. Once USB guardian is installed on the PC, one can easily copy movies, MP3s, documents and pictures from one computer to another trough USB drive without worrying of getting infected by worms and viruses. It provides a very clean and well organized interface so that one can access all functions with minimum effort.
Autorun Protector
Autorun Protector is fine protection software that prevents your PC from infection by autorun worms and also protects your removable device from being infected from other sources. Actually, autorun worm is a worm that infects PC through removable device such as USB thumb drive or CD/DVD. Autorun worm contains a file called autorun.inf which contains code to run malicious program. Autorun protector blocks that autorun file and in this way protects your PC. If your PC does not block autorun, the autorun worm will executes once you double click the drive letter of your removable device and make your PC seriously ill from the attack of virus. Hence, autorun protector decreases the spread of the virulent worms by blocking the autorun.inf file.
Autorun Virus Remover
Autorun Virus Remover is the fastest and smallest antivirus software and is regarded as the best solution to protect offline computer. It uses proactive technology to permanently remove autorun & autorun.inf virus easily and quickly and hence prevents viruses infecting computer from USB drives. It also prevents data leakage via USB removable devices. As soon as any USB flash drive is inserted into computer, Autorun Virus Remover uses innovative technology to block the autorun virus automatically scan it and remove threats.
One of the advantages of using Autorun remover is that unlike other antivirus products, you don't need to pay on yearly basis. Once you register and get the license key of Autorun Virus remover, its key is valid for lifetime and you will receive all future program updates free of charge.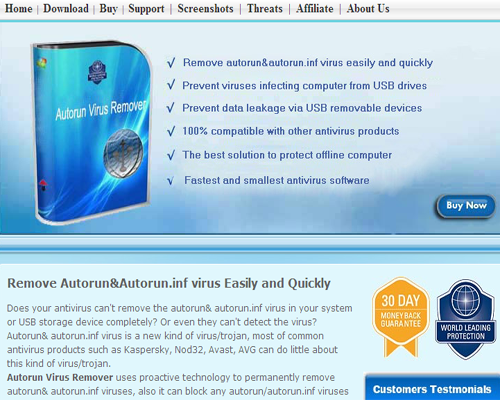 The USB Program
The USB Program another effective program against worms and viruses which is especially designed to help the users prevent their computers being infected by autorun viruses. As soon as this program is loaded into system memory, it automatically renames autorun.inf files on new device into autorun.inf_current date_time, and sets its attribute to "normal", making it visible for the system. This results that, it isolates any infection.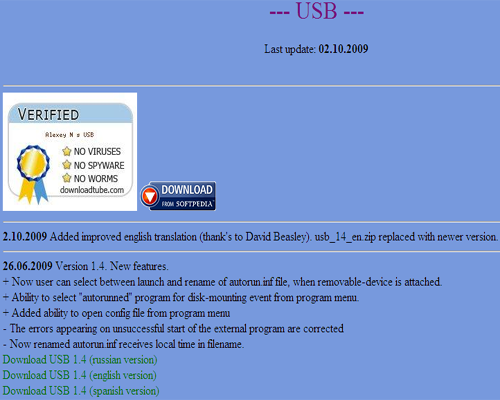 Christiana McGee loves development and possesses specialization in converting Sketch to HTML. Associated with
CSSChopper - Sketch to HTML Company
, she constantly strives to serve the best, fastest and innovative solutions in a stre