Popup ad or message is an event driven window open up while visiting the particular website or by clicking any control on a web page to display advertisements, message, notification or any other information. In today's market the objective of most of the websites are to improve traffic, increasing email subscriptions, and lot more. But integrating pop up with a website is very difficult because it requires a lot of coding knowledge. Although Jquery supportive various functions are there which help in making Popup window yet it's still hard. So this post featured a list of top ten WordPress Plugin for integrating Popup.
WordPress , Content Management System have become the highest ranking choice for building websites. Popup is new window that opens up to display informative content on visiting the webpage. It is usually used in advertising, sending notification and lot more. It is very cumbersome to add pop up with WordPress sites because there is need of hard coding. To simplify this there are many WordPress plug-ins that help in creating Pop-up. So today, Webgranth brings best ten list of WordPress Plugins for integrating Popups.
Top ten Popup Plugin for WordPress
Widgetized Welcome Popup, an advance WordPress popup plugin that can be easily customizable according to users view. You can fully control every aspect of window such as window size, background color, number widget areas and lot more. This Popup supports the widget area that can be used to show dashboard. Editable content can be possible with the help of WSYIWYG visual editor.
All-in-One Social pop up, an eventful social WordPress plugin, is highly customizable Popup for varieties of Websites and blog sites. This eventful because this Popup can be shown by seven events generated by clicking, sliding slide bar, loading page, dropping down menu, navigating external links, copying content and leaving idle. All-in-one social pop up will be helpful in getting organic traffic from top 10 social networking site such as Facebook, Twitter, Gmail and a lot more.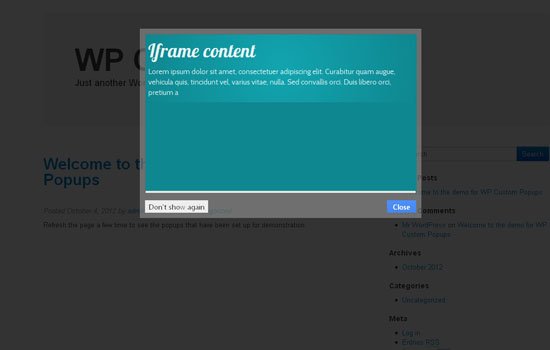 WordPress Custom Popups, simple WordPress plugin can be utilized to display a message and advertisement on visiting the website. This is very simple Popup with the only objective to deliver important information to the visitors.
SocialPop is the social Media WordPress popup plugin wonderful for adding social Media option for sharing. This plugin support top 26 social media site such Tumblr, Facebook, Google and much more.
SuperSlider-Media-Pop, an outstanding multimedia WordPress plugin support wide varieties of images, videos, and content to convey information in a highly descriptive way. This plugin supports any size images. This plugin is designed for the screenshot lover, movie lover, game or animal review, guide description and lots more.
Simp Modal Window, a feature full WordPress plugin assists in creating wide varieties of Popup having complete control over layout design, content flow and typography. This means there are a large number of options to control the visibility of the Popup window. The some main features of this Plugin are auto timer setting, control to define the position of the Popup, support instant translation for different language that is support localization.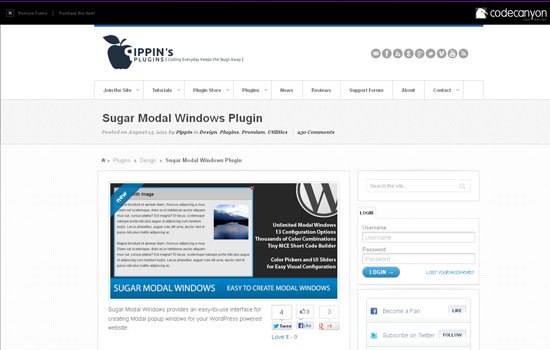 Sugar Modal Windows for WordPress a user-friendly WordPress popup plugin is very helpful in creating Modal window. This Popup window is compatible with all modern browsers and support any type media such text, video and audio to display informative content. There are 13 configurable options for every model which break the limit of creating thousands of different modal windows.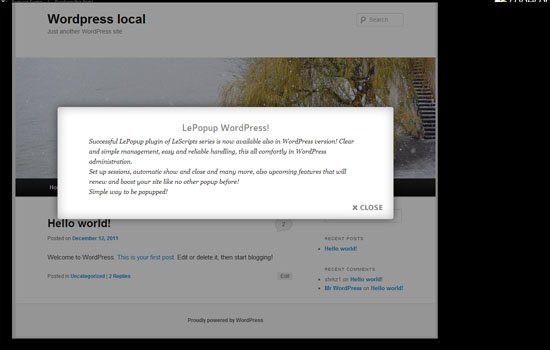 LePopup WordPress is a WordPress popup plugin for easy to manage, reliable management features for creating Popup. Highly featured such as set up a session, automatically show and a close and lots more.
Facebook traffic pop for WordPress is the latest pop up for WordPress sites. This Popup allow to like the page and no need to click the page. This is obviously the more likes to bring more traffic and more popularity. Facebook traffic pop comes with beautiful features such as work on all sites whether it is small or big, lots of themes to change the look of pop up, cookies remember the people who already like the page and lot more.
Pinoy Pop Up on Exit is the online sales copy site for WordPress sites. The online sales copy is the Popup that bribe the user with discount or any kind bonus if they don't leave the page. This model window is displayed when the user is trying to come out of the site. Example of such site which support this are Publishing a Book and Paid Public Speaker.
Conclusion
Hopefully you are now aware of the site which are providing a Popup plugin for WordPress. Now start exposing all these wordpress popup plugins and start using them in your way. Share with us some of your best choice among this list through the comment section given below. There might some other list which is besides this list you can also share that too. Next time we will come with some more bright ideas please be connected for further updates.
The area of interest of Jennifer Adam is to cater technologically advanced and powerful tool which works remarkably with multiple browsers and devices. Being a talented professional of
inkyROBO
, she is capable of implementing the innovative ideas and also loves to write inspiration blogs.