JQuery 360 Degree Image Rotation Plugins are the most attractive way to display the pictures on the web pages. These best 360° pictures allow the user to have a much detailed analysis of the product or article. In this post i am providing you the best array of image rotation plugins that can garnish your websites.
Websites are the premium showcase of a business. Every website designer wants to create a website that is attractive and effective enough to magnetize the maximum crowd towards it. In this race of being the best, developers are adopting a lot of tools which can shine up the interface of the web page. JQuery 360 degree image rotation plugins are among the most attractive way to display the images on the website. These plugins are far away cool and effective than using flash files. These plugins are compatible with the concept of responsive web designing that facilitates the user to use these rotation plugins even on a mobile browser.
These JQuery Plugins lets the user visualize any picture in a 360° panorama which is far better and detailed option as compared to a conventional picture. Every business tycoon websites are using these plugins to attract the crowd. These plugins are loaded with a lot of customizable additional features and effects.
In my this article i am  offering you a list of top 10 latest JQuery 360 degree Image rotation plugins which are easy to install and mostly free of cost. You can use these tools and can transform your websites into a visitor's hub.
J360:360° Product View
J360 is a dual licensed (MIT & GPL) JQuery plugin which offers you a 360° view of the article using an array of picture. It is compatible with almost all iPhone, iPad, and Google Android devices. This tool offers mouse navigation on laptops and PC.
 

AJAX-ZOOM – 360/3D Spin & Zoom JavaScript player
AJAX-ZOOM is an amazing image rotation plugin which even allows you to rotate the object on Z-axis (3D multi row) along with 360° panoramic view. It offers a deep detailed zoom on every frame of product which provides a detailed scenario. This tool uses the innovative Image Tile technology that allows the user to upload high resolution images without compression.

Multiple 360° Images on One Page
This best image rotation plugin allows you to show multiple 360° images on a single web page. You can easily customize the rotation speed and transition effects of the picture by this plugin. It facilitates you to easily share these 360° images with the other admin and creating banner for advertisement just by writing a few lines of code.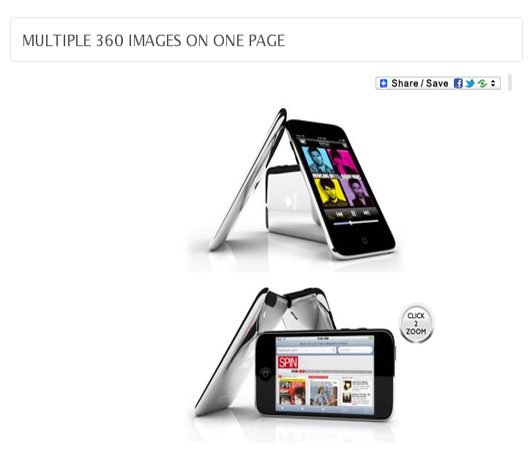 Reel 1.1.4
Reel 1.1.4 is a jQuery plugin that transform any image tag into attractive 360° animated rotation or panorama. It offers you In-scene Annotations in synchronization with picture frames. The user can reel the images with both mouse and touch.

Sprite Spin
It is an astounding JQuery image rotation plugin that facilitates you with sprite animation in your website. It stitches up an array of images and then plays these images frame sequentially to provide a 360° view of the subject. This tool offers you a plenty of option parameters and API interaction.

JQuery Plugin for Rotating Image
This is one of the simplest JQuery 360 Degree Image Rotation Plugin available. This plugin is integrated with a demo program by which you can easily customize this tool.

360° Panoramic Viewer
Panoramic viewer plugin offers you 180°/360° mouse drag rotation. It is compatible with every android device. This tool facilitates you with latest feature of hotspots and fancybox integration. You can easily selects from multiple panorama formats for a perfect view of your subject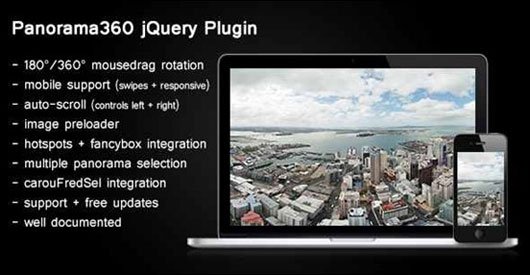 JQuery Image Cube
This plugin visualize the images (or other things) as if they are pasted on the faces of a cube. JQuery image tool plugin is licensed by both GPL and MIT. The shadow transition effect of this plugin gives a panorama of 3D image viewing. You can easily install and customize this plugin for a desired setting.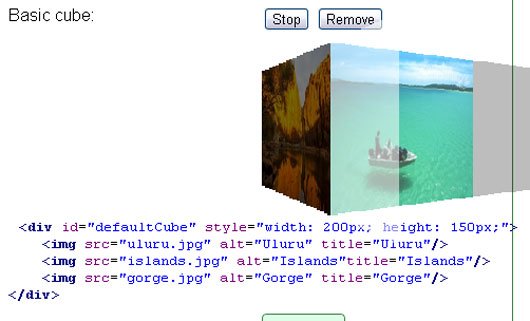 Viewer 3D JavaScript
This is a small plugin that displays amazing 360° view of your images. It is very simple to install and customize, you don't even need to have knowledge of the core concepts to use Viewer 3D JavaScript. It is compatible with all major browsers and touch screen devices as it does not require any Flash player or extra CSS to operate.

Flip
Flip is a free JQuery plugin that facilitates the user to flip the contents in four (left, top, bottom and right) directions. This plugin supports content in the format of html, text or a jQuery object. It offers amazing synchronous function at both ending and starting of the animation.

I hope that the above listed JQuery 360 Degree Image Rotation plugins will help you in customizing your website page and will impose a dazzle impression on the viewer. Keep tracking  for more updates and knowledge about this amazing world of internet.
Steven Bowen is an ardent team member of
No-refresh - Web to Print Design Tool Provider Company
bestowed with professionalism in to develop fully-functional solutions. Having adroitness in this arena, he has served an array of blogs that are basically based on the technology advancement & improve the end users' information level.