Top 10 Free Website Builders: Easy Websites Creation Software
This post is a helping tool for everyone who is looking to create the website by its own. These 'top 10 free website builders' can be used even by the no tech savvies. For much more professional taste these website building tools also offers a premium version of these services. So create you website right now with the aid of these easy websites creation software.
With the advancement of internet technology; every customer is searching for the queries and services on internet. This innovative trend of business has emphasized every trade mark to get a website platform to appeal its presence. Websites are the best way to showcase your services and art on the world of internet. The probability of high visitor traffic is directly proportional to the management and attractiveness of the website.
Building a website is always considered as a complex job; when you go to a web developer for creating your website; you are encountered with a high fee structure and complex designing algorithm. So websites are just for the business tycoons? Is internet not a platform for the small business machines? Creating a Website is only a magic of technical monks? No absolutely not. To provide an easy and cheap way to create a website I am providing you the list of top 10 free website builders. These all tools are easy to use and free of cost. Even a school going student can make a website with the aid of these options so I declare you could do that even while playing chess or cooking in the kitchen.
Let's get a look over these easy websites creation software:
Google Sites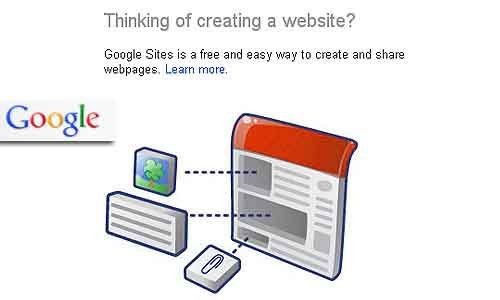 Google site is one of the simplest yet powerful website building option. This service is completely free of cost and offers multiple choices of pre-built templates. With this project of Google you can even access and share your information/back-end with other Admin.
Doodlekit
Doodle offers you to choose the most appropriate website plan according to your need. The entire website Layouts by this web builder is designed with W3C valid XHTML & CSS codes. You can create your website in different languages, currency and interchangeable designs to provide a better UI to your target customers. This tool offers you both free version and premium version to create the website.
Icono Sites
Icono Sites is an absolutely free and easy tool to create a website. You can create your free website in just a few minutes with this website building option. This easy to use website creation software offers you to choose the best design from the bouquet of hundreds attractive layouts. You can even add a unique image transition to every page of your website.
350
If you are not a web developer or doesn't carry the core knowledge of the computer languages than 350 is the best website creating platform. This tool offers a Demo version of the premium service so that you can choose the paid version more confidently and easily.
Tripod
Tripod is a website building option which is powered by Zeeblio to enable you with drag and drop capabilities. It offers you to choose your perfect design from the 200 latest templates. It is best for the small business and e-commerce websites.
Webriq
Webriq is a free website building tool that allows you to create a website which is optimized with the mobile browsers too. It also has a paid Premium version which provides a bundle of additional traits like Fast Cart, special E commerce tools, mobile skin creator kit and lot more.
Doomby
Doomby is a powerful website builder forum where you can create your website easily and without paying any penny. Beside with dazzle viewer interface; this tool offers an effective and powerful back end. It provides you accurate site statistics so that you can easily examine the visitor statistics and Google Analytics.
Snap Pages
Snap page facilitates you to create a free personal website where you can share your photos, blogs and lot more stuff with your family and friends. It is really easy to use this tool. For a professional website you can subscribe to the premium version of this web building tool.
Let's eat
If you are looking to create a website for your restaurant or any other food related industry than 'Let's Eat' is one of the best option for you. It is relatively inexpensive and provides you lot of amazing features like Mobile site compatibility; printable online coupons; Google Maps integration and lot more.
Ucoz
Ucoz is the first choice of around 1,000,000 active websites user. Facilitating the users with around 250 template designs and 22 modules; this website building page is the best choice for limited budget customers. Icing the cake, this website builder offers modern CMS integration and Data backup features to the user.
I hope that this post on 'Top 10 Free Website Builders' will help you to choose the most appropriate option to create your personal website. Please feel free to give your reviews and comments about my work and you surely can ask about any query regarding the web development.
Tom Hardy is an experienced professional working at
Sparx IT Solutions - Big Data Analytics Company
. He is engaged in providing the well-researched business solutions to various companies. The solutions are offered after analyzing the related business data with the help of big data techniques. Also, he has knack for writing and posts his blogs on reputed websites.