In case you are looking for free OpenCart templates, this post will make your life easier. You can also learn about the most significant OpenCart features and the reasons, why OpenCart is gaining its popularity today
Why OpenCart?
OpenCart is a relatively young open source shopping cart solution for online merchants. Despite that it is exceptionally developing and promising. Among the variety of open source shopping carts today OpenCart shows an incredible set of functions and a real simplicity in use.
Besides it claims attention for the growth of its popularity . Let's turn to Google Trends to see the stats.
While Magenta and PrestaShop keep their leadership, OpenCart is gaining popularity starting from the beginning of 2009 hand over fist. And today it makes quite a competition.
What keeps bringing OpenCart on top?
OpenCart supports a large set of modules (both free and commercial) which will extend the borders of functionality for you. Currently there are 9000+ extensions on Opencart.com (including themes).
The important feature is that OpenCart is an open source module. What it means is that you have no limits in making changes. For those who like to get under the hood, you can change files and adjust module to your needs. You will find tons of useful information on this matter at OpenCart Community Forum.
OpenCart is a key-turn solution. And all you have to do is to download and install OpenCart, choose a template for your online store, fill it with products, and start selling!
What makes OpenCart popular is:
Unlimited number of products and categories
Multiple tax rates for different zones
Professional sales documentation
Related products function
Reliable backup
Proven security
Sales reports
Template support
Free template challenge
There are hundreds of free OpenCart templates on the web. Laterally everyone with the access to the Internet can upload their own themes. But the problem is that far not every free template available on the web is decent, not to speak of excellent. Most templates are quite dilettante and appear to be just a minor modification of a standard theme and finding a good one is really a challenge.
I'd like to introduce you my selection of 10 excellent free OpenCart templates. You can download any of these templates and use them for your online store.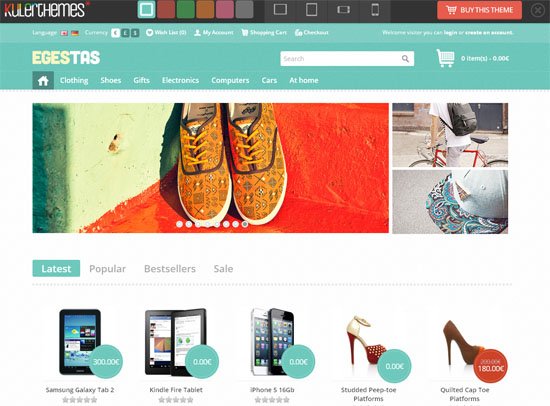 Basic features
Multi-language support
Easy install and update
Free support
OpenCart v1.5.4.x, OpenCart v1.5.5.x compatible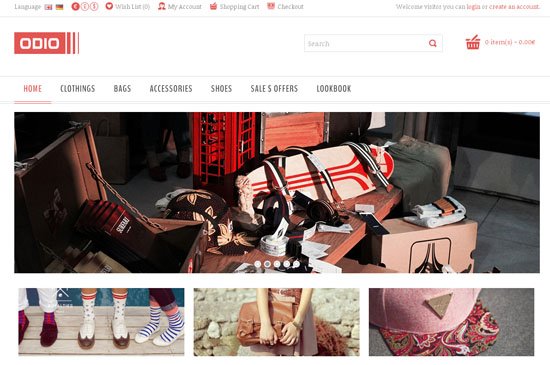 Basic features
Feature fashion template with Localization support
Trending design as well as delightful color
Compatibility  OpenCart v1.5.4.x, OpenCart v1.5.5.x
Open source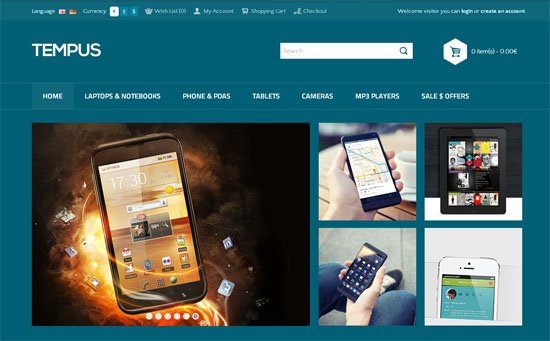 Basic features
Packed with Powerful functionalities
User friendly  installation and updating
Cost free support
Impressive design
Basic features
Cool dark design
SEO friendly
Advanced JQuery interface
OpenCart v1.5.5.x
Multi column layout
Free YooResponsive Template by Yoocart.net
Basic features
Responsive
Adjustable slider
IE7+, Firefox, Chrome, Opera, Safari compatible
OpenCart v1.5.2.1 and later compatible
Basic features
Easy Installation
Fully Cross-Browser Compatible
24/7 support
OpenCart v1.5x compatible
SEO ready
Basic Features
SiteMap, search engine friendly
Side-box banners
Multilevel dropdown menu
OpenCart v1.5.4.x compatible
Sources included
Explicit manuals
 Free Jewelry Blue Template by Algozone.com
Basic Features
Sources included
Slideshow integration
Quick selection in categories
Cross-browser compatible
Free clipart library
OpenCart v1.5.5.1 compatible
Basic features
4 colors available
User friendly interface
Compatibility OpenCart v1.5.1.3
Easy to install
Detailed manual
Free Black Justin 2 Template by Dswww.pl
Basic Features
Elegant design
Products display options;
OpenCart v1.5.1.x.
Easy installation
Slideshow integrated;
New themes for OpenCart are being constantly released. So if you find more great free themes or have your favorite ones that I missed, I would appreciate if you write about them in the comments.
About Author:
I'm Nicolas Sailor – freelance blogger, copywriter, content manager. I'm also a part of the TemplateMonster team. I've got a small brain quiz for you. What if we consider all tendencies of the internet as a wind? It blows in all possible directions. And its changes are often surprising. You must be able to use the wind for your best to move on, follow all the changes and be ready. Set a sail, adjust it and ride the waves. That's exactly what I intend to do.
These posts are a handout from our Guest Author who works with us occasionally and provide their opinions for our regular visitors on Web-Development & Designing, SEO, CSS, Coding etc. As their details can be marked with their concerning post even we would like to add that out Guest Authors are expert and master of their own sector. If you also desire to be our Guest Author Contact Us at
submit@webgranth.com