Top 10 Font Management Tools for Everyone's Use: Detailed Review of Their Lineaments
Font management tools are basically handy assortment of text styling software helpful for everyone who uses and operates computers for various purposes. Especially, Web designing, graphic designing and web development is soulless without complementary font management tools as text/fonts are the foremost package of attraction and comprehension for the target customer. Selection of appropriate tools can largely enhance your performance, by installing various font management tools one can establish excellence in every task related to font styling.
Font management is not simple thing as people think of it like putting a pudding in one's mouth. Analyzing and making a comparison for opting right fonts can be a serious business for people who work frequently on various fonts styling as they need to coin new stencils for creative every time. For this, typographers may need to involve themselves in installing-uninstalling fonts, handling missing fonts and conflicting fonts and many more. For the accomplishment of a victorious font management for your system you need to get a few of the paramount font management tools.
One can found the perfect font management tools in many ways; built-in fonts, free fonts and commercial tools. These days we are provided with built-in font management software with grand managing capabilities. One who wishes to go for some additional tools can also browse on internet for numerous fonts managing tools available for free. People with specialize requirement can opt for commercial font managing tools available on the requested price and fixed price availing great control and extensive feature to the typographer such as tracking postscripts faults, detecting fraudulent, duple, and misplaced fonts and repairing them. One of the finest quality features of these fonts is their aptitude to disable unwanted fonts that largely serve computers to execute better outputs. With server enabled commercial font management tools one will able to work ideally in the environment tied along with a network.
In this post we will put light on some of the extensively cooperative commercial and free font management tools available for free and on a particular price worth for them. These font management tools furnish your system with number of added features witnessing efficiency with healthy professionalism. By providing the detailed review of the best tools our motive is to enable you to choose the best one for your typography solution.
Below we are reviewing 10 Font Management Tools rich in their own lineaments with exceptionally compatible with MS windows, MAC, and Linux:
Suit case

Suitcase is a powerful and clever font management tool that provides an easy and spontaneous interface for the user. This amazing tool is available with Suitcase fusion and Suitcase Win; both of the managing tools provide extensive control to the users. Some its main features are:
User friendly Interface
Well organized set of fonts
Option to preview the fonts
Compatibility with Windows latest versions-vista and win 7
Effective diagnosis system with repairing
Font doctor
Auto activation of desired fonts
Secured and structured library of fonts
Technology of font sense to analyze advancement of font matching known as Font Sense
Font Safari

Font safari is another effective font managing tool supportive to multiple languages, key shortcuts and encoding of sequence. It avails the freedom to view all the typescript in the fonts by replicating the fonts in various alternative encodings. With Font safari you also get relative info about various key board shortcuts of various specific fonts. This tool is ideal if someone want to own a simple font preview and testing tool.

Font Pilot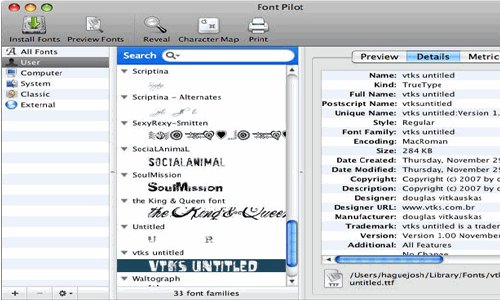 Font Pilot is one the best font management tool facilitates the user to surf for the complete file of uninstalled fonts along with compacted illustration of its preview. With these all great features it has qualities like Character mapping of fonts, combo list of keys and a special print engine. This is software that every graphic designer should own for better output.

Font Case

Font Case is effective font tool manager that looks as exciting as its works. With this tool you have liberty to create and share elegant collection of various fonts by using Bonjour library. One is able to view both installed and uninstalled versions fonts with their lists, icons, and previews. With this tool one can tag the favorite fonts and use them again by filtering them. Some of its prime features are:
Unicode glyptography tables
elegant assortment by using Bonjour library
option of easily tagging and filtering of fonts
facility to view installed and un- installed fonts both
Linotype Font Explorer X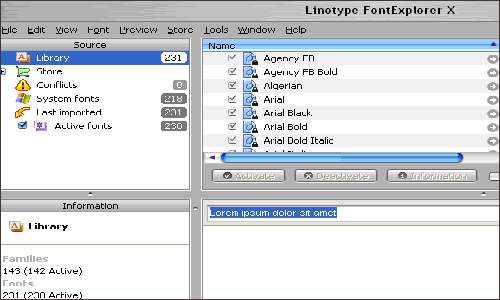 Linotype Font Explorer is different from the other font managers as it gives a special feature to browse among various fonts before buying them; you can examine the fonts properly before shopping. This is tool that combines tool assuring user friendly interface with features like font sorting, font discovering, and font shopping. One can efficiently systematize the fonts with a library, file folders, tagging and elegant assortments and its comes with auto activation feature some its basic features are:
influential font management
built-in or integral online store
fonts with auto-activation
support system
impressive handling of missed or omitted fonts Conflict Handling
scanner to view font document carefully
Font Frenzy

The main features that attract us towards this font managing tool is FrenzySnap that works for the restoration of points it means you can reinstall the fonts that were previously in your system on some dates. It DeFrenzy feature removes all not required fonts out of use. Some of its qualities are:
Saving of a snap of font files that you can even use as restoration.
Re-installation of fonts in quick and easy manner.
Easy to view the font list you have with any of the point-size in a customized way
Preview of sample fonts in pop-up windows with upper and lower cases.
Font manager with easy to use process of adding, deleting new fonts and old fonts and unload store font folders.
Font Showcase

Font showcase is another very helpful font manager that proves helpful in making you remember various types of fonts and print them too from the list of font collections. You can view the fonts before installing them and check their suitability. Its basic qualities are:
Easy view of fonts
Printing of fonts
Font peek
Font Slide show
View of character
Font panel
The Font Thing

The font thing is free font management tool which is very popular for the management of original font types. One is able to browse various fonts like TrueType, view sample fonts, single characters and detailed info of fonts. With this feature you can easily install various fonts, uninstall them, print fonts, copy texts, and delete unwanted fonts. You maintain a folder of notes with the fonts by renaming the collection with your own choice.

Font Expert

With this font managing tool one is capable of transmitting keywords, font categories, font rating, view tagging captions and search out duple and corrupt fonts. This is easy to use for creating face sample images with custom made width, length\, color and format like Jpeg, Bitmap, Png and more. Its features are:
Font View and font preview of installed and uninstalled font types
consign tagging, review ratings and categorizing of fonts
easy to find and locate duple and corrupt fonts
orderly management of fonts in proper files
facility to commence and disable set of fonts in a click
easily Examinable errors in system of fonts
Auto- active missed fonts
Windows shield expansion
AMP Font Viewer

This is another easy to use and uncomplicated font manager having features of providing quickly view of installed and uninstalled typescripts fonts. It facilitates the user to install the fonts on a temporary basis to check its compatibility. One can successfully organize the various fonts and manage them according to use. Some of the basic features of AMP Font Viewer are:
It supports fonts with true type fonts, type one fonts, open type fonts
One to one easy installation of fonts from various folder
Temporary purpose installation of fonts
Managing fonts and organizing
Easy to print a list of few and more listed fonts with their examples
Avail scratch pad for testing the look of various fonts
As the most experienced developer of
CSSChopper - PSD to HTML Conversion Company
, David Meyer firmly believes in building the new ways that lead the people towards success. He focuses on an ideal approach and tries to deliver the perfect services close to the defined needs.