Most of time you came across a site and found it quite interesting; the immediate thought that clicks your mind that if any tool would be available by which you would enable to download or copy the entire website so that you would view it time to time in future without any Internet connection. Yes, this is quite obvious thinking.
If you too think so; then you need not to worry. Yes there are some tools like HTTrack and Web2Disk etc which enable you to do so. These tools enable you to back-up the entire website on USB drive and view it afterward; also even in situation you want to save thousands of images from a webpage in one click, these tools will assist you a lot and prove highly beneficial for you.
In this post we are detailing HTTrack with the complete steps how you will download the websites through this tool. It is very user friendly and easily accessible tool which let you to download the entire websites and save it to the hard disk of your PC. Let's have an overview of this.
HTTrack
HTTrack is one of the most remarkable tools which are used to save all the web pages from a specified website so that the website downloaded, when viewed offline looks exactly the same as it appears online. This tool is really an awesome one which downloads the exact mirror of the website on your hard disk keeping in all the styles, background images as well alignments and typography intact. Not limited to these only, it also downloads the pages which are pointed out through links directed on the page.
One of the most noticing and interesting point regarding this tool is that the sites downloaded can be used in regular browser and there are no waiting times to load another page as all the pages are already stored offline in the Local Disk. And as already discussed, the whole site is saved in the local disk of the PC, no active Internet connection is required to access it. Thus, we can say that, if anyone wishes to download all the MP3 songs, Flash, videos; then HTTrack is the most appropriate or perfect solution for them.
How to download complete website?
The first thing which you have to do for downloading the entire website using this tool is just enter Project name and Category. It should be noted that the project name and the category can be anything as per the site you are going to load. Once you enter this, now, locate the base path where the site to be loaded in the hard disk. This thing will become clear to you through the snapshot given below:
Now, you should note that, you can enter more than one URL which you are desirous to download.
If you want to download and save some limited portion of the site then in that scenario, you can also specify filters to download specific extension of files like MP3, JPG or PNG from Set Options buttons.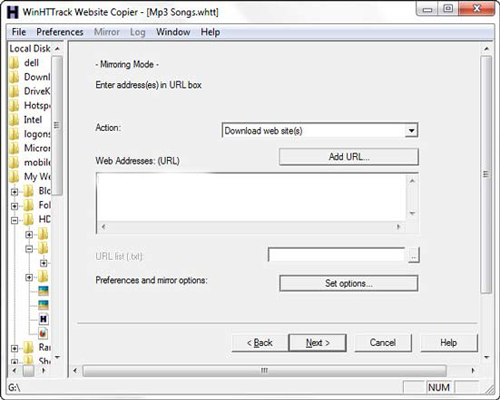 Once, you have decided what data, whether partial or the complete site, you have to download, now press "Finish" to start copying. Now, at this stage, you can prefer to shutdown PC after downloading is completed as it may take few minutes depending upon the size of files hosted on site.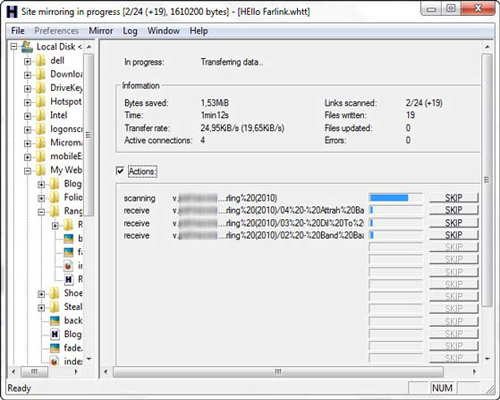 Now, if you wish to view the downloaded website go to the output folder and click on index.html file (general name) or open the HTTrack Website copier program and click Browse Sites from File menu. You will find the list which you have downloaded just now.
Now, one thing is clear that you must have been free from the worries of downloading the website and save it on the hard disk of your PC. You also might have become aware of the functionality of the HTTracker tool and recognized how beneficial it is; If you are desirous to download the HTTracker tool then you may download it from the given below link.
Also do not forget to share your thoughts with us. Please leave a comment in the comment area of this blog post. See u in the later post.
Christiana McGee loves development and possesses specialization in converting Sketch to HTML. Associated with
CSSChopper - Sketch to HTML Company
, she constantly strives to serve the best, fastest and innovative solutions in a stre