Superlative List of Best MAC Application for Web Designers
The designers or developers who are engaged in the development of web applications, that runs on the Mac OS platform, needs various MAC application such as IDE, image editor, FTP and DB manager, etc to get their job done. They often seek to different sites or resource to find versatile MAC applications. In order to lessen their burden to some extent and save their time from wandering here and there, we are hereby enlisting best MAC application.
We are providing the designers and developers an extremely resourceful list which will make them free from worries and assists them in the course of web application development that runs on Mac OS. Some of these MAC application enlisted below also runs on Windows, and Linux. So lets' check out how these Mac application prove beneficial for you. Also do not forget to leave your comment expressing your thought and opinions regarding this post in the comment section. Enjoy!
MAC Application
iTerm2
ITerm2 is a superb MAC application which works on Macs with Leopard or Snow Leopard and aims to provide a streamlined, easily accessible interface. Its most distinctive features which make it unique are its performance, internationalization, and several supporting innovative features. Its autocomplete features lets you to complete your sentence automatically selecting the word from suggestion window which is popped up when you start of any word.

WidSense
WidSense is a small widget which connects automatically to your Adsense account and gets the last update of your CSV file which in turn lets you to view some statistics about the impressions, click and revenues for the current day, the 2 previous days and the current month. It is designed to be used with the Dashboard provided by Apple in Mac OS X.4. This widget saves your login and password and hence prevents you from mentioning it each time you launch the Dashboard.

Dashalytics
Dashalytics is a free Dashboard Widget designed for Apple Mac which works with any Mac application running OS X 10.4+. It boosts up the functionality of the Dashboard and offers quick access to Google Analytics statistics. For this you need to have a Google Analytics account. It is one of the most effective MAC application which allow you to track statistics on multiple sites and securely store your password.

FontDoc
FontDoc is a simple but very useful MAC application which is used for browsing the fonts installed. It displays all fonts with a custom text in any size with a huge font collection. It lets you to choose any of the fonts available in the list.

Sequel Pro
Sequel Pro is a fast, easy-to-use Mac database management MAC application which gives you directs access to your MySQL databases on local and remote servers. This native Mac OS X application allows you working with MySQL databases in a streamlined workflow without bothering whether you are a Mac Web Developer, Programmer or Software Developer. It is a complete MySQL database manager that can connect to any number of databases and comes with hundreds of features like:
Features:
⇒It is popular text editor with several built-in features and which serves as new Navigator for connecting to servers and constructing queries.
⇒ It is fast, threaded UI and quickly filters and paginates table content and use multiple windows to work with multiple databases/tables at once
⇒ It easily set up a connection to the local MySQL server on your Mac and connects to the MySQL Server on your MAMP/XAMP install.
⇒ It has supports for almost 30 different encoding options and is compatible with MySQL 3, 4 and 5 databases.
⇒ It quickly export/backup with SQL/CSV files and Import/Restore of SQL/CSV files at faster rate.

VirtualBox
VirtualBox is a powerful x86 and AMD64/Intel64 virtualization product for enterprise as well as home use which currently runs on Windows, Linux, Macintosh, and Solaris but it also supports a large number of guest operating systems (such as NT 4.0, 2000, XP, Server 2003, Vista, Windows 7, DOS/Windows 3.x, OpenBSD etc). It is an extremely feature rich, high performance product for enterprise customers, that is freely available as Open Source Software under the terms of the GNU General Public License (GPL) version 2.

Vico Editor
Vico Editor is another important editor for programmers which comes with support for the most common languages, such as html, PHP, ruby and JavaScript. It features integrated SFTP for working with remote files, split views which lets you edit files side-by-side and a file explorer for fast project navigation. This MAC application enables users' to keep their fingers on the home row and work effectively with the text with a strong focus on keyboard control.

Pencil
Pencil is free and open source traditional animation or drawing software especially designed for Mac OS X, Windows, and Linux which lets you create traditional hand-drawn animation, cartoon using both bitmap and vector graphics. Although computers have made animation much easier but the advent of this free cross-platform software has made the traditional animation something different, unique and fast.

Inkscape
Inkscape is an open source vector graphics editor some of which features are similar to Illustrator, CorelDraw, or Xara X etc and works in all major platforms. With a slick interface, it offers lots of advanced SVG features of a high-quality vector drawing application such as markers, clones, alpha blending, etc. It offers a streamlined interface where it is very easy to edit nodes, perform complex path operations, trace bitmaps and much more.

DrawBerry
DrawBerry is great drawing software which comes with layers, powerful tools, inspectors and workspace, and with which, you will have all the possibilities of the vector drawing. It is really a complete and easy-to-use drawing solution which lets you to create some simple illustrations as well as complex one. It is based on great Apple technology and provides you several new ways to improve your drawing, extending the possibilities to the infinite. It has several great features which lets you to draw more and more accurately.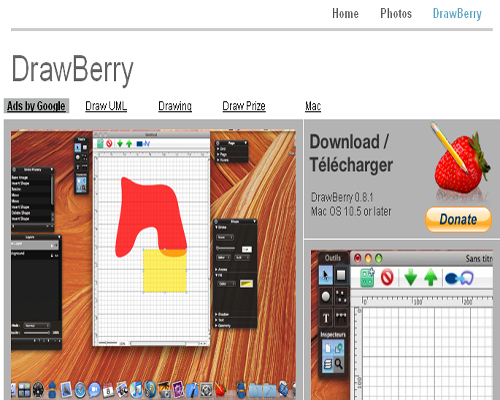 Blender
Blender is the free open source 3D content creation suite, which defines a complete pipeline controlled by a flexible and consistent user interface and is available for all major operating systems under the GNU General Public License. This MAC application supports a variety of techniques and tasks, allowing the user the creation of complex animations. It has real time advanced Imaging system featuring Multi Layer image read or write integrated in all editors and Flipbook playback for compositing, sequences or movie files.

Google SketchUp
Google SketchUp is an easy-to-use and powerful 3D modeling program built by Google with the help of which, it is possible to create anything from simple drawings to advanced ones. This MAC application comes with a 3D Warehouse that includes lots of free models and is available for anyone designing anything from coffee pots to skyscrapers. It is the finest and most innovative tool which is easy to use and allows picturing anything in 3D and share models with friends.

NodeBox
NodeBox is an amazing Mac OS X application that lets you create 2D visuals either static, animated or interactive using Python programming code. It is free and well documented which also allows you to export them as a PDF or a QuickTime movie. It is really a must use Mac application for the web designers.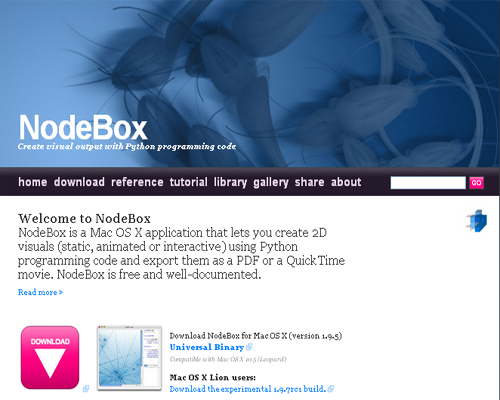 Colorate
Colorate is a MAC application utility which is especially designed for professional designers for the creation of harmonized color palettes and color schemes. This dramatic MAC application fully automatizes the palette generation through its integrated "Image Analyze feature" from a particular color swatch, selected from the standard color panel, dragged from other application or obtained from an image. Also, once the palette is generated, one can also add that one to the library and again next one can be generated because this utility can save and open as many Libraries as needed. Colorate also allows the use of use any of the generated palettes from hundreds of application that uses the Mac OS X standard Color Panel for color selection.

Paintbrush
Paintbrush is a simple paint program for Mac OS X which facilitates users with a means to make simple images quickly, something that has been noticeably absent from the Mac for years. It allows opening and saving images in various formats including BMP, PNG, JPEG, TIFF, and GIF. It has full support for transparency which is available for image formats that support an alpha channel such as currently PNGs and GIFs. Besides these, one can also paste images copied from many common Mac application, including Microsoft Office and Apple iWork.

Seashore
Seashore is an open source image editor for Mac OS X's Cocoa framework which aims to serve the basic image editing needs of most computer users, not to provide a replacement for professional image editing products. It is based around the GIMP's technology and uses the same native file format. It has several promising features such as gradients, textures and anti-aliasing for both text and brush strokes. It supports multiple layers and alpha channel editing and has all-new Cocoa UI that will fit right in on Mac OS X.

Cyberduck
Cyberduck is an open source application which enables us to manage files in almost any remote locations including FTP, SFTP, WebDAV, Cloud Files, Amazon S3, Windows Azure and even Google Docs. It allows you to edit files; you may edit any text or binary file on the server in your preferred MAC application. Actually it makes seamless integration with any external editor application and makes it easy to change content quickly.
Features:
⇒ It allows you to manage your Google Docs. You may convert uploads to Google Docs format and Optical Character Recognition (OCR) for image uploads.
⇒ It offers first class bookmarking; one may organize their bookmarks with drag and drop and quickly search using the filter field.
⇒ It has Advanced SSH features.

Chatbox
Chatbox is a free MAC application which makes it easy to discuss or comment on files shared over Dropbox, It is designed for the popular file storage or sharing solution Dropbox for commenting and/or discussing about files. It is very easy to install, and once you install it on any files or folders inside Dropbox, you may start conversations with people you shared the Dropbox folder with.

SvnX
SvnX is an OS X open source GUI for SVN which are used for browsing working copies, browsing logs and revisions of the repositories. It allows you to browse your working copies, spot changes and operate on them but also to browse logs and revisions of your repositories. It supports all major SVN commands; drag & drop between repository browser and finder and also integrates with File Merge.

Komodo Edit
Komodo Edit is a fast, smart, free and open-source code editor which comes for Windows, Mac and Linux with several key features like syntax coloring, folding, background syntax checking, and excellent auto-complete and call tips and much more. Not only that, it also has toolbox with shell command integration, macros and code snippets everything wrapped around a tricked-out editor and an extension mechanism which is same as Firefox's.

Best MAC Application For Web Designers
Please share your Comments & Experience with us.
Rinniee Ginsburg is a email template developer and writer at
EmailChopper
. Her technical competency has helped the professionals explore the new techniques in practicing the innovative email development. She has written various articles that accentuate the importance of PSD to Email conversion, smart procedure for responsive email template development & many more. All her writeups have become a source for many professionals and business players to grab the valuable information.