Superlative iPhone Application: That No One Should Dare to Miss
The evolution of iPad and iPhone application has brought a strong revolution and toughest competition in the cyber world of 21st century. The evolution of iPhone and iPad application has been started in a quite dramatic manner; at its initial stage, it has faced with so much skepticism and mocking, but nowadays, it is regarded as one of the greatest boon and latest invention of science. This has made the Apple a known brand in not only India but also all across the world.
Due to its lightweight and multi-functionality, it is very handy to be used by web designers as they can take it anywhere with them and make their work to be accomplished in a more efficient and creative manner.
These days, there are bulks of iPhone application available on Web and thus it is quite difficult to choose which one is the best. This becomes quite difficult to separate the valuable treasures from the garbage. We understand the complexity of work of designers and hence, here we are enlisting the Superlative iPhone Apps which will make the things easier to a broader level. Check out these resources as discussed below:
iPhone Application
Digital Drawing Pad
With the help of a digital Drawing iPad one can draw good pictures on iPad. These tools are great especially when you need to illustrate something out of your mind and you don't find any pen and paper to come up with the image. This is a faster and easier method of crafting a diagram. The best part is the fact that you can easily erase them with a single tap. iphone application save your time as well.
Today technology has grown up to a great level and not only designers are left for receiving benefits from the digital drawing pads. Apart from drawings these pads cab be greatly utilized for illustrations as storyboards, designs for the product concept, presentations and for design studies. These are so beneficial that no one should dare to miss at all.
Adobe Ideas
It is very impressive app and a handy tool to sketch and draw on iPAd.
Sketchbook Pro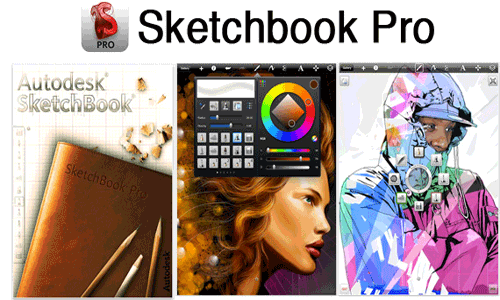 Artist Touch
This is another very nice app for helping artists and painters. One can easily create different effects by using this app like sketch, watercolor and so on.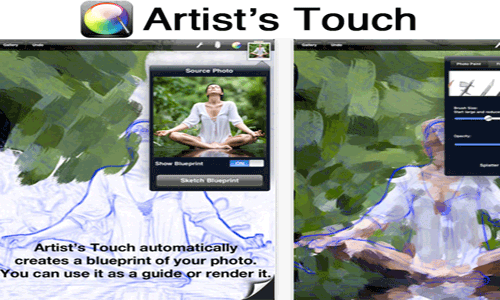 Quick Sketchpad
It is not at all important to have a heavy application to perform a task. if your are looking for a fast, easy and responsive app then Quick Sketchpad is the one for you.
Penultimate
Penultimate is actually a digital version of well-known Moleskin notebook. The pen on this application moves so well that it let feel like writing on a real paper. You take-up important notes with your own handwriting and draw the diagrams too. It can be easily imported to your digital notebook as well.
Jot
Jot is another very simple application that sketches the ideas of a person by jotting down them. You can use it anytime from anywhere. It is easy to save the ideas and share them too through live sharing.
Sketchpad
This is another very light application designed for crafting quick notes on and fun based doodles. For creating new pages, one is just required to tap over the page curl and changes will automatically appear.
Vector Drawing Tool
Illustrations based upon vector drawings and technical diagrams are some of the items that are needed and preferred for typical drawings. Vector images are designed in mathematically perfect image rather than a pixel perfect one. They can be easily enlarged without losing the quality of the image.
Below you can see some of the apps with vector drawing tool:
iDraw
iDraw owns plenty of blather reviews. It is normally described as the best pad for creating vector-based diagrams. It is equipped with tools to create technical illustrator.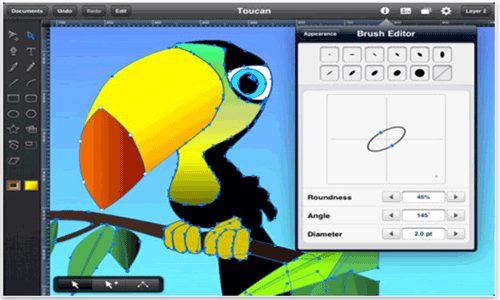 Freeform
Powerful iPad application for creating vector based sketches and drawings. One can easily save these items in PDF, PNG, and JPG and share them online too in an easy way. The basic features of this app includes shape tool, custom path, modification tool, effect tool .
Font Tools
iFont makers
iFont Maker is an amazing font creator from iPad that comes with great editing apparatus. With the help of touch panel editing on iPad is easy, faster, and full of fun. Soon after creating your own typefaces, one can create TTF file that can be easily utilized in all types of apps MS word, Photshop, Illistrator and many others too. One can even share these fonts as web fonts on the web site as well.
Website Tools
Ego
By using EGO one can easily get updated with the latest statistics at anyplace and anytime. It updates one about various stat like you blogs, networking sites, Ads from Google, videos of Youtube and many other.
Analytics
This is an awesome iPad application to optimize Google analytics providing reports of web traffic, referring numerous metrics. This application is capable of handling multiple accounts.
iMockUps
iMockUps is authoritative and well contemplated tool. The primary feature of this app is to create draft wireframes for various website sand applications. It can help the wirefarmes to work faster and in a easy way by utilizing the advantage of iPad's touch screen device.
Conclusion
Technological enhancements have made every task easy and on tips. Make the tasks easy we often utilize various applications. All the above-mentioned iPhone application, iPod, and iPad applications are helpful and we hope that everyone can utilize them well. From a student to a hard-core professional everyone must get all these application to work better.
iPhone application
please share your Comments & Experience with us.
Christiana McGee loves development and possesses specialization in converting Sketch to HTML. Associated with
CSSChopper - Sketch to HTML Company
, she constantly strives to serve the best, fastest and innovative solutions in a stre