Superb 20+ Alternatives to WordPress-For Smooth Blogging
Tons of people use wordpress blogging platform to publish their blogs but what if the wordpress doesn't satisfy all your needs and requirements? Well there is no harm in variety and along with that you will get lot more features that you might be searching for your blog. These alternatives will offer you Content Management Systems (CMS) that will provide a lot of features and options but it's highly important to judge the pros and con's when selecting the right platform.
CMS provide many features like plug-in architecture and template system. Most of these platforms work in the same manner; for using these platforms you need to download them and upload the files to your server (few need database to work) and after that you can install and configure them to your system. Some extensions may be used later to add plug-ins, themes, sections, and modules and a lot more. There are several cool alternatives to
wordpress which you can use for you web project.
Wordpress is an open source CMS, used by many people for blog publishing application. Just because these tons of people use it, doesn't state that it will be perfect for your blog. So here I am sharing superb 20+ alternatives to wordpress platform to help you search for own advance blogging solutions.
Joomla
This platform is best content management system for those people who have less knowledge about programming. The latest product stouts it's positioning by taking out the solutions out of the problems by friendly links and languages version.

GetSimple CMS
GetSimple is truly the simplest platform for handling the small business web site. It is a XML based platform which means that it doesn't use MYSQL database to store you data. The best feature of GetSimple is- it is really easy to use.

Melody
This is a new type of CMS has been derived from the blogging tool Movable type, and is helpful for those who search to support and contribute to a community of passionate, helpful and devoted users who want to secure and need high quality environment for their websites.
FlatPress
FlatPress is also an open source blogging platform that doesn't need a database to work with. For those who use bloggers won't be needing MySQL in their blogs can use it frequently and can set according to their need. A few features of this platform are that it looks like WP, has plugins and widgets, themes support, static page support and lots more. Further you can go by the link install it.

Expression Engine
Expression Engine has a flexible CMS feature that will benefit you to fulfill your wish for entire website. This platform provides you modules, extension hooks and plugins to help you to customize your website to an upmost level. It has some cool features like it is flexible- can be used for organizations and companies, adapt according to your needs, features can be added easily, built in spam prevention, analytical tracking and last but not the least it is totally secure and manageable.

Tumblr
Now talking about tumblr; it is a micro-blogging platform which allows you to customize your blog as much as you can with super cools themes. Tumblr is a fast, clean and easy to use, you can select from the various prebuilt page themes as per your taste. It allows you 'miniblog' feature with that you can view, support and post text, call, mobile web, video, applications and other from you mobile device.
It provides you awesome community and easiest solutions for your micro blogging for that you don't have to host on your own server. One more thing it's completely free, isn't? Cool.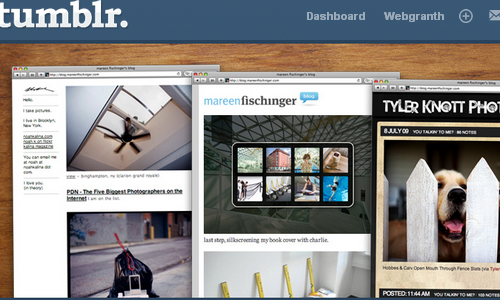 LifeType
LifeType has the multiple user capacity and mobile functions all this with single database. It platform has user friendly interface, has support for trackbacks, built in anti spam and also have integrated media management.

Text Pattern
Text Pattern is a stout CMS that has many useful features for blogs, easy focus on content, browser based media control, browser based template and CSS editing, freedom to control all elements, light weight and secure and lots more. The attractive feature of text pattern would be due to its flexibility – one can create anything almost anything with its plug-in, customized setting and styling.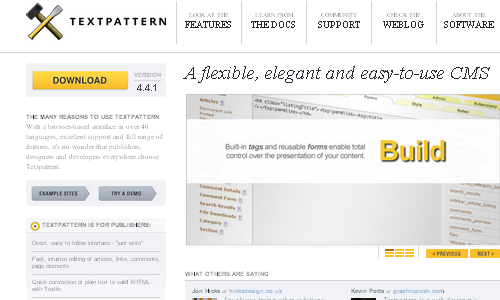 Serendipity
Serendipity is a PHP powered weblog application that benefits the users to easily maintain a weblog, online diary, and even an entire homepage. It has also designed a default package for casual bloggers. It also provides an expandability, flexibility and easy to use framework for professional applications.

Contao
Cantao formerly known as Typo now called as Cantao, this is very strong, well organized and clean to use. You can create your blog in a very detailed and elaborate way, neat content layouts and modules. It provides you with the feature of extension manager that permits you to browse and install extensions without avoiding the back end.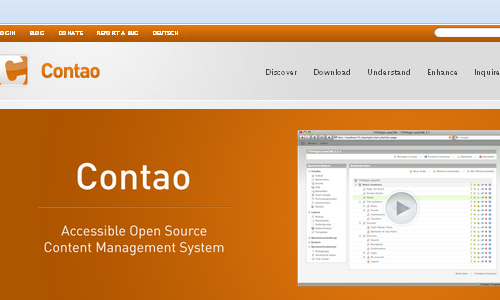 Habari
Habari is a free blogging system with but it is still new, safe and well rounded for many solutions that's why even called 'future of blogging'. It has a cutting edge technology but for this you PHP5.2 will be required. It supports multiple users and sites with a single install, has static pages, supports multiples types of database, has fast and simple installation process and lots more.

Frog CMS
Frog CMS provides you light weighted, simple and fast working environment with your own choice. It has been a well documented CMS as it is based on the most popular language PHP, so it will be an ease for most bloggers to implement this.

Drupal
Drupal is also an open Source Content Management system that can develop anything from small blog to large community website. It has cool features like easy forum and polls, built in news aggregator, easy to personalize and via community you can get online help, admin side tracking and lots more.

Movable Type
Movable Type lets you to feel the superlative performance, architecture, quality spam protection that permits you to customize, categorize, manage your blogs and helps you in archiving your content. The sparkling features of this CMS is that it is an open source for developers, very simple to create all types of website, customized dashboard and fields and last you can say all in one solutions that can power anybody.

Cushy CMS
Cushy is a best solution for designers and end users who search for easy blog writing. It requires almost no instruction for the clients if they have the knowledge of word processor. It's an ultimate product for case by case study and best solution for client end. Read more (Http://Www.Cushycms.Com/En)

Radiant
Radiant is also a CMS that allows you to manage and handle in a simple and straightforward way by which you can create snippets, pages, layouts to form the basis of your website. The depth of this software is kept simple but still permits the other users to add on the extensions.

Symphony CMS
This type of CMS is not only an open architecture with the strength of XSLT but also flexible to users to give complete control over the each side of your project. This has given a templating layer to its data structure and everything in between. It has a vibrant, responsive and 24*7 commercial support which makes it more demanding over the corporate business.

B2evolution
B2evolution is the ultimate CMS software for numerous types of advanced bloggers and professional in the form of blog centric organization. This type of platform is used by enthusiastic group of bloggers and community who have the zeal in blogging.

Posterous
Posterous can be defined as an easiest online micro blogging platform and web publishing service, with light sign up process and communication based social networking feature for users. The highlighting feature of this software is due to its sending out an email, file formatting and mobile blogging features. So blogging is happy go lucky now.

Nucleus CMS
This is an open source blog platform that is used to handle frequent update contents. This has been written in PHP and uses MYSQL at the backend. This has extra features for stout core and plug ins. read more (http://nucleuscms.org/)

Silverstripe
Silverstripe is also a CMS which is used for developing and maintain websites. It also gives you a web based admin panel that allows users to do manipulations and modifications to different sections of the website. This CMS panel includes a WYSIWYG website editor. Read more (http://silverstripe.org/)

Concrete 5
if you are seeking for a CMS that is super easy and functional in use then you are looking on the right platform. This is for user which require ease in work then this is what the user needs as it is an easy to use WordPress, with an additional feature for customizing the look of the blog.

LiveJournal
This CMS allows you to select an option from collection of templates and provide you to own style sheet in your own customized way. It also supports the changes made in the HTML code in the template as per your customization need. Journal can also be embedded into your own website or either you can create your own blog from the scratch. This software permits your posts from email enabled cell phones that can help you in instant messaging service and also provide the features for uploading videos and images.

Croogo
Last but not the least; this is another for type an open source management with extraordinary features. The best feature includes that it permits users and bloggers to create their own content in the form of blog, page or node and allow them to categorize their content, customizing fields, manage files and attachments. This community is expanding in core by starting to contribute plug-in and themes.

Blogger
Blogger provides numerous features that has made it so popular like its super easy usability – just like sending email from mobile blogging, interesting feature like you can write articles via your email or from your cell phone. You can upload your videos on blogger; it is an intuitive interface can call it as dummy proof and free to use. One can easily customize blogger without hand coding and lots more interesting features.

After looking to this blog you have seen some of the great alternatives available, what will be your choice? Are you going to stick with WordPress? Will you going to try any of the solutions here? Let us know below!
As the most experienced developer of
CSSChopper - PSD to HTML Conversion Company
, David Meyer firmly believes in building the new ways that lead the people towards success. He focuses on an ideal approach and tries to deliver the perfect services close to the defined needs.