Stunning XHTML/CSS Templates
As we know pictures speaks much louder than voice or texts. Visual design elements draw the attention of the readers or users to a great extent and can considerably improve the readability of the page. With the means of visual designs, whether templates or icons or logos, the user can scan the overall content of the web page that what the page contains and what the web developers want to convey the users.
Templates are one of the visual designs which are implemented on the web page in order to create user-friendly interface elements right away.
Templates are the readymade tools which enforces a standard layout and look and feel across multiple pages or within content regions. When any change is made in any particular template then any pages or regions that are based on that template are automatically changed as well. Templates are the means by which designers lessen their work burden. Templates provide additional standardization controls, depending on the type the designers have chosen to use.
Now a days, XHTML and CSS has grown up too much popularity in terms of designing variety of lovely and attractive templates. It is regarded as the most innovative techniques for creating beautiful designs. XHTML and CSS are frequently used by the designers these days. These days, professionalism is growing at a fast pace. It is seen that more and more designers are involved in designing work and selling their work for money. But designing is not a cup of tea. It is quite hard work and time consuming. It requires deep concentration and imagination logic. Looking at the needs and requirements of the designers and making them out to accomplish their objective, XHTML/CSS templates are being released. The use of XHTML/CSS templates save the time of designers as designers gets the built-in standard layouts and look and feel.
Mind-Blowing collection of XHTML/CSS templates.
We have gathered here with an awesome pack of stunning XHTML/CSS templates and high quality themes which might be liked by you. You will find a fine blend of labeling, naming, styling and structuring and much more in these high-quality XHTML/CSS templates. These templates are designed by the expert team of designers and developers, with a wide range of skills and experience. The templates which we are presenting below possess following main features:
• Colorful, vibrant, and attractive custom design
• Modern and beautiful web typeface.
• XHTML 1.0 Strict valid.
• CSS 3.0 valid.
• Tableless and 100% CSS-based layout.
• SEO Semantics Markup
• Loaded with Jquery.
• Well-commented CSS and template PHP files for flexible customization.
• WAI 2.0 / Section 508 compatibility
• Delivered with source .PSD file.
• Contact form PHP version included.
• Cross-browser compatible. Tested under modern w3c compliant browsers. IE7+, Firefox 3+, Safari 3+, Opera 10+ and Chrome.
We hope our showcase of best examples of XHTML/CSS templates will surely prove beneficial for you. Check out these templates to make your page design more entertaining and faster thereby, giving business a new hike and your online visitors totally different experience rather than an unpleasant experience while surfing web.
Small Business
This template is the most useful one and is intended for those who are looking for a free, but awesome XHTML/CSS template. It is beautiful, elegant and simple as well.
Market Leader
Market Leader is a nice-looking, high-quality XHTML/CSS template which is available free of cost for all the designers.

Out Liers
Out Liers is a dark, stunning and well-designed free XHTML/CSS template with a great Jquery slider, and having nice effects for the navigation buttons.
Classic Luxury
Classic Luxury is a simple, elegant, and beautiful template which is based on white and gray color and is advised to be greatly used by the photographers or some small galleries.
Mondays
Mondays is a simple but modern template which is designed with a fine blend of nice colors. It has a slider placed as one of the main elements of the website.
Acallia
Acallia is really a modern, kick-ass and stunning XHTML/CSS template available free of charge. It is featured with an amazing design, usability and simplicity for a free theme.
Be Smart
Be smart is a simple, WordPress-like template which is available for the designers looking forward for free template to be implemented on their designs. It has a big Jquery slider which really uplifts the usability of the theme.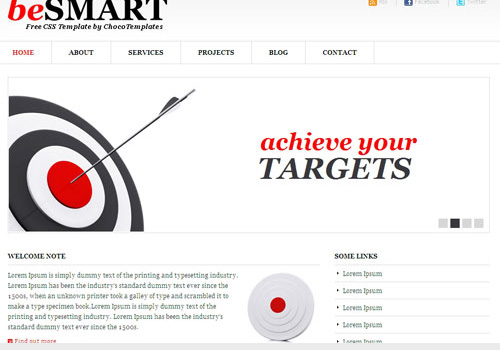 Easy Slide
It is a single page template, which has only a slider where the web content and all kind of information can be placed.
Biz Group
Biz Group is a free XHTML/CSS template which consists of premium themes, very beautiful interface and a great usability.
Creative Studio
Creative Studio is a beautiful, modern and free XHTML/CSS template which might prove great for freelancers and creative persons. It is primarily used by the freelancers as portfolios and self-promoting WebPages.
Alexx C
This template is an elegant and stunning one which has free html theme, and has a great use of soft colors and beautiful elements.
Webfolio
Webfolio is a stunning template with a beautiful, a big dark design but with a very modern-looking interface. It is available free to all the designers.
Portfolio Web Template
It is a simple, elegant, stunning and gray, free XHTML/CSS template which is great to be used by freelancers or any person wishing to show off their portfolio.
Business Template
Business Template is a simple and some-how elegant free XHTML/CSS template. It has a fine mix of some soft colors, which fits great with the theme.
Summer of Love
Summer of Love is a quite popular XHTML/CSS free template which is of great use. It has a beautiful design elements and colors and a kick-ass navigation bar.
Clean Interface
Clean Interface is a simple-white but very elegant template, with a stunning Jquery slider and portfolio section where the works done or web content can be placed.
Prestigious
The Prestigious is a CSS Template which is available in two colors, Dark and White. It is based on a Fixed Width layout with 2 Columns and uses an XHTML 1.0 Transitional doctype.
Book Store
Book Store is a beautiful and usable XHTML/CSS template which is available free for any person who is planning to create a book store.
Web Template
It is a well-designed template created with a great use of color and high-quality elements. It is generally used by small business companies.
Simply Elegant
It is another elegant, gray, simple but beautiful free html template which is greatly used by small agencies or freelancers. It is a remarkable template with a nice Jquery slider.
Web Design Template
It is a beautiful and elegant XHTML/CSS theme, wherein there is a great use of bright colors. It is good to be used by small companies, agencies and freelancers.
Gray Company
Gray Company is a nice-looking dark template, with some high-quality elements in it and is available free. It is generally used by some companies for their website, as it has a premium-like looking.
Pink Shop
Pink Shop is a beautiful, stunning and really usable template for small business owners. It will certainly help you in creating easy a small online shop.
Speed Racing
Speed Racing is a XHTML/CSS template, which is advisable to be used by some small car-dealers or services related to cars.
Inspiration Folio
This is quite impressive, stunning and elegant single-page portfolio template which is great to be used by freelancer who wishes to have a really creative website.
iTemplate
iTemplate is really a sleek and beautiful template, available free for designers and that is meant to be used as a website for promoting an iDevice application. It is generally used by iDevelopers, and small development companies.
iPhone
iPhone is very usable XHTML/CSS template with fine texture. It is available free of charge and is greatly used by freelancers and agencies, in order to promote their services and portfolios.
iKonik
Ikonic is another vibrant and stunning e-commerce free XHTML/CSS template, which anybody can use for their online shop and service-providing websites.
Steven Bowen is an ardent team member of
No-refresh - Web to Print Design Tool Provider Company
bestowed with professionalism in to develop fully-functional solutions. Having adroitness in this arena, he has served an array of blogs that are basically based on the technology advancement & improve the end users' information level.