Stunning List of valuable Frameworks for Designers
Frameworks for Designers as a constraint or limitation in their web creation and likely to treat it as a schema to work upon. But for others; they are just in love with the frameworks technique. There are numerous fireworks applicable for varieties of web designs and rising as a new change in design methodology.
So, why to look here and there!!! Simply opt for the frameworks that are suiting your web designs perfectly. We are dedicating this blog post to all those designers who are looking forward for numerous frameworks which can save their time and effort as well.
We are hereby in this post, compiled some of the most prevalent CSS and WordPress frameworks which you might love to use in your project. These frameworks for Designers are purely for design and that can be adapted to your particular project. Some of these are very basic with only the most general structure; while, many others are minimalist themes in themselves but are easily adjustable to other projects. So let's check out these frameworks listed below:
Frameworks For Designers
1KB CSS Grid
The 1KB CSS Grid is an adaptable CSS framework that packs the punch of a heavyweight and can be configured in a number of ways before downloading. It is really an unbelievably easy to understand grid, even for those who are not well-known with CSS frameworks. This framework possesses a very bare-bones framework, where one can choose the number of columns, the column width, and the gutter width before downloading the files. For using this CSS framework there is no need to do any extra formatting.
YAML
YAML stand for "Yet another Multicolumn Layout". It is a CSS framework which is generally used for creating flexible, floated layouts and includes design patterns for typography, micro formats, forms, along with full accessibility and web standards compliance. This framework structure is extremely versatile and stable with most browser bugs patched by YAML. Its programming is absolutely accessible for end users and lets them creating YAML-based layouts visually.
Features:
⇒ Slim framework core with numerous extensions
⇒ Robust, flexible layout concept (columns & grids)
⇒ Design patterns for typography, forms, mirco-formats, RTL support etc.
⇒ Complete multilingual documentation
⇒ Focused on web standards and accessibility
Simpl
Simpl is a modular, flexible CSS framework that lets you to code the way you design. It is quite simple to learn and use and aims to fill in the gaps of some other CSS frameworks. It is nestable and includes styles for forms, tables, and other common elements.
The Golden Grid
The Golden Grid is a CSS framework which is 970px wide, uses a 6/12 grid system, and when compressed is less than 1kb. It is built on the principle of the golden ration or the divine proportion. It is a web grid system and meant to be a CSS tool for grid based web sites.
Features:
⇒ 970px main width
⇒ 6/12 grid system
⇒ Super lightweight((compressed weight less then 1kb)
⇒ Easy to learn.
SenCSs
SenCSs stands for Sensible Standards CSS baseline. It is a framework that offers sensible styling for all the repetitive parts of your CSS files and doesn't force a lay-out system on you. Unlike many CSS frameworks, it allows you to focus on actually developing your website's style which makes it more versatile for non-standard website designs. It doesn't include any kind of layout system but includes styles for a lot of other things though: baseline, fonts, margins, block quotes, padding, and more.
Elements
This one is a lightweight CSS framework which was built especially to help designers write CSS faster and more efficient. It is not just a framework but goes beyond it and includes a variety of folders and files that help speed up your web design process. It has everything including a number of preset classes, a mass reset, and add icons to external links which are generally needed to complete a project and which in turn improves both style and usability making you and your clients happy.
Features:
⇒ Lightweight, Easy to use and available Free of cost
⇒ Collection of preset classes
⇒ An awesome mass reset including Lightbox
⇒ Adds style and usability to external links with icons
⇒ Can be easily uploaded to your website hosting server
Blueprint CSS
Blueprint is a free CSS framework, which provides designers a solid foundation to build their project on top of, with an easy-to-use grid, sensible typography, useful plug-ins, and even a style sheet for printing. It is a grid layout which supports complex layouts, styled typography and forms, plug-ins for buttons, tabs and sprites and aims to cut down on your development time. Besides all these, it also facilitates you with plenty of documentation to get you started, along with a discussion group and mailing list.
Features:
⇒ A solid grid that can support the most complex of layouts.
⇒Typography based on expert principles that predate the web.
⇒ Form styles for great looking user interfaces.
⇒ Print styles for making any webpage ready for paper.
⇒ Plug-ins for buttons, tabs and sprites.
⇒ Tools, editors, and templates for every step in your workflow.
Content with Style CSS Framework
The Content with Style CSS framework orders the source code logically, with the main content coming immediately after the header within the code, regardless of the visual layout of the page. It progressively offers half a dozen layouts, including vertical navigation with one content column, horizontal navigation with one content column, vertical navigation with two columns of content, and horizontal navigation with local navigation and one column of content.
Features:
⇒ Vertical navigation with one content column
⇒Vertical navigation with two columns of content
⇒ Horizontal navigation with one content column
⇒ Horizontal navigation with 2 columns of content
⇒ Horizontal navigation with local navigation and one column of content
⇒Horizontal navigation with local navigation and 2 columns of content
960 Grid System
The 960 Grid Systems has come out recently and is probably the most famous CSS framework. The framework is designed in unique style and owns web standard which has been remain the source of inspiration for a number of other frameworks. It has two grids available one with a 12-column grid with columns that are 60 pixels wide and other with 16-column grid with 40-pixel-wide columns.
Emastic
Emastic is a lightweight CSS framework that lets you customize the width of the page using EMS, pixels, or percentages enabling you to explore a strange new world. It works in either a fixed or fluid layout, and includes baseline grid typography styles and lets you to seek out new life and new web spaces, to boldly go where no CSS Framework has gone before.
Malo
The Malo is ultra small CSS framework which is meant to be structural base for small or medium web sites. It consists of only 8 lines of CSS code and is flexible and easy to use, with a customizable page width. It lets the designers to create layouts made up of two, three, four, or five parts and also allows for nested columns.
BlueTrip
BlueTrip is a full featured and beautiful CSS framework which is based on a 24-column grid which gives you a sensible set of styles and a common way to build a website so that you can skip past the grunt work and get right to designing. This amazing CSS framework includes typography styles, an empty starter style sheet, a print style sheet, form styles, and much more than these. Apart from all these it also includes extensive documentation available, as well as a showcase of sites built on BlueTrip.
1 Line CSS Grid Framework
Whatever CSS framework you have gone through till now as above mentioned, it is a little bit different from those, in the fact that it only uses a single line of CSS. But this doesn't mean that it not so effective as other but using that single line of CSS, which works on the principles of dividing columns in half, designers can create grids with 2, 4, 8, or 16 columns. It is cross-browser compatible framework and easy to use.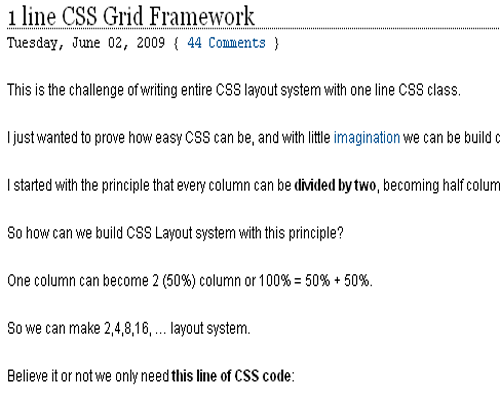 Vanilla Theme
Vanilla is one of the most useful WordPress frameworks which have provided exceptional power and freedom to designers to carry on their work with ease. It possesses endless capabilities including of PHPTAL templates, Carrington's atomic templates, YUI CSS and full widgetization along with custom widget controls. It is especially used with child themes, so that designers or developers never need to touch the basic code. Apart from all these, it also includes an HTML "minifier" that compresses output to speed up your site.
Features:
⇒ "Template Sets" for different styles: blog, photo blog, corporate and magazine.
⇒ Custom layouts and bullet-proof CSS.
⇒Sandbox's semantic markup (body/post/comment classes, etc).
⇒Widget blocks for all key page areas, not just sidebars.
⇒ Custom widget controls, theme-specific hooks and filters throughout.
Whiteboard
Whiteboard is a free WordPress framework which has been designed to assist WordPress developers reduce on their development time and improve their WordPress powered websites. It was developed with an intention to speed up the process of developing a WordPress theme and hence includes all the theme files one needs to create a WP theme, including: 404.php, archives.php, categories.php, comments.php, footer.php, functions.php, header.php, index.php, page.php, search.php, searchform.php, sidebar.php and style.css. It is a powerful and simple to use framework containing well-noted code for efficient WordPress theme development.
Features:
⇒ Completely Free and Open Source and promote Strong Search Engine Optimization
⇒ Speeds up WordPress development time
⇒ Comes with a minimalist design to use or build off of
⇒ Lightweight and well-noted along with strong and flexible div structure
⇒ Basic styles and classes to speed up theme development
Frameworks for Designers
Please Share your Comments & Experience with us.
Brayan Lazaris, a web development expert, has been working with
HireWebDeveloper
for many years. Till now, he has written numerous blogs and articles elucidating the best methods and approaches to process web development brilliantly. His keen interest in researching the smart technique for better web solution has opened the gateway for many businesses to establish a strong foothold in the digital space.