Smart Website Designs Showcase That Merge jQuery and Illustration
Nowadays, web designing has been followed with a new trend, i.e. website designs with the use of proper mix of jQuery and illustration leaving an impressive effect. This has become possible due to the advent of JavaScript and jQuery that the words like dynamic" and "illustration" can be effectively implemented on the website designs which earlier thought to be found only on Flash driven websites.
There are JavaScript libraries available of which the most widely accepted is the jQuery. The power of jQuery, its ease of use, breadth of features and initial focus on visual uniqueness, all these has made it most widely accepted JavaScript libraries while developing or designing any website.
These days, lots of webmasters, developers and designers use jQuery in web designing. There are large number of websites which has effectively made use of jQuery properly mixed with illustration. We are hereby in this post, showcasing smart website designs that effectively merge jQuery and Illustration. Check out the list presented below:
Website Designs
Form Fifty Five
Form Fifty Five is really a website having genuinely good design-related content along with periodically changing illustrated background. In this website, jQuery has been used in a variety of ways which has resulted in the enhancement of the website's appearance and usability. This website designs includes some nice circular interface controls and presents a perfect combination of jQuery and illustration.
Features:
⇒ Changing header illustration
⇒ Multiple small slideshow windows
⇒ Fantastic work with interesting choice of navigation

Florida Flourish
When you will go through the Florida Flourish website, your attention will be immediately drawn by the use of brilliant colors and detail of the illustrated tree on its splash page. It can be presented as a true example of website designs that merges both jQuery and illustration. The tree presented on the home page has several connecting branches each of which represents the categories detailing the explanation of that which when clicked. Apart from all these, when you will scroll down the site, you will view a nice centered slideshow and a footer that takes the natural motif underground.
Features:
⇒ Mouseovers with transparency
⇒ Optimized code and relevant metadata
⇒Cross-browser compatibility
⇒ Elegant, professional Web design
⇒ Award-winning content management system

Tea Round App
Tea Round App is a perfect website which has cropped iPhone photos, with an in-screen slideshow triggered by mousing over some well-crafted buttons. The website has used little bit of animation too and has presented the design of the phone and buttons in an excellent manner. The tea-themed illustrations and the screenshots of the app tie everything together in an appropriate manner.
Features:
⇒ Support in-screen slideshow
⇒ A bit of minor animation
⇒ Several sliding objects

Tori's Eye
The stunning design of the Tor's Eye website will really make you feel surprised with the use of blue origami birds on the web page to represent tweets in animated way with standard blue illustration. This website has achieved all these with the help of jQuery and has not use even a little bit of Flash.
Features:
⇒ Stunning web design
⇒ Origami birds flying horizontally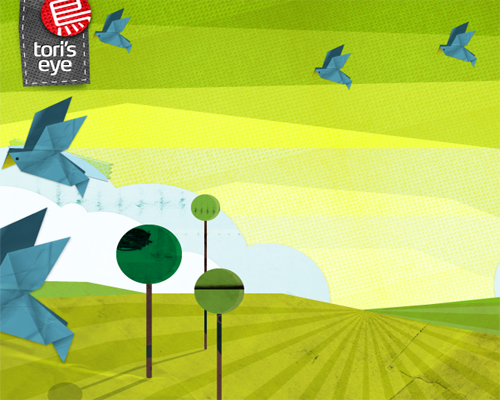 Bags
This website is an awesome example of mixture of jQuery and Illustration. The use of jQuery results to the slideshow which is triggered by a click in the navigation area. The illustration of expansive white space, black type and matching icon, all these together, provide the website a stunning look.
Features:
⇒ Slideshow and footer animation with one-color icons
⇒ Big icons scattered throughout the slideshow content
⇒ Footer animation runs continuously, regardless of where you are on the website

Kidd 81
Kidd81 has made use of the bright-colored winter-themed drawings which will catch your attention immediately; here you will find continuity in design and illustration all the way down to the footer. The use jQuery has been made to animate objects, and the smooth-moving images seems quite indistinguishable from Flash driven website at first glance.
Features:
⇒ Header animation traveling horizontally
⇒ Home page header animations
⇒ A footer with the same illustrated theme
⇒ The store section has the same character and colors

Tomas Pojeta
The most valuable thing which you will mark in the design of Tomas Pojeta website is that it adopts a motif that goes from high altitude to below the surface. When you will carefully see the website, you will find the top of the website is in outer space, with its highly detailed rocket and monkey and scrolling down you'll see aliens and balloons in the lower atmosphere. Moving further down will display a piece of land in the middle of the water just like an Easter Island-looking, which in turn leads to an underwater view with a submarine. Each and everything is illustrated in a superb manner which you might appreciate.
Features:
⇒ Sky, ocean, underwater
⇒ Rocket and monkey in space
⇒ Easter Island and toucan
⇒ Submarine underwater

Morphix
The design style of Morphix is really awesome and different which begins with some upper atmospheric action, and then following transitions to land and finishes with an underground cutaway. The illustration for each layer spans the width of the page creating a sense of horizon and the transition from sky to underground flows in smooth manner along with the dynamic scrolling.
Features:
⇒ Space, sky, land, underground
⇒ Upper atmosphere, with portfolio
⇒ Ground level, with cows and skyscrapers
⇒ Underground, with tree roots and groundhog

GANDRWeb
GANDRWeb is an excellent website that uses a combination of jQuery and illustration. This website uses info-graphics in place of characters, landscapes and backgrounds and each section of the page of this website designs explains the accompanying graphic. This website is purely sales-related website that uses very good illustration with jQuery-triggered transitions.
Features:
⇒Various info graphics
⇒ Info graphic explaining benefits and pricing
⇒ Info graphic explaining the design process

Dreamerlines
The Dreamerlines site takes a discrete approach, where heavy illustrations, big bold text and background coloring set the quality. Each section of this website has a distinct graphic that is tied to its neighboring sections only by white space and also each section, is unique, detailed, colorful and attention-grabbing.
Features:
⇒ Various collages
⇒Web form surrounded by a lot of visuals
⇒Nice navigation features

Social Snack
The sphere of Social Snack is a little bit hazy, with a pronounced green and brown, even then presents an excellent example of the website designs that merge jQuery and illustration. On this website you will find birds sitting on wires that are scattered vertically throughout the page to separate sections. The website has a very fine finishing with a rooftop. You will really enjoy the fun illustrated header with cute characters which deserves attention in true sense.
Features:
⇒ Wire, birds and ground
⇒ The color palette and bird motif at the top
⇒ The frames for the team photos hang off a bird wire
⇒ Cute characters in the blog section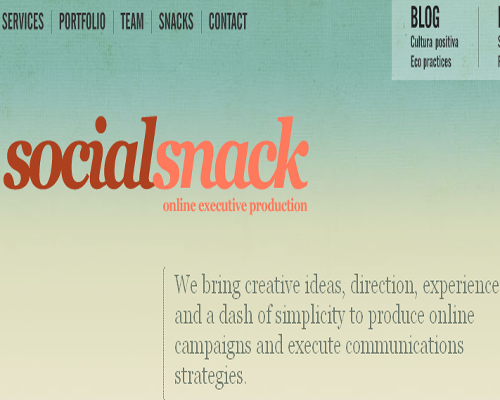 GoSiteWave
GoSiteWave writes its real story and set its benchmark with its awesome design which includes vertically scrolling slideshow, combined with the icons and images. Generally, you have seen that slideshows are expected to scroll horizontally, but here it is vertically and hence seems appealing to the visitors. Besides these, the bright blues and oranges, slick rounded buttons and dark background with skillfully placed streaks of light add extra effect to the design and plays a vital role in grabbing attention of the visitors. It's one, central console with everything you need to run, achieve, and measure your online business success.
Features:
⇒ Vertical slideshow with horizontal navigation and attractive icons
⇒ Includes Content Management System (CMS), Email Marketing, e-Commerce, Web Analytics etc
⇒ Supports Customer Profiling, Blogging, Photo Galleries, Forums

Serial Cut
The Serial Cut website is designed in a fabulous manner; the illustrations and design are so terrific that you might be impressed from it. You would be delighted to spend your time and efforts in visiting this website. The most noticing thing that really makes it perfect is the size of the navigation icon and that the portfolio photos and images which take up the entire screen.
Features:
⇒ Large illustrations for portfolio
⇒ Horizontal and vertical scrolling
⇒ Offers user-friendly platform

Orange Label
The Orange Label website stands perfect either you will cross check it from the usability point of view or design point of view. The site supports image pre-loading which is the extent of the use of jQuery. As you move down scrolling, you will find portfolio items added to the page with a rotating graphic telling you that they're pre-loading. The illustration of this site is really amazing as it is colorful, highly detailed and delicious eye candy.
Features:
⇒ Supports Image pre-loading
⇒Superb Portfolio item along with footer
⇒ Dazzling web design
⇒ Offers customized web development

Vyniknite
You will be impressed with the layout, design, color scheme, interface etc of this website as it begins with a great dandelion illustration, good layout and nice selection of typefaces. While navigating the tabs, you will find fade effect which is the result of use of jQuery. The background of this site standalone presents an impressive effect as here, you'll see some elaborate wind swirls accompanying the floating fauna.
Features:
⇒ Excellent Fades effect
⇒ Elegant web design
⇒ Easy navigation

Halo Agency
This website presents a stunning background in front of you, and navigating over this site, you'll find a variety of decorative ones full of colorful 3-D illustrations. The website has an impressive portfolio that can be accessed through a jQuery slideshow on the home page. Besides these, one can find information about each item in the portfolio section from the text overlay on the thumbnail.
Features:
⇒ Automatic slideshow with background illustration
⇒ Text over images
⇒Halo CMS and API integration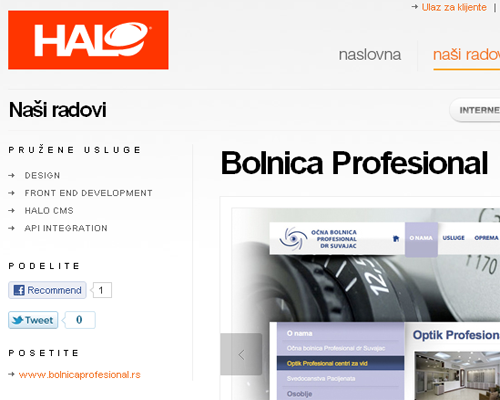 Smart Website Designs
Please Share your Comments & Experience with us.
As the most experienced developer of
CSSChopper - PSD to HTML Conversion Company
, David Meyer firmly believes in building the new ways that lead the people towards success. He focuses on an ideal approach and tries to deliver the perfect services close to the defined needs.