SlideHunter.com: Make Delightful Presentations with Free PowerPoint Templates
You might not be all that tech savvy when it comes to making presentations or even configuring your browser settings. This, however, will not save you from delivering presentations. Somehow, the need for presenting quarterly reports, project plans, timelines and other types of information has become more of a norm rather than an exception.
You can no longer simply send out reports and expect the higher management to go through all the nitty gritty details on their own. This is why all kinds of employees down the corporate ladder now have to be prepared for delivering a presentation to their bosses, many a times at a very short notice.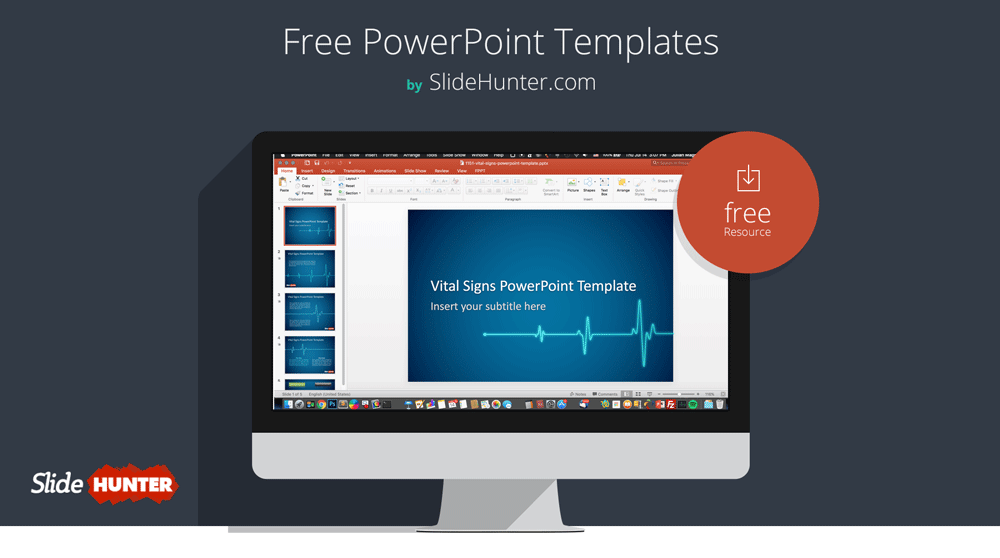 Save Time Making Business Presentations
SlideHunter.com is a website that provides professionally designed, free PowerPoint templates. SlideHunter is not your run of the mill templates' provider, as the presentation templates offered to presenters come with editable diagrams, shapes & original background designs. This essentially means that if you want to quickly create a presentation that looks professional and gives you editable diagrams and slide objects for your convenience; SlideHunter is the right place to go hunting for templates.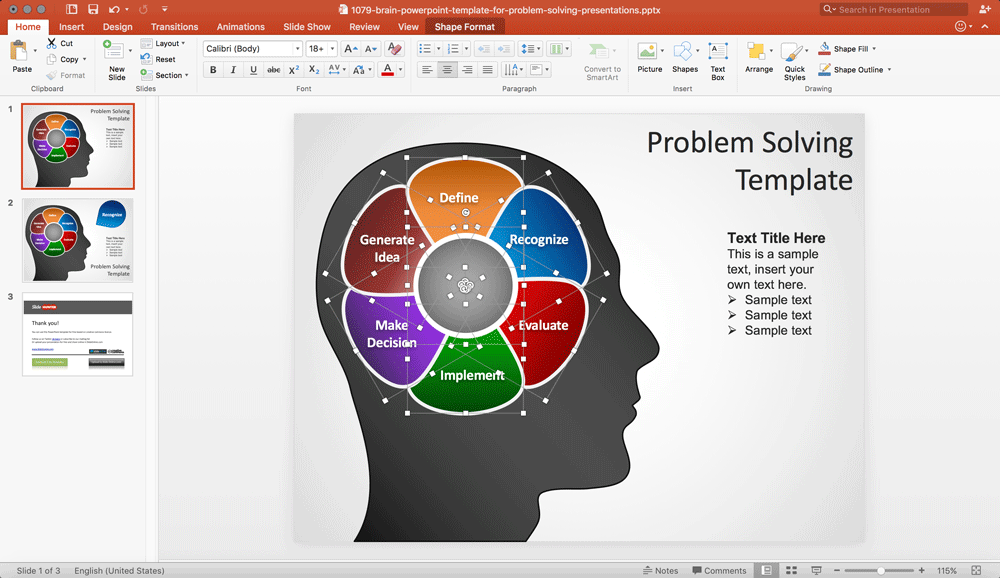 Edit Business Diagrams for Creating Comprehensive Illustrations
Say, you want to illustrate a demand and supply diagram. In such a case drawing one in PowerPoint is next to impossible for a lay user. However, by using a template from SlideHunter, you can make your task easy. Below is a demand curve diagram we downloaded from SlideHunter. As you can see from the screenshot below, the diagram is extremely easy to edit, even for a lay user. Moreover, the designs can be combined with presentation templates downloaded from other providers, like the professionally-designed templates by SlideModel.
The illustration below shows a downward sloping demand curve. You can edit this kind of diagram templates by using drag and drop or options from the PowerPoint Ribbon menu.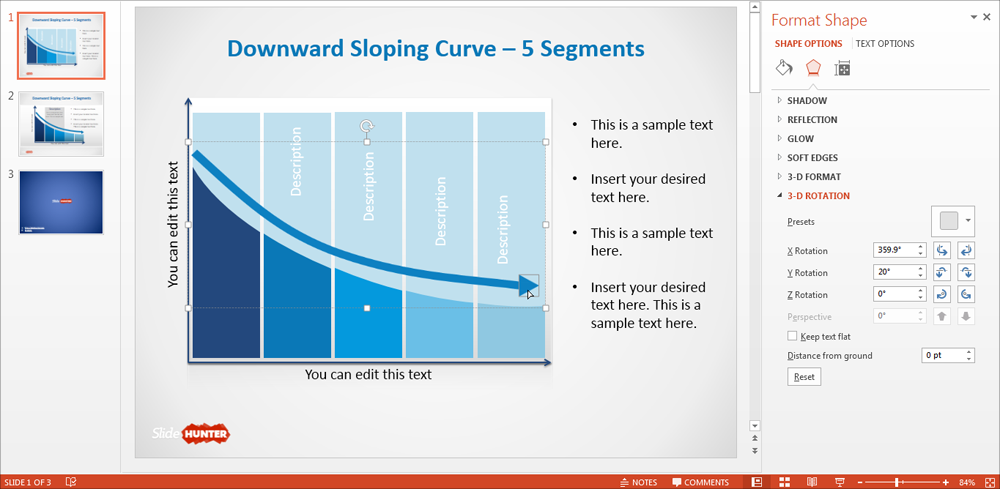 Similarly, the Iceberg design shown below can be used for discussing the iceberg concept or to create a custom diagram to discuss aspects like the depth of a problem or to create motivational presentations about success, hard work, hidden achievements, etc.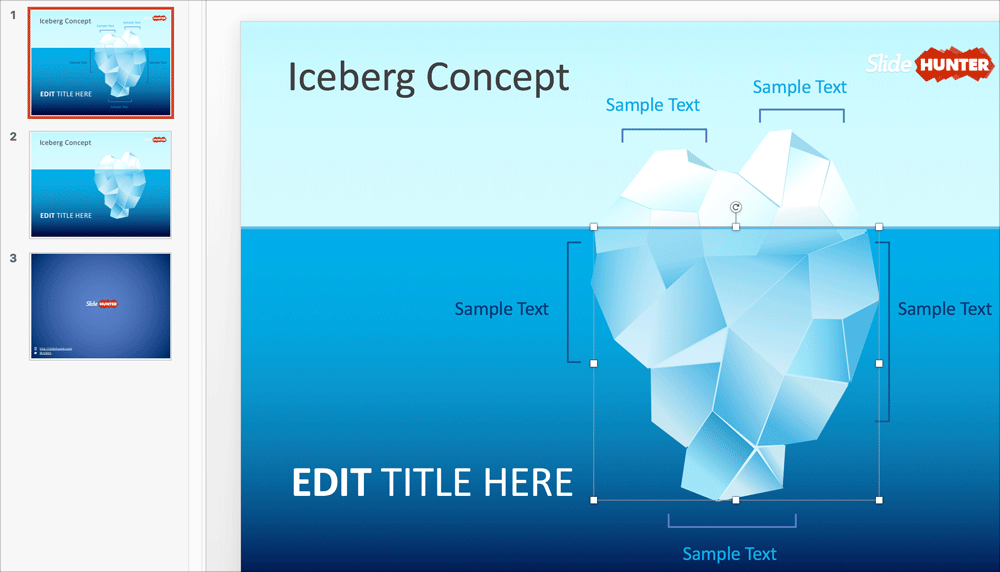 Flowcharts, Timelines, Roadmaps, Mind Maps & Process Diagrams
Among the different type of business themed presentation templates, there are slide decks which can help you easily create flowcharts, timelines and roadmaps, mind maps, process diagrams, funnel diagrams, SWOT analysis, Fishbone Diagrams, DESTEP analysis, Boston Matrix, circular diagrams, marketing mix illustrations, product life cycles and more. These are readymade templates which contain slides that act as a stencil for you to build your presentation on. For example, this post shows how to create flowcharts and how easy it is to make one in PowerPoint using one of SlideHunter's flowchart templates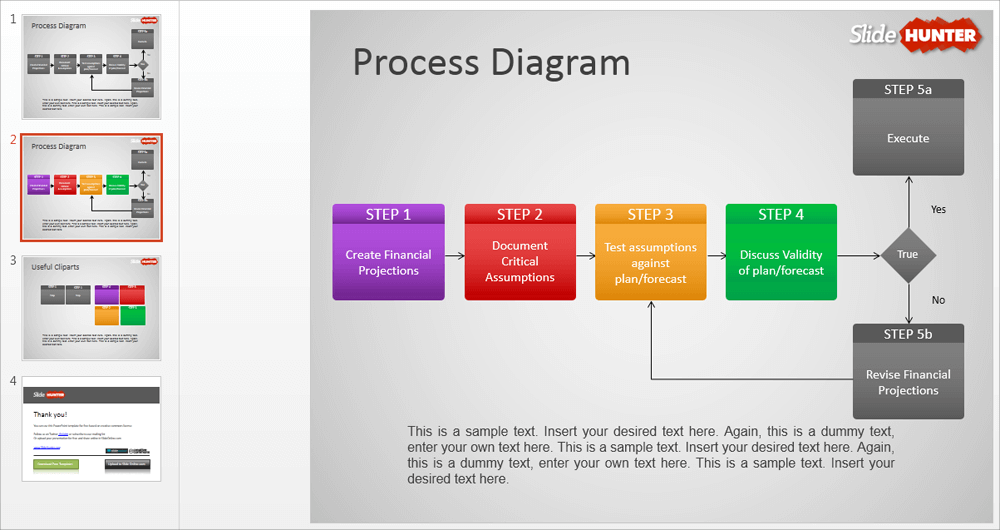 3D Templates with Attractive Slide Designs
There are also many generic, 3D presentation templates that can be easily used for virtually any topic you can think of.
These SlideHunter templates are designed using 3D graphical elements. This gives more depth to diagrams, illustrations, and PowerPoint backgrounds, which makes the added content stand out and look more professional. There is also a '3D' category to help presenters easily browse through the archive of free 3D PowerPoint templates.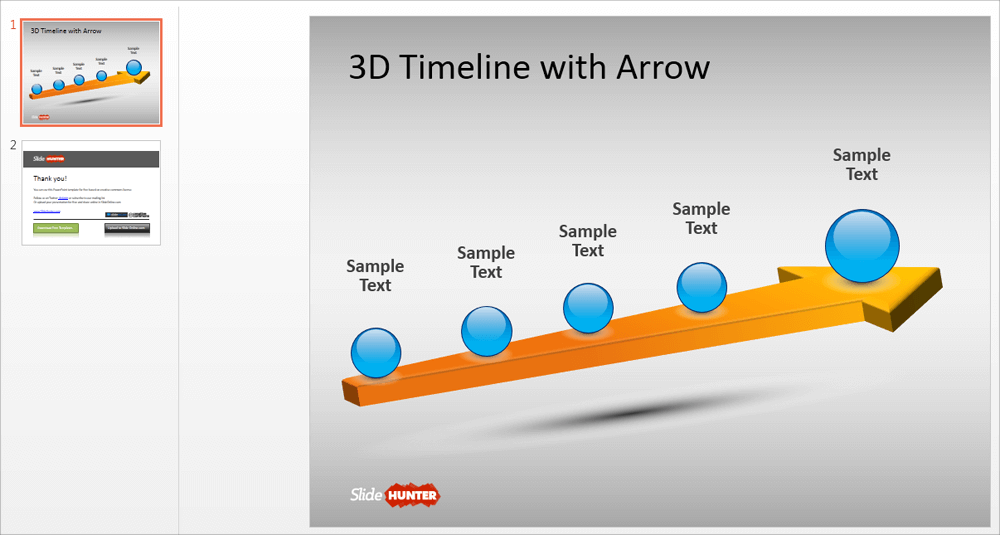 PowerPoint Templates for a Variety of Diverse Topics
SlideHunter is a website which not only provides free PowerPoint templates for business but also gives professional slide decks for a variety of topics. Other than business themed PowerPoint templates, there are also template recommendations from third-party sources, including animated PowerPoint templates. At SlideHunter, you can find PowerPoint presentation templates related to technology, marketing, sales, real estate, sports, law, healthcare, education, etc.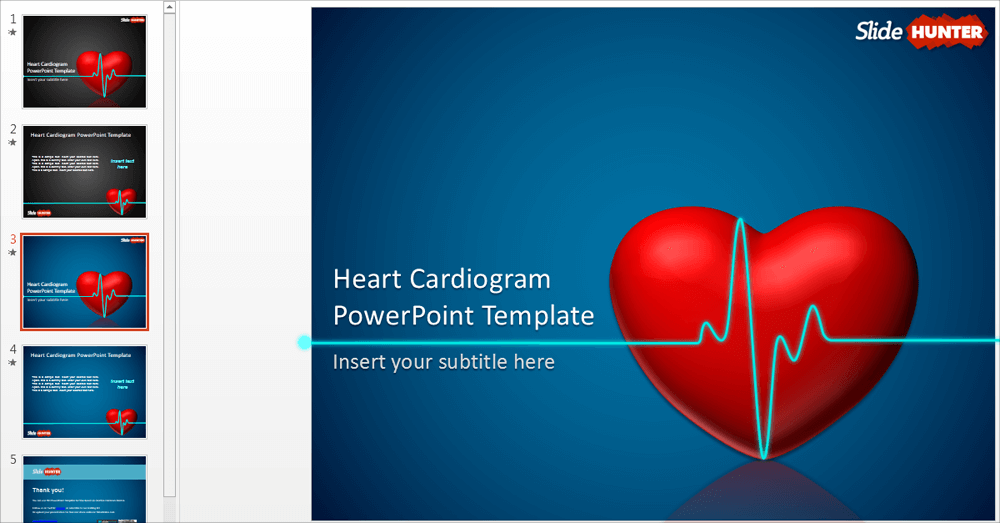 PowerPoint Maps for Different Countries & Regions
One of the most difficult to find templates for presentations include map templates. SlideHunter has a number of PowerPoint templates providing maps of different countries and regions of the world. These templates also come with movable GPS markers to help mark the PowerPoint maps. These are generic map templates, which means you can mould them according to any topic, be it to depict market share, regional offices, the impact of global warming or any other topic where a PowerPoint map might be required.
Create Stylish Charts & Infographics
One thing that you might really like about the various templates at SlideHunter is the fact that many of the 3D templates can even be moulded to create infographics in PowerPoint. The given sample layouts give enough flexibility to represent information in a creative way, by adding text to generic clipart images. The clipart in these templates is quite high-quality, which makes it possible to resize the clipart according to need. You can also copy these images and paste them to other slides for making your own custom diagrams.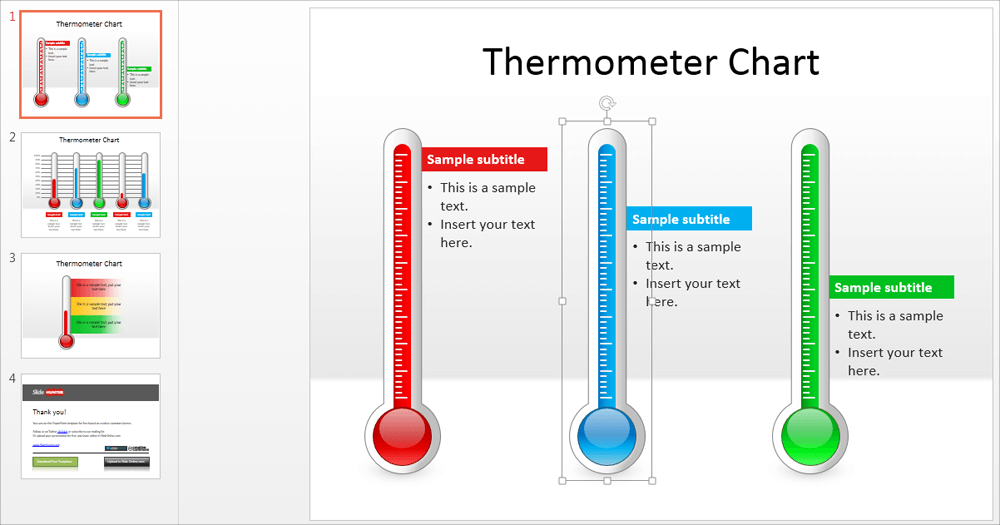 You can also download a number of dashboard and chart templates to present your data in a very creative way. The latter provides editable PowerPoint charts, whereas the former gives layouts to accommodate a wide range of information in an easy to understand, dashboard layout. The below image shows one of the dashboard PowerPoint templates that you can download at SlideHunter.
As you can see from this screenshot, a dashboard layout can be used for inserting a number of elements within a small space, each with its separate relevance, making a cohesive slide with various types of important data presented side by side.
Apart from dashboard templates, you can also find standalone chart templates with editable PowerPoint charts, such as pie, bar, spider, donut, and other types of charts. Furthermore, some chart templates come with creative layouts, depicting charts to be stairs, doodles or Harvey balls.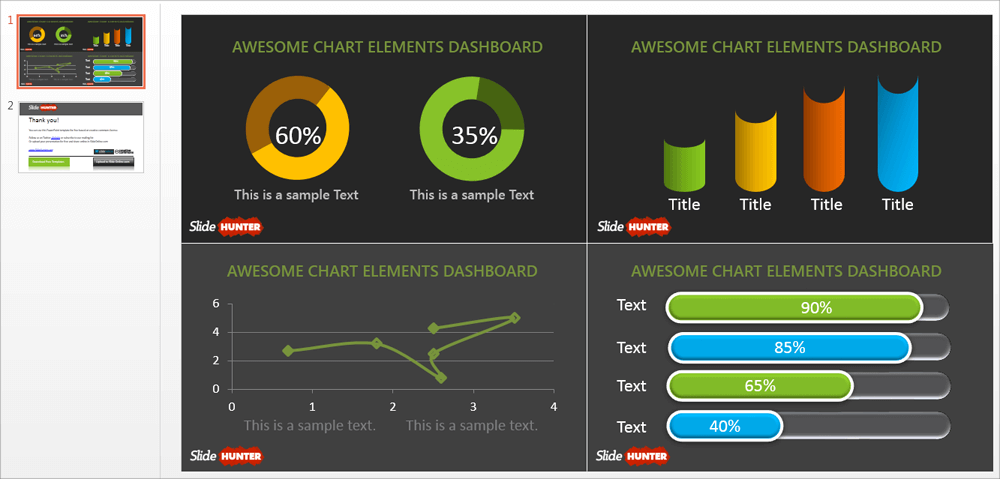 What makes SlideHunter stand out from other presentation template providers is the fact that it doesn't simply offer generic PowerPoint backgrounds but highly customizable slide decks, with professionally crafted layouts. Not only are the graphics designed with a professional touch but the editability of slide objects makes the templates much more valuable for a presenter.
The kind of content SlideHunter is offering for free usually, costs a hefty amount in the form of recurring subscription charges. Therefore, being able to download premium quality PowerPoint templates for free, without any sign-up or strings attached is nothing short of a Godsend for presenters.
Visit: SlideHunter.com
These posts are a handout from our Guest Author who works with us occasionally and provide their opinions for our regular visitors on Web-Development & Designing, SEO, CSS, Coding etc. As their details can be marked with their concerning post even we would like to add that out Guest Authors are expert and master of their own sector. If you also desire to be our Guest Author Contact Us at
submit@webgranth.com