Responsive Website: Latest Tools for Responsive Web Design
List of amazing tools for responsive web design which are very critical to create a responsive website without meeting any hindrances. These responsive web design tools are compiled from a wide length of tools available over web. Eventually, it will render a superb, attractive and engaging responsive site.
In recent era of mobile technology various innovative and powerful mobile devices open its eyes as well make the web-browsing more popular and affable for people in such way that every person can explore internet 24×7 anytime, anywhere even on the move. Thus, this revolution pushes the necessity of website that should be optimized for mobile devices as well as compatible with them. Therefore, by envisioned the latest trend in mobile technology, web-developers are attempting to emphasize over mobile-optimized interfaces and develop such kind of website that can be automatically adjust with screen size and resolution by designating the multiple view ports such as desktop, iPod, tablet, smartphones etc.
Basically, a Responsive Web Design is developed as a website that can employ CSS 3 media queries with fluid proportion grounded over grids. Which says that rather than of pixels it employ percentages and EMs, in account which it can adapt the viewing environment layout and most probably capable to use flexible images. Which Eventually, offer users to navigate and read in very easy and convenient way as well as narrow the efforts of resizing, scrolling and panning at it lowest extent across a wide length of devices and browsers that will access a single source of content.
However, in order to build a responsive website, employing a robust tool can put a great distinction. Though we have discuss already responsive website design through my previous post. Today, I am going to present here some great and powerful responsive web design tools. It is believed that towards the endeavor of creating an effective responsive site three elements are required:
A fluid/flexible grid
Media queries
Responsive images
As lot of other articles and techniques concerned with responsive web design are available over web, even though I will emphasize over some worthy and useful responsive web design tools for creating a responsive website. So, now move ahead to unfold them and choose to employ which suits your need and requisite perfectly:
Responsive Web Design Testing Tool
This responsive web design testing tool provides instant result for your website compatibility with responsive web design. This smart tool supports numerous screen resolutions featuring from 320 x 480 pixels to 1024 x 600 pixels. To test responsive web design simply enter the desired URL in the provided space and press "Go" to check.


Adaptive Images
This is an elegant responsive web design tool inspired with responsive image tool which is highly worthy to create Adaptive images. However, in this direction it employs PHP and a little bit of JavaScript in order to cater appropriate pictures to user's device without practicing any additional efforts.


 A better Photoshop grid for RWD
With this responsive web design tool you can work more easy and convenient way. It allows to work with 1000px giving up the old 960px. This is very affable to implement as it is available in PSD format, it makes you more flexible and ease.

Gridset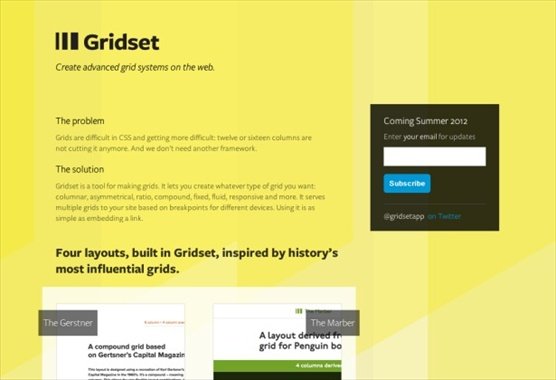 This is literally a very nice and cool responsive web design tool designed by Mark Boulton. This tool offers non-prescriptive, grid system bespoke as well as provide a perfect method to save and cultivate your grids online.


Responsive Calculator
In order to create a responsive website nothing could be more perfect rather than using the Responsive Calculator which is also called as pixels to percentage calculator. It is brought by Stu Robson who move ahead among others by creating all the rules of CSS just for you, that's mean it provide liberty to simply copy and paste them to your stylesheets.


Responsive Plugin
This is an excellent tool for creating a responsive website tool that is very worthy and useful as its functionality is quite different from other tools and hence stands far ahead. It is capable to transform any current WordPress theme into a responsive one.


Responsive Web Design Sketch Sheets
This is a great responsive web design tool introduced by Jeremy P Alford which is emerged as a brilliant dawn to initiate mapping out regarding how distinct sections of a page will adapt with distinct resolutions.


Responsive Wireframes
In the direction of creating a responsive website design one of the obstacles that appear is employing wireframes to visualize how a responsive design will work. However, James Mellers from Adobe introduced a nice tool for creating responsive website with capability to show how responsive wireframing of complicated layout can work.


Screenqueri.es
This is another robust responsive site design too which comes with dimension tool and brought for you by Mandar Shirke. It has got an extensive set of tablet and mobile presets which make is stand far ahead among other tools. Moreover, it also features a ruler and grids that offer insight and fine measurement in very simple and easy manner.


Columnal CSS grid system
This is a very simple and efficient responsive web design tool created by Nick Gorsline, creative director of Pulp+Pixels aka creative is grounded over 1140px grid system. In addition it has got some extra features like wireframing templates, design kit with sketchsheets and CSS debugging styles.


FitText
FitText is literally an amazing tools for creating responsive website and is referred as a jQuery plug-in which render the headline responsive for both design and the device.


Fluid Grids
In the case when your design is supposed to very specialized and you feel necessity to create your own customized grid, then this web responsive design tool is here to help you. However, you can easily accomplish this task with .net Awards fluid grid calculator.


Gridless
One of the most brilliant tool for creating a responsive website is Gridless which is accompanied with boilerplate of HTML5 and CSS3 which cater it service for your responsive designs focusing on typography as well as comes with cross-browser compatibility.


SimpleGrid
SimpleGrid is a perfect and efficient responsive web-design tool presented by Conor Muirhead and is supposed to be the best method to employ this tool for your responsive website project which is very easy and convenient to get up.


Skeleton
As we discuss above about two boilerplates whose starts with smaller resolution. However, standing apart of them, the Skeleton tool of responsive website developed by Dave Gamache works with 960.gs grid system as well as very efficiently scales down to mobile. Moreover, skeleton also flaunts on a style framework which helps developer to create a great style too.


Style Tiles
The Style Tiles by Samanatha Warren introduced a innovative technique in the era of responsive web-design. However, rather than of limited width design these sports as moodboards which visualize the basic design approach without indulging into granular detail.

Hopefully this post Responsive Website: Latest Tools for Responsive Web Design would be highly valuable towards creating creating a responsive web design. These are superb tools for creating a responsive website in this responsive era. Moreover, all these tools covers distinct approach to almost all basic element required for a responsive website. Also, these are very simple, easy and affable to bring in practice. So, don't hold back to implement in your upcoming web responsive design.
Responsive Website: Latest Tools for Responsive Web Design
The area of interest of Jennifer Adam is to cater technologically advanced and powerful tool which works remarkably with multiple browsers and devices. Being a talented professional of
inkyROBO
, she is capable of implementing the innovative ideas and also loves to write inspiration blogs.