Regular Expression in Nutshell: Resourceful Tools For Web Development
All of you might have heard of the term "Regular expression" which are also sometimes referred to as "regex", or pattern matching. Actually, Regular Expression are sets of symbols and syntactic elements used to match patterns of text. These can prove very powerful and a tremendous time-saver techniques when used with a broad range of applications or tools. These are used to accomplish various text-manipulation tasks among which search-and-replace are the most common.
With the help of a good regex engine and a well-crafted regular expression, it is very easy to search through a text file searching for words that have the suffix ".html, replace the .html suffix with a .sgml suffix, and then change all the lower case characters to upper case. You should notice that all these things can be done only when the word begins with a capital letter and occurs at the beginning of the line.
Regular Expression is a pattern that consists of rules used to match a certain set of strings. They are extremely powerful, and are used in most programming languages especially when there's a need to scan and match context for further actions. Apart from the above mentioned uses of regular expressions in para one, it can also be used to test for certain conditions in a text file or data stream. For Example: Email filtering programs very often use regular expression for separating incoming mail from incoming spam and testing whether the specified mail is from spammer or anybody else. When we talk to advanced standards, regular expression can also be used to perform client-side validation of email addresses and phone numbers. One can use it to search multiple documents for strings and patterns he/she wishes to change or remove, or extract a list of links from source code.
Regular Expression are supported by most of the languages and tools with variations in their implementation. We are hereby presenting a comprehensive list of useful regular expression tools and resources to make your life easier. We hope it will be definitely very useful for your future coding projects. Take a jump and view the full list. Enjoy!
Regular Expression
Expresso (Windows)
Expresso is an award winning regex editor for Windows which comes with a full-featured development environment for programmers and web designers. It is considered as the most suitable regex editor for regular expression beginners.
Rad Software Regular Expression Designer (Win)
It is really an awesome and interactive Windows based regex application which is especially designed for beginners. It is quite simple and easy to use. It requires .NET framework for its use.
The Regex Coach (Win)
The Regex Coach is another important Graphical application for Windows which can be used to experiment with (Perl-compatible) regular expression interactively. It is a must use regex application for the web designers and developers.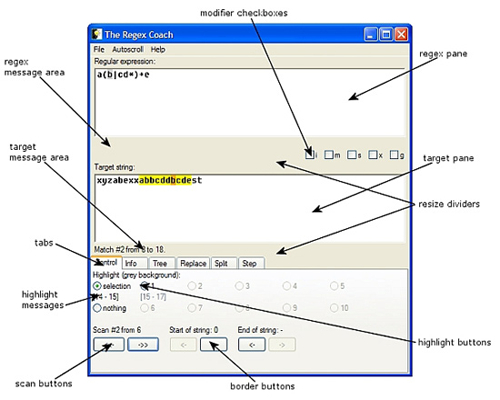 RegExr Desktop (Win, Mac, Linux)
RegExr Desktop is a remarkable regex tool for learning, editing, and testing regular expression. It is designed to be used on Mac OSX, Windows, and Linux platform.
Regex Widget (Mac)
Regex widget is another Mac based interactive widget which is used for trying out regular expression for JavaScript, and other languages such as Sed, Ruby, or Perl.
Regular Expressions Tester
This one is a Firefox add-on testing tool for regular expression which comes with color highlighting including submatches and helpers for creating expressions. Regular Expression Tester as the name symbolizes is used to test the regular expression and highlight syntax with colors.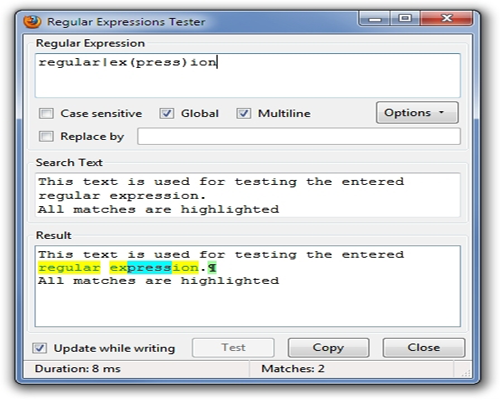 Regex magic (Win)
Regex Magic is a window based regular expression application which is used to generate complete regular expression to your specifications without having the need to deal with regular expression syntax.
Reg Exr
RegExr is regarded as one of the best online regular expression tools created so far. It is a community driven tool which is created by gskinner. It comes with useful examples of regex syntax and supports match and replace.
HTML2Regexp
HTML2Regexp is a fine regular expression generator for HTML Element. It is a ruby program of generating regular expression for extracting HTML elements. There are limitations with it that target HTML elements must have close tags and target HTML elements must not to contain same tag. Also, html2regexp will generate regular expression which cannot treat attributes containing .
'
ReWork
ReWork is one of the most important online regular expression tools with functions like replace, multiple, split, scan and more. It has the capability of updating results as fast as you type.
Rubular
Rubular is a ruby-based regular expression editor which is handy and simple way to test regular expression on the web. It is really an effective one to be implemented in your upcoming project.
Txt2re
Txt2re is an awesome tiny tool which supports various languages such as Perl, PHP, Python, Java, JavaScript, C Sharp, C++, .NET, ColdFusion, C, C++, Ruby, VB, VBScript, JSharp, and VB.NET. It will certainly refresh your memory on how to put together regex patterns..
Regular Expression in Nutshell
Please Share your Comments & Experience with us.
As the most experienced developer of
CSSChopper - PSD to HTML Conversion Company
, David Meyer firmly believes in building the new ways that lead the people towards success. He focuses on an ideal approach and tries to deliver the perfect services close to the defined needs.