Free Real Estate Web Templates: Download Real Estate HTML Template
As we promised in our last post to provide you the HTML template for Real Estate Websites; So here we are. In this post of Webgranth; we will provide the best HTML website template for real estate companies, mortgage companies, real estate agents and real estate appraisers. Hey Don't Pull Out your wallet as this website Template is absolutely free for our regular readers.
Building a Real Estate website HTML template is a way different as comparedcompare to other websites because the customer actually explores his dream land from the webpage. It must have a different image slide show, Filter form, Query window, Contact Form and much more. If you will search the internet for a Real Estate website template then you will be trapped within the pile of customized templates and that too with high license fee.
To save our regular readers from this confusing hassle; we are providing an HTML template specially designed for Real Estate website. This free template is designed with appealing interface and keeping the SEO aspect in view.
You can see the preview of this free Real Estate HTML template by clicking on the DEMO button provided below. For the instant download of this readymade template design; you simply need to click on the DOWNLOAD button. Moreover; you can easily tweak the design of this template as per your design specification. So what are you waiting for? Download this freebie and is available for your customers 24X7.
Free Real Estate Website Template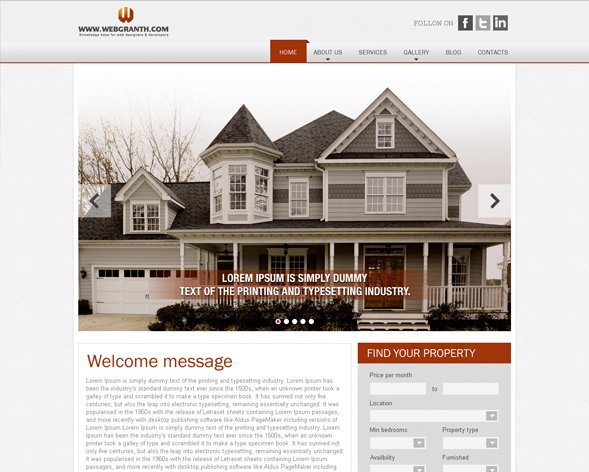 Conclusion
We hope that this Free Real Estate HTML Template will help you to build an impressive online identity. You are welcomed to provide your feedback about our work. Hey are you looking for a platform to showcase your skills? Check out the Author Guideline and be the part of our success story.
Admin from India is a founder of WebGranth, an entity of
Sparx IT Solutions
with over 8 years of experience on different verticals of web design & development. In his quest to spread the knowledge regarding web development, he has been contributing in WebGranth by submitting his valuable blogs.