Ranking & Review for Best Professional PSD to HTML/XHTML Companies
These days PSD to HTML Conversion Services are proving to be great for converting your designs to high quality, cross-browser compatible valid top-notch XHTML/ CSS semantic markup.
Aspired design to HTML conversions are becoming a niche area of its own. Most of the service provider agencies or enterprises assist the service seekers with their utmost quality, on time delivery and fair prices.
Most of the service providers promise to offer best quality services at low rate but very few of them offer high quality service in reality. In some cases if the quality is good the cost is unbearable and vice versa. Thus there is a need to take a smart decision, do a small research about companies, and compare pricing and quality of work before placing an order.
PSD to HTML conversion industry has become highly competitive. The industry is flooded with small to big service providers offering the service at various prices. The customers seeking top services have now lots of options before them. But making out which one is the best is a challenging task. To find out best and right service provider among the crowd becomes more challenging when each one promises of high quality standards in their services. Thus in order to guide the customers properly we are presenting here an autonomous list of service providers. The below given list comprise the top service providers who stands at the best ranking status as per the search engines, huge traffic of customers, excellent services and many more.
Showcasing Top Ten PSD to HTML Service Providers Website
Here, we have undergone through a deep study, analyzed and after that put together a collection of most reliable and professional PSD to HTML service providers who can assist you in converting PSD files to HTML. We ensure that you will avail all the benefits with these websites offering the service of PSD to HTML conversion along with maximum satisfaction. Let's try slicing PSD to HTML and experience the real difference. We have undergone through different parameters including price, quality standards, turnaround time, and other additional features which will prove useful for availing the PSD to HTML conversion services.
CSSCHOPPER
Description: CSSCHOPPER is a known name in providing several kinds of services such as converting PSD, PNG, JPG, GIF or any other format designs to pixel perfect or HTML or XHTML. It also offers affordable implementation and customization services for WordPress, Joomla, Zen Cart, osCommerce, Magento, Drupal, Shopify, X-Cart, vBulletin, Prestashop, Modx and other CMS platforms. Conversion from PSD to HTML by CSSCHOPPER is one of the least expensive services available out there which can be easily afforded by the clients. The CSS Chopper fulfills the requirements of customers in a specified period of time.
Basic Cost: Starts from $39
Turnaround Time: 8 hours
Additional Features: Apart from the above explained services CSS Chopper also possess some additional features. such as:
cross-browser compatible
quick turnaround time
60 days free technical support
15% discount for existing customer
100% satisfaction guarantee or full money back
Slicing PSD to HTML
Description: It is remarkable Service Provider Company which provides you the PSD to HTML converter which is responsible for
conversion from PSD to HTML. You can explore the best services at one place that you can find in the entire market. It can also implement design as templates, skin, and themes for WordPress, OS Commerce, Magento, Joomla, Drupal, PHP BB, Pligg, Blogger, X-Cart and other CMS-platforms.
Basic costs: NA
Turnaround Time: 1 working day
Additional features:
Money Back Guarantee
1 month Technical Support
No missed deadlines (if late, 30% off will be offered)
Free JS Implementation
Validates CSS
XHTML and 508
Print Style sheet
Micro formats

SOURCE
PSD2HTML
Description: PSD2HTML is an outstanding service provider agency which takes any format designs whether in PSD, PNG, AI, and many others and converts it to HTML. And if required, It can also implement designs as skins, themes, and templates such as WordPress, Drupal, Joomla, Magento, JavaScript etc.
Basic Cost: $159
Turnaround Time: 8 working hours (one page), 3-8 working hours (each additional page)
Additional features:
Comprehensive workflow
highest quality standards
effective and efficient communication guaranteed
Non-Disclosure Agreement (NDA)
satisfaction or money back guarantee

SOURCE
Sramek Design
Description: Sramek Design provides its customers the facility of conversion from PSD to HTML/XHTML and finally convert HTML site to WordPress. It provides online service for people who want to revive their design and get fully functional site running on an open source CMS WordPress.
Basic Costs: $ 400
Turnaround Time: As per project
Additional Features:
XHTML / CSS Valid markup
Cross browser compatible
Table-less CSS
Widget ready theme
FLIR / sIFR / Cufon ready theme
jQuery tabs
slideshows
lightbox
animated dropdown menu
customized comments section
automatic thumbnails
WordPress short codes

SOURCE
PSD to Any
Description: PSD to Any is a fast and reliable service provider which offers the service of PSD conversion to W3C Valid CSS / HTML. At the PSD to Any, the clients can also experience the CSS / XHTML implementation into WordPress, Joomla, OsCommerce, and Zen Cart Themes.
Basic costs: $ 60
Turnaround Time: As per project
Additional Features:
Easy integration with any CMS
Optimized code for search engines
XHTML and CSS Validated Code
Cross-browser compatible
Cross Platform Compatibility

SOURCE
HTMLcut
Description: HTMLcut is a PSD to HTML slicing service provider which convert images in PSD or any other format. E.g. PNG, GIF etc. to HTML/CSS markups or blog themes.
Basic costs: $ 89
Turnaround Time: 8 hours for Home Page and 16-24 hours for 2-3 secondary pages
Additional Features:
8 working hour delivery for home page
16-24 working hours delivery for 2-3 secondary pages
50% discount on secondary pages
3-8% discount for repeat orders
Free 30 days technical support


SOURCE
XhtmlWeaver
Description: XhtmlWeaver is an agile web development agency, which used to deliver high quality W3C Compliant Markup (XHTML 1.0 Strict), Cascading Style Sheets (CSS), clean jQuery based JavaScript code and WordPress solutions in short turnaround with affordable price. It provides remarkable services to its clients followed by 100% client satisfaction otherwise money back guarantee. It converts PSD or any other layered formats such as PNG, GIF or PDF into valid XHTML and CSS hand code within the time period specified.
Basic Costs: $ 99
Turnaround Time: 1-3 working Days
Additional Features:
100% strictly follow your design
SEO Semantic Code Standard
Valid XHTML 1.0 Strict & CSS 2.1
Cross All Major Browsers & Platforms
Hand coded
logically structured XHTML
Discounted Inner Pages
Table-less Markup
30 days Technical Support

SOURCE
CrazyXhtml
Description: CrazyXhtml is a team of some crazy people who are crazy about coding designs to XHTML / CSS. It offers a high quality services to its clients. After receiving design from the client CrazyXhtml start coding PSD to HTML and when process is completed the client receives a W3C valid and commented XHTML / CSS files of high quality. Further it also facilitates the clients with PSD to WordPress implementation & more.
Basic Costs: Start from $ 79
Turnaround Time: As per project
Additional Features:
Semantic markup used for SEO
Well commented CSS and HTML code
W3C sliced and hand coded themes
100% satisfaction to the clients


SOURCE
Seo Semantic XHTML
Description: Seo Semantic XHTML offers you the services of converting all possible formats such as PSD, AI, JPG, PDF, and many others into 100% hand coded semantic markup, i.e. PSD to HTML/XHTML & CSS Webpage. The conversion will be browser compatible, operating system compatible and SEO friendly. Apart from these it also provides the services of integrating WordPress, Drupal, Magento, blogger, Tumblr, movable type and many more.
Basic Costs: $ 288
Turnaround Time: Minimum 8 hours and Maximum 3 working days.
Additional Features:
Pixel perfect PSD to HTML converted files
Shorthand
commented CSS
W3C validated
semantic and seo optimized HTML/XHTML & CSS code
Cross browser & operating system compatible code
50% discount on inner pages


SOURCE
Convert2xhtml
Description: Convert2xhtml is a professional PSD to HTML conversion service provider. Apart from conversion from PSD to HTML, the company also offers other services as well as like conversion to WordPress, Joomla, PHPBB, and vBulletin.
Basic Cost: $45 for home page, $25 for each inner page
Turnaround Time: Starts at 24 hours
Additional features:
Hand-coding
cross-browser compatible
100% money back guarantee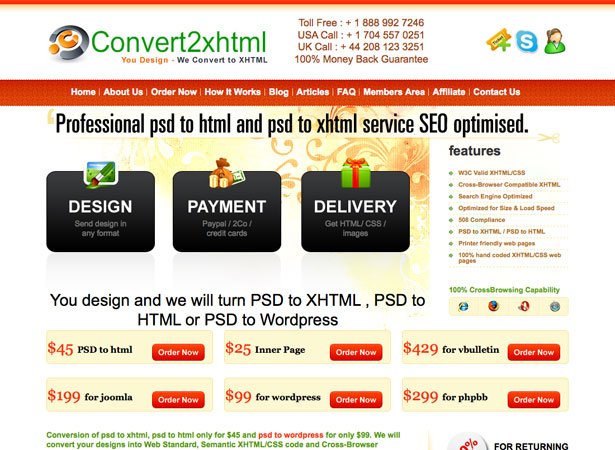 SOURCE
[polldaddy poll=5147559]
Leander Crow works at
Webby Central
as a veteran web developer. He has a passion for technology, coding and design and has coded for award-winning names in the industry. He is also a freelance writer who has helped many web development firms build an audience by sharing informative write-ups.