The biggest challenge of building a successful mobile app is not the design or development, but acquiring users.
As big brands move into mobile advertising, costs per install have risen well above $2 and over $4 for users who only open your app three times. Social channels and converting website visitors can be effective ways to route potential users of your app to the app stores, but app store search still represents the biggest app discovery channel.
More people report app store search is the primary way to find new apps, and data shows most apps are installed after a search of the app stores.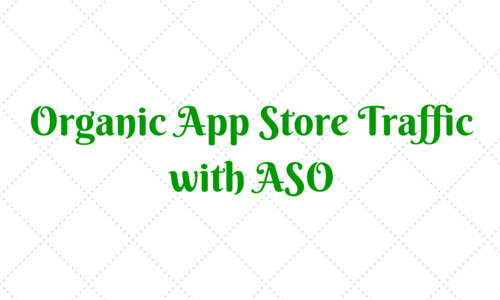 Positioning your mobile app for discovery and conversion in the app stores is called app store optimization, or ASO.
Getting Started with ASO
Apple and Google use your app listing metadata to determine for which searches your app is a relevant result. Your app is indexed for the words and phrases you use in your app name/title, description and keywords field.
Rankings are then largely determined by relevance, conversions from search, installs and ratings among other variables.
A great app with great design certainly impacts installs and ratings, but discovery starts with how your app is indexed from the app listing metadata.
App Listing Metadata
Apple and Google app listings are a little bit different, both in the available fields, and the character limits of fields.
For example, Apple uses a keywords field of 100 characters only visible to Apple and the publisher. This is a space in the app listing that helps the publisher tell Apple what the app is or does and who it is for. Apple then uses the app name and keywords field to index the app for relevant search.
Alternatively, Google has no such "hidden" field and instead uses the app title and description fields to index an app.
While we will introduce strategies that apply to both app stores, there are specific strategies for optimizing each of the app listing elements for Apple and Google Play.
The most important concept when crafting your app store listing is the idea of relevant keyword coverage.
People search the app store using 2-3 word, feature-based phrases. Space is a consideration due to character limits, so select keywords that build the most relevant phrases.
Start with a list of your most essential, popular and differentiating features. Which individual words can be combined to provide the best coverage of your list?
For Google Play this may mean an app title with the app's name and a single, important feature.
For Apple, an app name could include two features, and the keywords field could be used to add several supporting keywords and phrases.
App Store Optimization is a different way of reaching users that you want to use your app. While there are dozens of factors that come into play when it comes to the perfect user acquisition funnel, these tips are a good foundation to get started.
For a more comprehensive guide to app store optimization strategies for both Apple and Google Play, check out the App Store Optimization white paper here.
Admin from India is a founder of WebGranth, an entity of
Sparx IT Solutions
with over 8 years of experience on different verticals of web design & development. In his quest to spread the knowledge regarding web development, he has been contributing in WebGranth by submitting his valuable blogs.