Online Tools For Formatting, Optimizing CSS Based Website
In this post you will find a comprehensive list of various online tools and applications which will be helpful for web developers in optimizing and formatting CSS and hence increasing the durability and resilience of any website. Going through the title of this post, you must be thinking that, why there is a need to optimize CSS, or why web developers prefer to re-format and optimize CSS in their web applications.
The very true answer of this question is that optimization of CSS gives more readable code and increases the load time of any web page. In more precised and apt way we can say that, Optimizing CSS allow a web page to load quicker and not only that, it also increases the durability and robustness of the website.
One of the most advantageous parts for CSS is that, nowadays there are various advanced tools and application available which offers many options regarding optimized CSS and permits the web developers to choose the level of compression as per their desire. We have undergone a deep study on various tools and extracted the top 10+ to be the best output yielding. We are presenting these tools along with their explanation and URL as well so that you may visit to the site to know further more about these tools. One of the plus points of these tools is that it is also suitable to be used by beginner coder who possesses very limited knowledge. These tools will let them to carry on optimization and formatting of CSS without putting their much of efforts at all.
Check out these tools given as under. We hope you will enjoy the post. Please share your thoughts on this post by dropping your valuable comments in the comment part.
Flump Cakes Online CSS Optimizer
This is really a dramatic tool with several attentive features which will let you to take your CSS file and parses and outputs a leaner version, removing any redundancies and attributes which are not needed any more. This online tool effectively removes comments, removes white space, converts RGB values to Hex, converts multiple background, font, margin, padding, list attributes into a single attribute and so on. Apart from these, this tool also converts multiple border values into single attributes; provide option to convert absolute values (PX & PT) into relative values (EM), groups style attributes and values which appear multiple times into a single style etc. It reads CSS just like a browser would and hence using hacks which are browser specific will give random results. Thus it is required to make sure that any hacks are removed before use.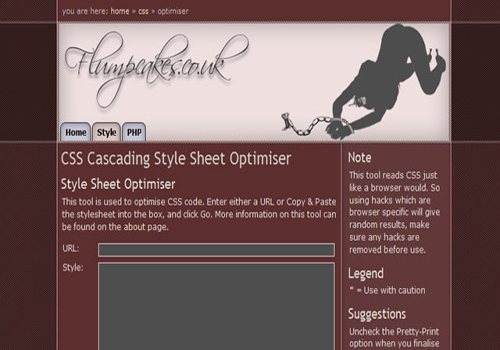 Styleneat – CSS Organizer
Styleneat is an amazing online CSS optimizer and formatter which organizes and standardizes the CSS – selectors, sub-selectors and properties in a structure that makes it easier to define page areas making easier to see how they are co-related with each other. This tool provides the option of sorting the properties alphabetically; sorting the selectors alphabetically and also facilitates with multi or single line formatting.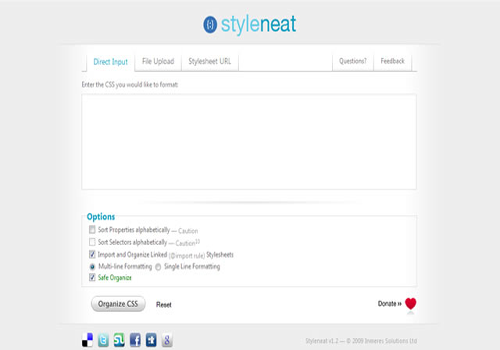 Clean CSS – Optimize and Format your CSS
CleanCSS is a superb CSS optimizer and formatter possessing a reasonable amount of options that takes your CSS code and organizes and manages it in a more concise and cleaner way.
CSS Compressor – Online Code Compressor
CSS Compressor as the name indicates compresses the CSS to reduce the code size and make your web pages load faster. It offers four levels of compression of which you are free to choose from, depending on how legible you want the compressed CSS to be versus degree of compression.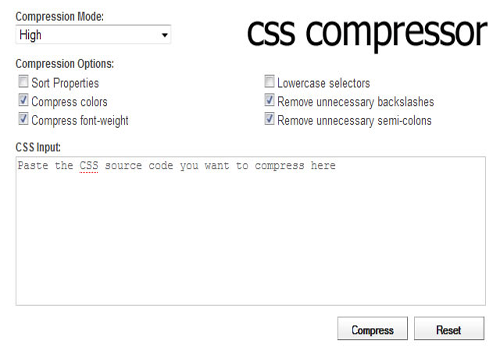 Code Beautifier – CSS Formatter and Optimizer
It is the most popular CSS formatter and optimizer which is based on the popular open-source CSS parser and optimizer, CSS Tidy and offers various options which let you to sort and merge selectors and properties, compress colors and font-weights, choose between lower and uppercase formatting and even have the option to discard invalid properties.
CSS SuperScrub
CSS SuperScrub is most sophisticated online tool which can significantly reduce the size and complexity of the CSS code by stripping out unneeded content, stripping redundant calls, and intelligently grouping the remaining element names etc. No doubt, there are limited options with this tool, but is a tool of great use and it works exactly as intended; it scrubs the CSS code.
Online CSS Optimizer
Online CSS Optimizer is an excellent web tool which can be used for reducing the file size of cascading style sheets. This tool is most suitable to be used in the case where more space optimized files would be messy to save and result in error.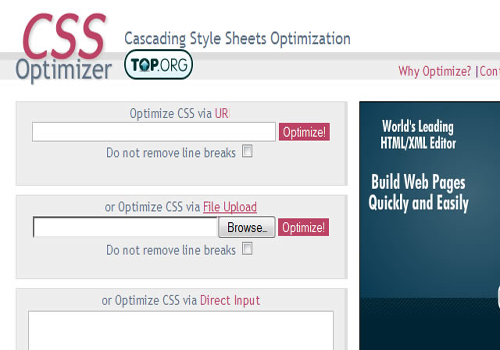 CSS Compressor – CSS Drive
This is a remarkable utility which can be used to compress the CSS code and increase the loading speed of a web page. It offers three levels of compression, and permits the web developers to choose from depending on how legible they want the compressed CSS to be versus degree of compression. Besides these, this tool also has the option of an Advanced Mode that gives web developers more compression options.
CSS Analyzer
The CSS Analyzer is a small utility that allows web developer to check the validity of their CSS against the World Wide Web Consotorium validation service. Apart from these, it also checks the color contrast test, and test to ensure that relevant sizes are specified in relative units of measurement or not. In case, if the CSS is specified by a URL, it will be loaded into the text area to offer an option to make changes for testing without having to re-upload.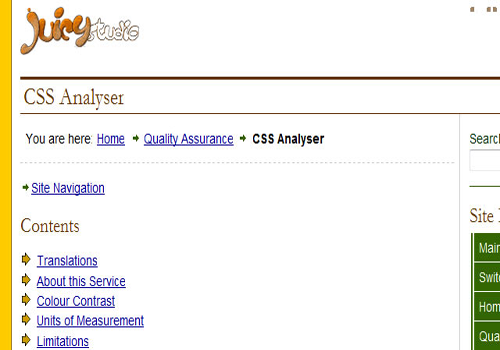 CSS Redundancy Checker
CSS Redundancy Checker is a simple yet useful tool that finds CSS selectors that aren't used by any of your HTML files. It also finds and removes the CSS selectors that are redundant in your CSS file.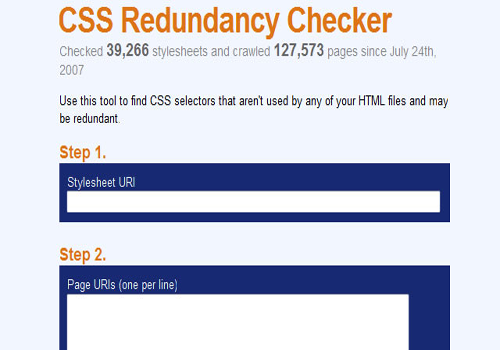 CSS Code Formatter and Optimizer – CSS Portal
CSS Portal is another basic code formatter and optimizer, which is worth to be used by web developers or coders. One disadvantage of this tool is that it has no validator which points out errors in the CSS code. So the web developers should ensure that their code is valid by using the CSS Validator before using this tool.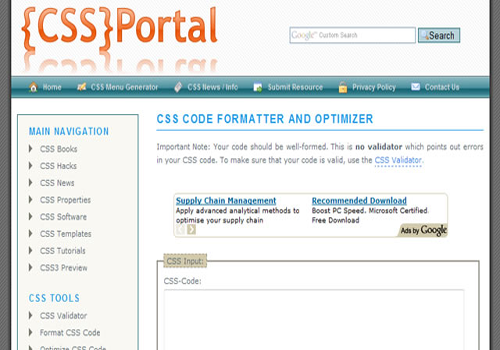 As the most experienced developer of
CSSChopper - PSD to HTML Conversion Company
, David Meyer firmly believes in building the new ways that lead the people towards success. He focuses on an ideal approach and tries to deliver the perfect services close to the defined needs.