Online Photo Editing Websites Presents a Few More Reason For Your Smile
In the earlier post too, we have discussed about several online photo editing tools, now in this post we have brought with us the best online photo editing websites that will present a few more reason for your smile. These days, enormous photo editing online resources are available which enables you to carry on the task of editing, modifying, enhancing and making the photo to look funny without having any deep knowledge of photo editing program like Photoshop or any other.
Most of the time while going through any magazine, especially watching the front cover of the magazine having image of any celebrity, a thought might have came in your mind that how would it be better if there would be your image on the front page in place of that celebrity. Yes it is quite obvious, and we understand this well. And thus we have come up with several online photo editing websites which will enable you to do so with just few mouse clicks and in few seconds. Now, your time to wait has been over, and you can fulfill your dreams.
We have gathered all the best free photo editing services providing websites, which will keep you busy for a while and you will receive amazing results sometimes funny and sometimes maybe silly. These photo editing website will let you to modify your own personalize photo as per your wish. So get ready to experiment these tools and make your time-pass as the favorite time pass. Have a look over these photo editing websites as described below. Hopefully, you will enjoy experimenting with these.
BeFunky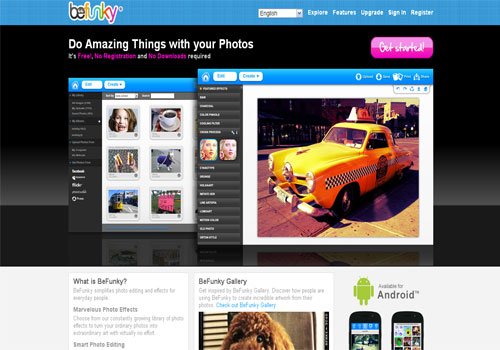 BeFunky simplifies photo editing and effects for everyday people and lets them to produce marvelous photo effects. It offers several Photo Adjustment Tools which lets you to adjust contrast, brightness, exposure, hue, saturation and colors while creating photo effects and allows everyday people to easily create photographically rich and artistic results from their digital images without the need for any technical knowledge. It is the perfect solution to turn the photos into artwork and save back to your accounts on other websites.
FunPhotoBox
The FunPhotoBox site as the name implies, allows you to create funny photos and animations in seconds. It offers a free online photo editors where one can create funny pictures from their photos. FunPhotoBox is a free photo editing online service allowing everybody to add special effects to their photos, instantly transforms their pictures into rich, glowing, beautiful images and make those pictures look their absolute best.
PicArtia
PicArtia is a powerful photo collage maker which allows you to create your photo mosaic online absolutely free just in three easy steps and less than 2 minutes time. It is well known for being fast, easy to operate and and freely available.

Photo 505
Photo505 is an excellent site having huge collection of photo templates, which will keep you busy for quite a while. It lets you to select a digital photo effect for fun is an excellent time-pass.

Loonapix
Loonapix lets you to create your funny photo online and add LoonaPic effects to them. Also you can add appropriate photo frame to your photo from the proposed categories, embed face from your photo to look funny, offer multiple templates to trim photo, create personal avatar and a lots more. Facilitating you with lots of templates, it will really beautify your life.

Funny Photo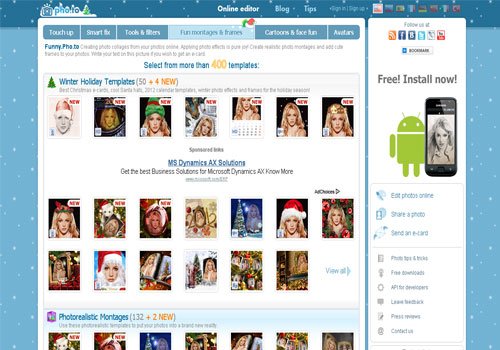 Funny Photo is the perfect place for creating photo collages from your photos online, applying photo effects on photos, create realistic photo montages and add cute frames to the photos and much more. It contains a lots of photo templates, you just need to upload your images and choose one of funny effects available.

Dumpr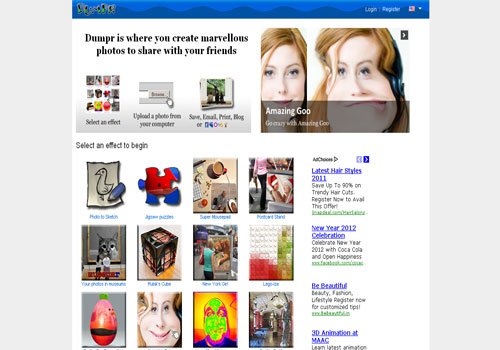 Dumpr is the place where you can create marvelous photos to share with your friends. You can create dazzling virtual Rubiks Cubes and can make memorable photos using Sketch Artist. Although it do not offers all of templates free, but still offers as much you can choose from.

WriteOnIt
It is here you can easily create your photo-montage, captions, free cards, magazine cover and other funny jokes for you and your friends. If you have ever dreamed of being on the cover of any famous magazine, then this is the excellent chance to do it, only you need to choose your photo and you are done.

MagMyPic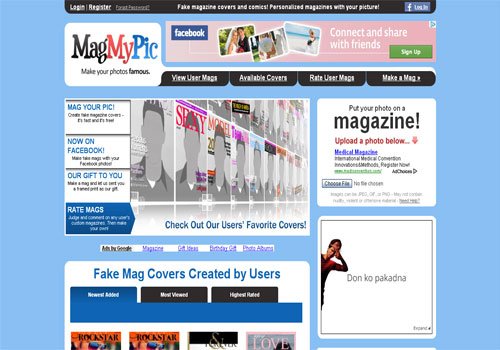 This photo editing website allows you to post personalized funny magazine covers instantly to your profile on Facebook, Twitter, or any other social network and e-mail them to family. You may also blog them to the world. It is really fast and easy to operate allowing you to make an impressive, unique, custom fake magazine with ease.

Hollywood Hair Virtual Makeover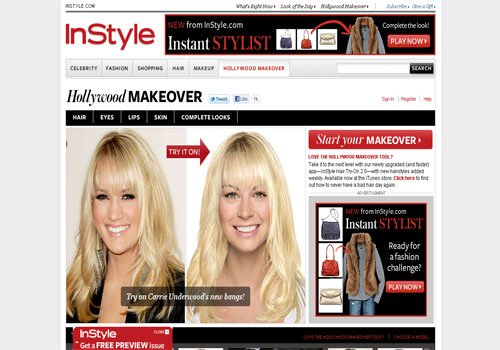 It is an ultimate online photo editing tool which is designed to give an instant complete makeover to your less-than-flattering photos. It lets you to try on the hottest celebrity hair and makeup looks, so why to spend a ridiculous amount of time and money trying to find the solution .

Hairmixer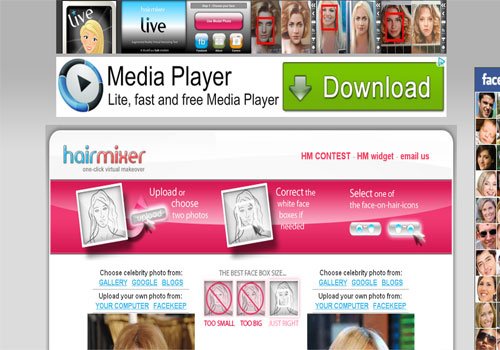 Hairmixer is a lovely tool that lets you to choose celebrity photo from gallery and at the mean time choose your own photograph from your computer desktop, correct the white face boxes if needed and then select one of the face on hairs icons. It lets you to create hairstyle like celebrity.

BigHugeLabs Flickr
BigHugeLabs is an amazing website helping you do cool stuff with your digital photos since 2005. It lets you to create a custom motivational posters for free using your photos, titles, and colors. You can make your inspirational, funny, parody, sports or other motivational poster for any occasion; for this you don't require any knowledge of professional photo editing programs.

FaceInHole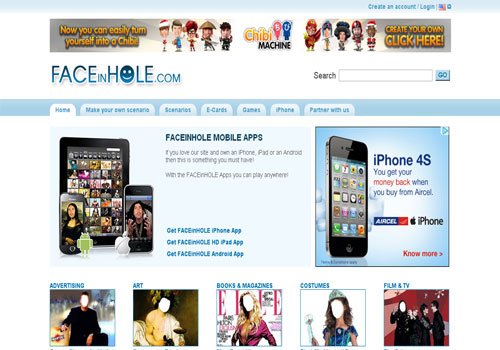 Working with FACEinHOLE.com for a few seconds can create a totally "new look" for you and your friends. You can change eyes, noses, mouths, hairs and much more and spend hours of endless fun at this site. You just have to select a scenario, upload and adjust a photo and you are done. You can send the FACEinHOLE photo to your friends, post in your blog or make available to the world.

Fake Magazine Cover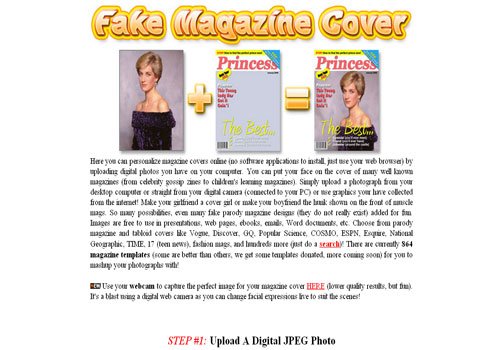 Fake Magazine cover as the name signifies, it lets you to create fake personalize magazine covers online; you can put your face on the cover of many well known magazines. For this, simply you have to upload a photograph from your desktop computer or straight from your digital camera connected to your PC or use graphics your have collected from the internet. You can even make many fake parody magazine designs with the help of this tool.

Poladroid – The easiest and funiest polaroid maker
Its really a great site for image maker tool that lets you to create easily high resolution Polaroid like pictures from your digital photos. It is funny and easy to use tool which generates high resolution pictures with random and realistic Polaroid like colors variation.

Photovisi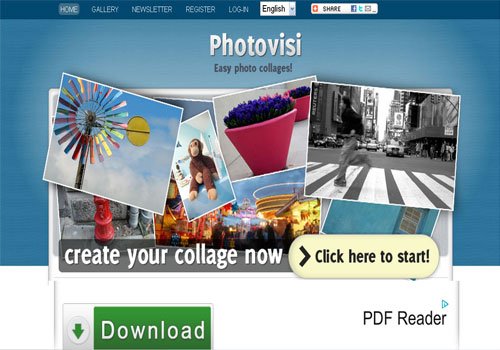 Photovisi is a free and easy to use online photo collage maker that allows you to choose from 18 photo templates and create collages from your photos as wallpapers and more. You can select one of the many designs, add your photos and then customize by dragging items around and after the collage is finished, you can download and print them too.

PixiSnap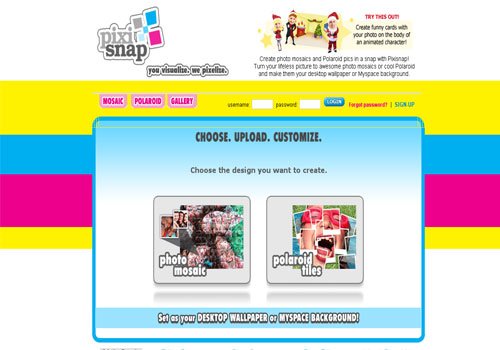 Pixisnap is an ultimate solution for you if you are keen interested in photo editing; it allows you to create your own pixisnap photos just in 3 easy steps: choose a mosaic type, upload your photo and customize your mosaic art. It enables you to create photo mosaics and Polaroid pics in a snap, turn your lifeless picture to awesome photo mosaics or cool Polaroid and make them your desktop wallpaper or Myspace background. It also allows you to create funny cards with your photo on teh body of an animated character.

Pizap
Pizap a free online photo editor which features fun free photo effects, photo stickers and one click effects for digital photos and enables you to easily create wacky images with the digital pictures. It offers a versatile photo editor that lets everybody to add photo effects, custom text or speech bubbles, hundreds of original colorful stickers, a full painting program, and much more than what you expect. Not only that it also facilitate you with the ability to add your image to thousands of customizable products.

My Heritage Face Recognition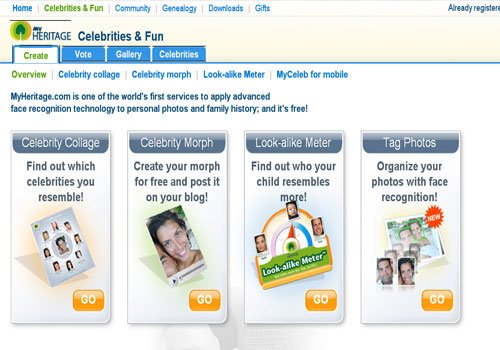 MyHeritage.com is the free online photo editing website which enables you to find out which celebrities you resemble, create your morph for free and post it on your blog, find out who your child resembles, organize your photos with face recognition and much more than that. It is one of the world's first services to apply advanced face recognition technology to personal photos and family history which is available absolutely free.

Blingee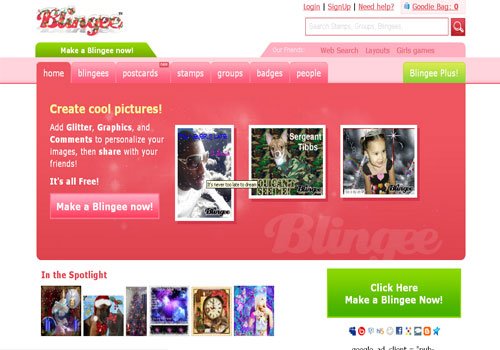 Blingee is a superb photo editing website which lets you to create cool pictures, add glitter, graphics and comments to personalize your images and then share with your friends etc.
We would appreciate your efforts if you will share your views through your comments in the comment section of this blog. If you wish to suggest any more which we have not included, feel free to add your link in comment.
As the most experienced developer of
CSSChopper - PSD to HTML Conversion Company
, David Meyer firmly believes in building the new ways that lead the people towards success. He focuses on an ideal approach and tries to deliver the perfect services close to the defined needs.