New Google Analytics: Share Reports by Email and PDF Export
After one year Google Analytics come to a new way since first unveiled in last March. It host lots of incredible features including flow visualization, premium, real time, multi-channel funnels and many more that seems to be hard to believe that it's just one year has passed.
You will be pleased to know that now new Google Analytics can send Analytics reports to members of your team including yourself automatically. Moreover, in context of getting reports, you can set up to email at regular scheduled time like daily, weekly, monthly, and quarterly. It will seem to be far easy to save or share the insight employing Google Analytics as it can be also exported to PDF.
Designate option of Email and PDF export
In order to point out PDF and Email export option you are required to look at newly-redesigned Utility bar that will be placed at top of your favorite reports.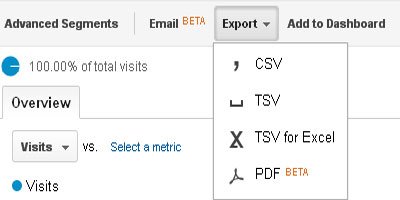 However, in order to make you more ease and convenient usability, this functionality is present on custom reports, dashboards and standard reports. When you will click over "Email" button present on dashboard, it will redirect you to same email scheduling option as it offers on standard reports incorporating the same set of features.
Why "beta"?
If you have employed the email scheduler in old interface of Google Analytics, you can enjoy this new interface with new emailer system that execute independently and is affable to use as well as has enhancements in reliability. However, the finishing touches of exported reports regarding look and feel is still in progress and has been anticipated to be accomplished soon.
Therefor, this new emailing system in new Google Analytics is quite obvious to reset your scheduled mails as well as provide an opportunity to optimize or analyze the significant scheduled mails to recreate, restore or wipe off in the new interface. The new Google Analytics has come with some marked distinction incorporating additional metrics where you should opt to employ the new advantages of this interface while schedule new emails.
Leander Crow works at
Webby Central
as a veteran web developer. He has a passion for technology, coding and design and has coded for award-winning names in the industry. He is also a freelance writer who has helped many web development firms build an audience by sharing informative write-ups.