The Bing's search interface has been live with additional feature of discovery and elegant social connection for its all visitors and users.
Also, Bing proclaims that this new interface of Bing is accessible by anyone at www.bing.com/new, above this one can also take a look over the new message which sits at the top of Bing home page and inspires them to attempt "the best search, now with people from your social networks."
However, prior to 'check it out' without clicking the link or hitting the site, have a look over the screenshot of this new three-column display on Bing search for "seattle restaurants."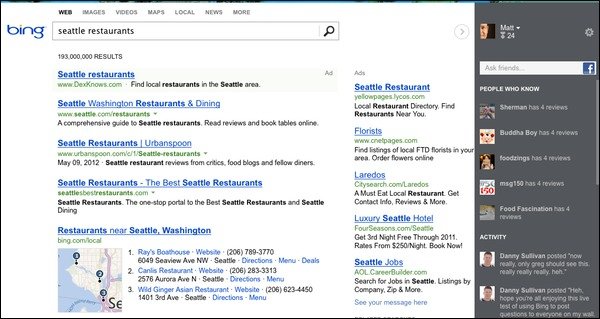 Last week, when Bing announced for its new interface, it was incorporated a "snapshots" of new look of Bing Search result which displayed additional and relevant information for every listing in the middle section. "The feature is still away by a week from going live on Bing.com." A Bing spokesperson stated.
However, the Bing's new interface has included several additional things to search results like various social elements, 'social sidebar' which drag friends and expert information from Twitter and Facebook in context to your search query.
The new interface of Bing can be also access through Bing mobile with an optimized touch-based input and smaller screen layout. Bing added.
As the most experienced developer of
CSSChopper - PSD to HTML Conversion Company
, David Meyer firmly believes in building the new ways that lead the people towards success. He focuses on an ideal approach and tries to deliver the perfect services close to the defined needs.