Most Useful Free Online WYSIWYG Editors For Web Development
It's something very hassle and stressful in web-development without working with a WYSIWYG editor. In context of writing code, lot of applications are available over there, but it makes you bother if it comes to write without appropriate WYSIWYG editor.
However, if we define WYSIWYG in a single simple sentence, "What You See is What You Get" will suit perfectly. What the WYSIWYG actually is, let me clarify it. It is a system where the contents either text or graphics is being writing, editing or formatting appears on the screen in real time is directly proportional to the end result which might be a web page, slide presentation or printed document.
Above all, WYSIWYG editor is most essential and useful tool amongst several other distinct crucial element for web developers, web designers and even for bloggers too. You will be pleased to know that we have one most renowned and popularly used CMS application which is integrated with this feature by default. Yes! It is WordPress. It make its users more ease in context to quick post writing as well as minimize the code interaction at the lowest until the user feels need of this. Therefore, this post Most Useful Free Online WYSIWYG Editors will make you acquainted with distinct WYSIWYG editors for distinct application that has been aggregated by keeping in vision of your need, requirements and flexibility.
So, just go ahead though out this Most Useful Free Online WYSIWYG Editors post and designate as well as opt to go with which suits better your need and requirements amongst them:
Amaya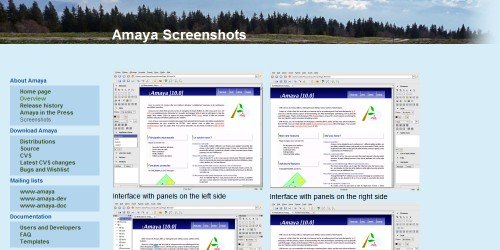 This Amaya is very captivating and useful Web editor where you can create as well as update your documents directly on the web in very simple and affable manner.

BlueShoes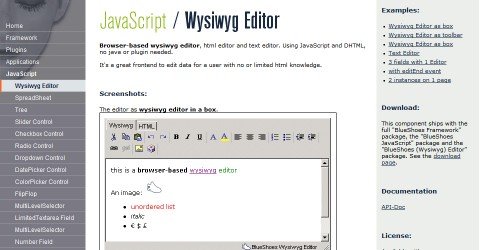 This BlueShoes is a smart browser base wysiwyg editor as well as text and html editor. The most captivating thing concerning this is that it doesn't require java or plugin even for usability of DHTML and JavaScript.

CKEditor
CKEditor is a web based text editor that is useful inside the web pages. It pulls out the common editing features on web likewise local desktop editing application such as MS Word.

jHTML Area – jQuery WYSIWYG Editor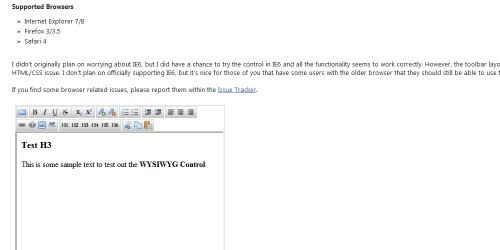 This is very simple, user friendly and affable WYSIWYG HTML Editor developed on jQuery. You can display a wysiwyg HTML Editor at any place in the page by transforming TextArea DOM Elements very conveniently.

Jwysiwyg – WYSIWYG jQuery Plugin
This a useful plugin as well as inline content editor which is capable to edit HTML rich content. It is very likewise identical with WYMeditor with some marked less features.

NicEdit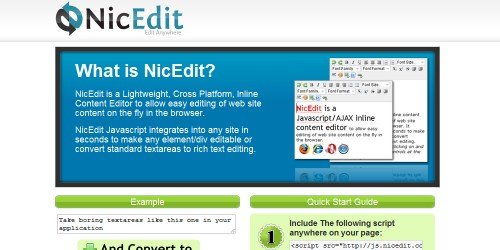 NicEdit is a smart, simple and fast WYSIWYG editor which can be easily integrated with any website offering an effective tool to present themselves in context of rich text with minimal impact.

TinyMCE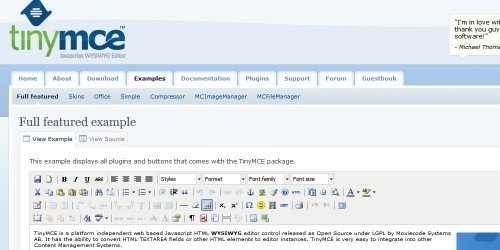 TinyMCE is an efficient web based JavaScript HTML WYSIWYG editor with an independent platform. It is useful to render HTML TextArea field or other distinct HTML elements to editor instances as well as can be integrated into other CMS in very handy manner.

WYM Editor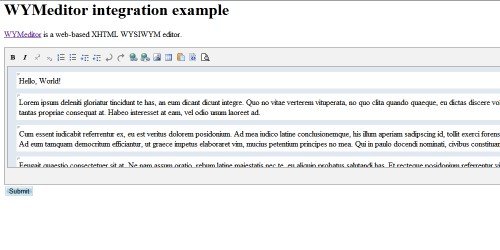 The main concept behind WYM Editor is to concentrate on its meaning and entire structure in order to provide comfort as much as possible to its users as well as convey details of the document's visual layout.

Xinha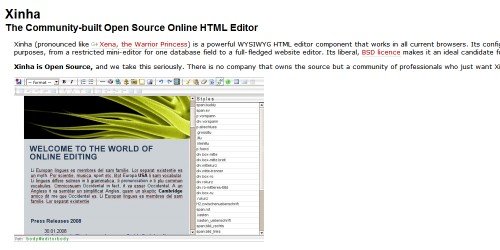 Xinha is an open source and powerful WYSIWYG HTML editor tool which works in almost all browsers available today.

However, I opined through this valuable post about Most Useful Free Online WYSIWYG Editors that these online WYSIWYG editor are very significant, useful and affable to implement. Moreover, its usability not only save your valuable time but also give up your stress and worst feeling of hassle.
Williams Heilmann has been associated with
PSDtoWordPressExpert
for many years. He has extensive experience as a web developer and works with this company to offer the best WordPress solutions to suit the specific needs of the clients. Also, he has got a flair for writing which he consumes in writing the informational blogs for submission on different websites.